If your Windows computer turns off when streaming videos or watching YouTube – online or offline, then this article might be helpful for you. Your PC may shut down when streaming YouTube videos or playing a video using any Media Player.
Computer shuts down when playing videos
If your Windows desktop or laptop shuts down when playing videos then some of these suggestions are sure to help you. Please see which applies in your case.
Verify the Graphics card and driver
Replace PSU
Scan PC for malware
Monitor CPU and GPU temperature
Check app power usage
Check Event Viewer for the error
Troubleshoot in Clean Boot State
Faulty RAM.
Now, let's look at these steps in detail.
1] Verify the Graphics card and driver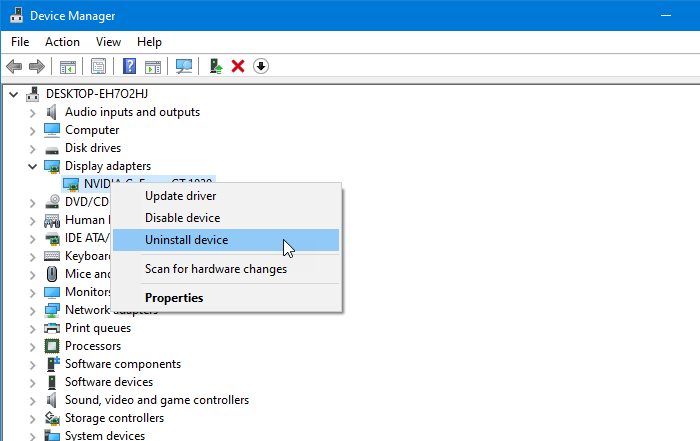 As it is a graphics related problem, you should take a look at the graphics card that is already installed on your computer. You can install it on another computer and check if the same problem is appearing or not. If yes, it is time to visit the service center to get it fixed. Also, you should re-install or update the graphics driver before heading to the service center.
2] Replace PSU
PSU stands for Power Supply Unit, which is probably the essential component to switch on a computer. Without this hardware, it is next to impossible for you to turn on your PC. It means that if the PSU has some problems, your computer might get issues too. If you are using an aged PSU with other modern hardware, it is the best time to change or upgrade it to something better. The PSU should have the capacity to provide the power supply to each hardware of your computer. Otherwise, you will keep getting the same problem. If you do not have proper knowledge, it is better to consult with a professional.
Related: Windows PC shuts down while gaming
3] Scan PC for malware
Sometimes, malware and adware can cause this issue. Nowadays, attackers are using countless methods to harm the user experience. Therefore, it is wise to scan your PC for malware and adware. It doesn't consume much time, and you can perform that for free. If you think Windows Defender is not effective in this case, you can install third-party antivirus like Kaspersky, etc.
4] Monitor CPU and GPU temperature
Although there is some third-party software to check CPU and GPU temperature, it will be best if you can use the in-built Performance Monitor tool. Most of the manufacturers have an in-built utility that shows all these details. You need to use it to check if your CPU and GPU are going beyond the standard temperature. If yes, you should contact the manufacturer before it gets worse.
5] Check app power usage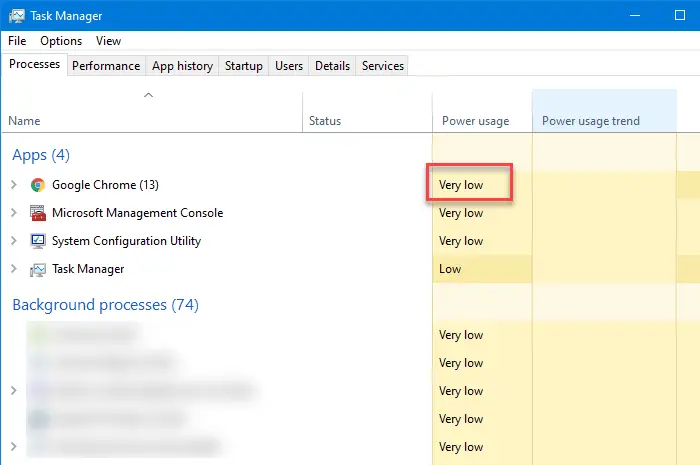 If you are using Google Chrome or any other browser to watch YouTube, you can find an entry in the Task Manager. From here, you can check the power usage trend of that application. Even if you are watching videos offline, you can find the media player name in the Task Manager. All you have to do is to check the Power usage and Power usage trend columns. If they are showing Very low, Low, or Moderate, there is nothing to worry about. If they are using Very high, you must do these things-
Disable all extensions
Close all tabs
Restart your browser
Use the browser's Task Manager tool if it is available to find the culprit and kill it
Update browser to the latest version
6] Check Event Viewer for the error
Event Viewer stores and lets you view all events in detail. Whether the Windows Update client is not working correctly or your PC is getting turned off while playing video, you will find an error message with some information. For instance, it can show an Event ID that is very handy to solve your problem. It is better to find out the Event ID so that you can investigate the matter further.
7] Troubleshoot in Clean Boot State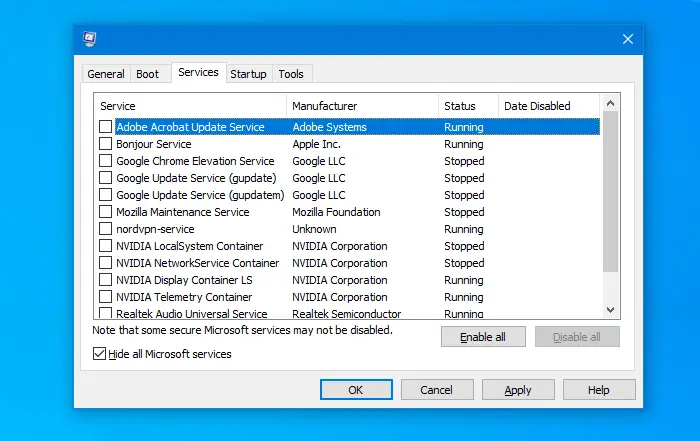 Sometimes, this problem occurs due to a faulty driver or hardware. You can recognize that by performing a Clean Boot. It is straightforward, and you do not need to install any third-party software as well. You should follow our detailed tutorial, which shows how to perform a Clean Boot in Windows 10. For your information, it doesn't solve the issue directly, but it helps you to ensure if the problem is appearing because of a faulty driver or not, and allows you to identify the offender.
8] Faulty RAM
Faulty RAM can create such an issue frequently. If your computer shows a BSOD with "memory" in the message, it is most likely your RAM, which needs to be changed. If you have two RAMs and their speeds are different, this problem can occur.
I hope something here will help you to fix the issue.
Read next: Green Screen when playing videos on Windows.