If you cannot remove or reinstall the Bluetooth mouse, keyboard, headphones, etc., devices from your Windows 11/10 PC, then this post will help you. Windows is a pretty flexible operating system. It supports a ton of devices to get connected to. This connection varies because the device can be connected with Bluetooth or any other wired or wireless medium. But with great features comes great bugs too. Not always but at times. So, this makes us fix them. Now, if, for some reason, you cannot remove or reinstall the Bluetooth mouse & keyboard device from your Windows 11/10 PC, then this post may be able to help you.
Can't remove Bluetooth device in Windows 11/10
First of all, we would recommend you create a System Restore point. Because we will be playing with registry files and modifying some critical Windows settings. Having done this, we will continue on our quest of removing or reinstalling Bluetooth mouse & keyboard devices in Windows 10.
Fix Bluetooth Remove failed
1] Configure Bluetooth Services
To fix this, you will have to open Windows Services Manager. Start by hitting the WINKEY + R button combination to launch the Run utility. Then type in, services.msc and then hit Enter. It will now launch the Services window and will populate a list of services.
Make sure that the Startup of the following Services is set to their default values as follows:
Bluetooth Audio Gateway Service – Manual (Triggered)
Bluetooth Support Service – Manual (Triggered)
Bluetooth User Support Service – Manual (Triggered)
Next, press the Start button on all to start the Services.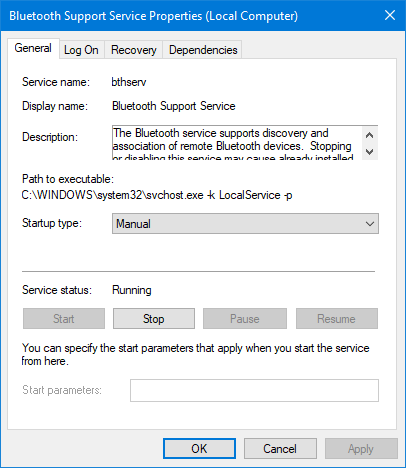 Now see if this helped.
2] Run Bluetooth Troubleshooter
In Windows 10, you can find various troubleshooters with a user-friendly interface, and you can utilize them to fix a problem like this. To run the Bluetooth Troubleshooter, open Windows Settings > Update & Security > Troubleshoot.
On your right-hand side, you should find an option called Bluetooth. Click on it and select Run the troubleshooter.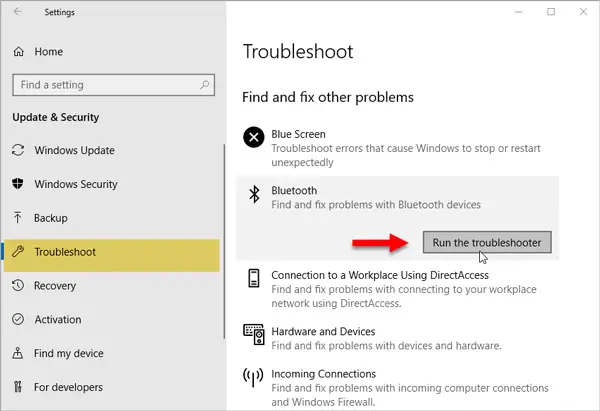 Follow the screen option to run it.
3] Update Bluetooth Drivers
The device drivers can also be got into an issue and can be caused issues like this. You can try to roll back, update or Uninstall your drivers and see if this helps fix the issue.
4] Remove any interferences
In case you have a lot of wireless devices in the same room as your computer, it might cause interferences with your current connection. Is it recommended for you to switch off all the other devices or take your computer out of the range of these devices and then check if this error is reproduced?
5] Uninstall in Clean Boot State
Boot in Clean Boot State and try to remove the Bluetooth device. This will help if any processes are obstructing the removal.
All the best!
Other links that may interest you: