TPM and Secure Boot have been some of the reasons why most people were not able to install and use Windows 11. Microsoft has made some strict hardware requirements and some computers are forbidden from having to feed on the latest Operating System aka Windows 11. Now any more. In this article, we are going to show you how to easily bypass TPM and Secure Boot during Windows 11 Installation or Inplace Upgrade using a free tool called Rufus.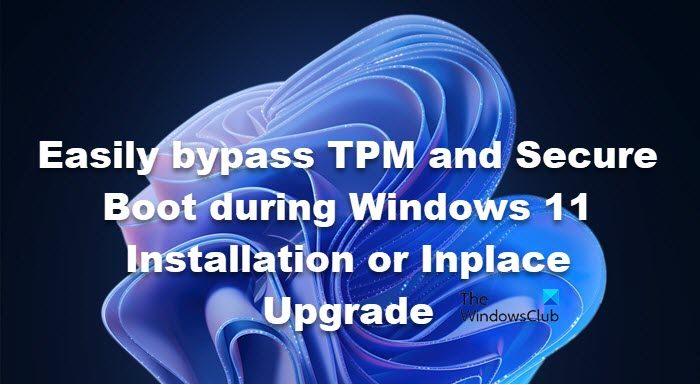 There are various methods to bypass TPM, a lot of them require you to change a ton of things. From copying and pasting relevant files to changing the registry and whatnot. What if we tell, there is no need to do all this, you can easily use an app to bypass the annoying TPM.
To bypass TPM and Secure Boot during Windows 11 Installation or Inplace Upgrade, in this case, you need Rufus 3.18 or later. Rufus, as you may know, is a tool that allows you to create a bootable USB. You can install an OS using the software and its ISO pretty easily. With the latest version of Rufus, you will be able to bypass TPM and Secure Boot easily.
Read: How to Install Windows 11 on an unsupported PC without TPM?
Bypass TPM and Secure Boot during Windows 11 Installation or Inplace Upgrade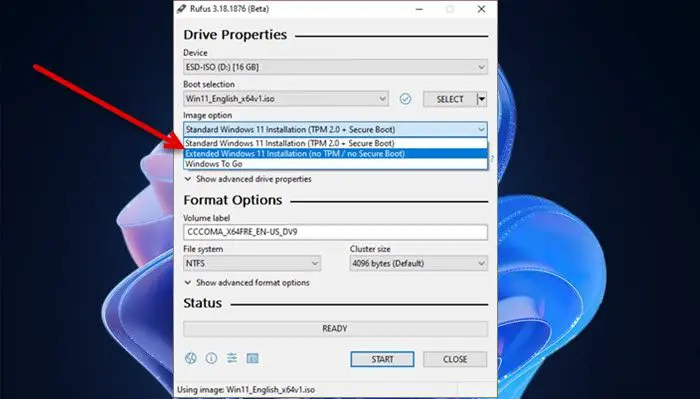 First of all, we need Windows 11 ISO file. It is pretty easy, you just have to go to Microsoft's official website and download the file of your choice. So, go ahead and download the correct Windows 11 ISO file. If you already have the ISO file, there is no need to download another one.
How to bypass Windows 11 Secure Boot requirements
Follow the given steps to install Windows 11 using Rufus if you don't have Secure Boot/TPM.
Download Rufus 3.19 Beta or newer from Github.com.
Then, open Rufus.
Click on the Select button, navigate to your ISO file and add it.
From Image options, click on the drop-down menu and select Extended Windows 11 Installation (no TPM/ no Secure Boot).
Select all the other details and click Start.
Wait for the process to complete and you will be able to create a bootable USB which then can be used to install Windows 11.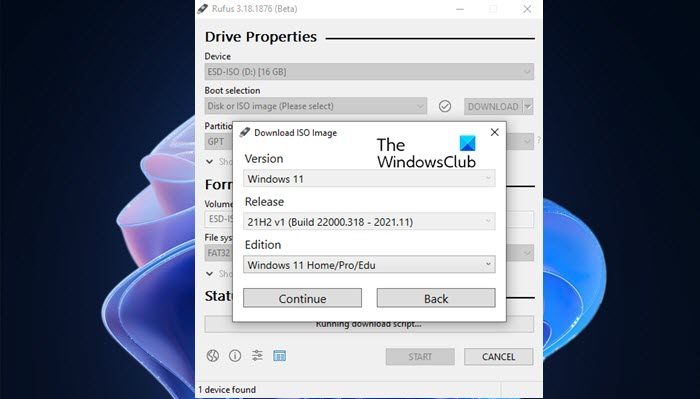 If you don't want to install the ISO from Microsoft.com, you can also download Windows 11 using the Rufus app. Follow the given steps to do the same.
Open Rufus.
Make sure that Boot selection is set to Disk or ISO image.
Click on the drop-down button placed next to Select and choose Download.
Select Windows 11 as the Version, click Next, and then choose the Edition, Language, and Architecture of OS you want to download.
Finally, click on the Download button.
Wait for the process to complete and your ISO will be downloaded. Then, you can check the steps aforementioned to create a bootable USB with no TPM or Secure Boot.
Note: You may need to disable Secure Boot.
Once, you are done with all this, just boot from the USB and follow the on-screen instructions to install the Operating System.
For Windows 11, Rufus also allows additional options to customize the installation.
Remove requirement for 4GB+ RAM and 64GB+ disk.
Disable data collection (Skip privacy questions)
Read:
Can I install Windows 11 without TPM?
If you are trying to install Windows 11 with the conventional method, then you won't be able to do. In fact, you won't even receive the conventional Windows 11 update. When trying to install the OS through ISO, you will see the error message that says "This PC can't run Windows 11". That is why you need to bypass TPM to install Windows 11 on such systems. You can use the steps we have mentioned earlier to do the same.
What happens if I disable TPM after installing Windows 11?
TPM stands for Trusted Platform Module. It is a cryptographic module that enhances your computer's privacy and security. One of the requirements of TPM is for BitLocker. Hence, if you are a Windows Pro, Education, or Enterprise Edition user, your computer should have a TPM version 1.2 or higher to use BitLocker. Disabling a TPM will not cause any issues on a Windows 11 computer. Many Windows 11 users tried disabling TPM and according to them, they did not experience any issues on their Windows 11 computers.
Also read: