Windows has evolved years after years, yet fails to offer a brilliant clipboard manager which can help creators of this time. Users not only just deal with copy files or copying text, but they are also now creating thanks to the powerful features Windows offers. In this post, we are sharing some of the best free Clipboard Manager software for Windows 11 and Windows 10 which you can use on a daily basis.
When you copy or cut or move data, it is held temporarily in an invisible portion of memory. This is called the ClipBoard. The clipboard enables applications to transfer data or between applications or within an application. Windows XP had clipbrd.exe, referred to as the Clipboard Viewer or the ClipBook Viewer, which could be used to see what was saved on your clipboard. If you try to search for this exe file in Windows 11/10/8/7/Vista, you will be unable to find clipbrd.exe.
Free Clipboard Manager for Windows
These free Clipboard Manager software will work on Windows 11/10/8/7. It is possible that they might automatically download an older version of the .NET framework in rare cases.
CopyQ Clipboard Manager
Clipa.Vu Microsoft Store app
Clipboard Magic
PhraseExpress
Clipboard Help and Spell
Archive Clipboard
Enhanced Clipboard Manager
Clipboardic
Ditto Clipboard Manager
And more.
1] CopyQ Clipboard Manager

CopyQ is one of the best Clipboard Managers available for Windows which is simple yet powerful. It lets you copy-paste things like access codes, some repeated references in a document or even when it comes to copying an image or a file from one folder to another. The feature is also on smartphones and other devices.
Supports Script
Import, Export.
Sorting.
Tabbed Tree.
Hide entries and so on.
2] Clipa.Vu Microsoft Store app
Clipa.Vu lets you copy, paste, transfer text from one application to another – and allows you to manage your clipboard history easily. When pasting in applications, it will also add Timestamps for document marking. It keeps a history of all the items you have copied and allowed you to search for them.
3] Clipboard Magic
Clipboard Magic is another clipboard manager which extends Windows Clipboard. This clipboard extender dramatically improves your productivity when copying, cutting and pasting repetitive text or for web form entry. It can save names, as well as all sorts of web addresses that you might pick up while surfing, but do not particularly want to bookmark them.
The best part of this application is it allows multiple entries, and a copy of any item is automatically copied to the Windows Clipboard, allowing you to paste the text in any document or web form. You can further edit and added manually.
4] PhraseExpress
PhaseExpress is a free Autotext, Auto-complete, Text Expander, Spell Checker, Program Launcher & Clipboard Manager utility which offers a lot of things. It is free for personal use, but commercial usage attracts subscription.
Here is the list of features:
Insert boilerplate templates in any program.
Autocomplete text as you type.
Customize boilerplate templates with fill-in forms.
Expand auto text abbreviations in any program.
Share canned responses in the network.
Automate repetitive tasks with macro automation.
Available for Windows, Mac, iPhone/iPad and Android.
5] Clipboard Help and Spell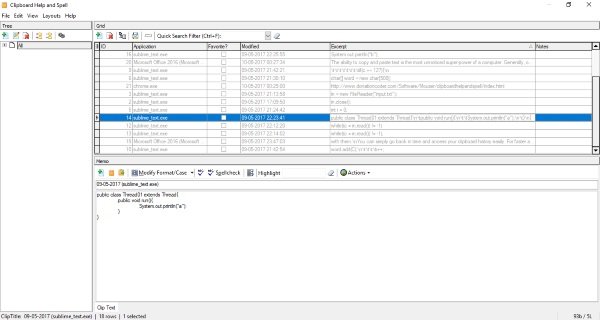 Using Clipboard Help & Spell You can add some notes to your existing clips or create notes from scratch. You can also save the content as a text file.
You can use hotkeys to simplify various tasks. So, for example, using a hotkey, you can instantly save text files from the clipboard.
The program comes with a complete backup and restores service.
6] Archive Clipboard
ArchiveClipboard is a simple, but cloud-based clipboard manager which copies everything as text, and categorizes it accordingly. It keeps an exact log of your clipboard, and also monitors text, images, files, and links.
The impressive part of this program is since its cloud-based, you can copy the content from one place to another, i.e., between Windows, Mac or Linux PC. You can have multiple computers synchronized with your account.
7] Enhanced Clipboard Manager
The Enhanced Clipboard Manager is an application, available for download at TechNet, which will make copying and pasting of data a little easier in Windows.
Features:
It allows us to queue all clipboard data.
It allows us to save entire clipboard data into permanent storage like a file.
Access remote machine's clipboard, if you have administrative permissions on that machine.
Shows the Icon of the application from where you copied data onto the clipboard.
Easy to use UI.
It will download .NET 2.0 support files through Windows Update to work and works only on Windows 7 and Windows 8.
8] Clipboardic
Clipboardic is a small program that copies all your clipboard data and manages them in one place. This way each of them can be reused whenever you want, and an inbuilt search makes it even easier to find. The application stays on the system tray and also lets you delete individual clipboard listing.
You can make it run between computers as well by sharing it over the network between multiple computers. It maintains a central log which will be accessible to all computers. A computer name will be added for each clipboard entry for easy identification.
9] Ditto Clipboard Manager
Ditto replaces the standard Windows clipboard. It saves each item placed on the clipboard allowing you access to any of those items at a later time. Ditto allows you to save any type of information that can be put on the clipboard, text, images, HTML, custom formats, etc.
Features:
Sync across multiple computers.
Clipboard data is first encrypted and then sent over any network.
Drag and Drop to supported programs which accept standard copy-paste entries.
Thumbnail of copied images also gets displayed in the list.
Other Clipboard tools: CopyCat | Orange Note | Clibor | PinClipBoard | WinClip | ClipBoardFusion | ClipClip.
If you think, the list is not enough, let us know in the comments about your favorite program.