The clipboard is a built-in Windows component and a temporary storage area for the data that you have copied from one place and plan to use somewhere else. It has many uses and to make it more usable, Nirsoft has developed new software known by the name Clipboardic. It is a small utility that monitors the clipboard activity whenever something has been copied to it and automatically saves the copied data into the Windows clipboard file (.clp).
Share your Clipboard Data across Multiple Computers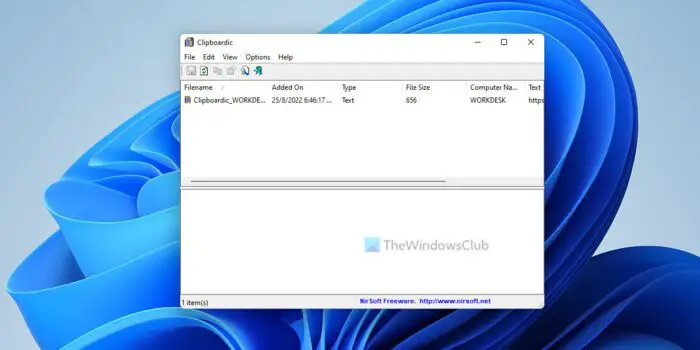 Whenever you search for a copied data, Clipboardic helps you to search it by simply selecting the right clipboard file. The main feature of the application is that it allows the sharing of the clipboard data between multiple computers on your local network.
The second release of Clipboardic version 1.10, which is also the latest release includes a new 'Put Icon On Tray' option to make the application readily accessible, whenever required. Besides, it also includes the 'Delete Selected Clipboard Files' option which was not seen in the earlier version.
Clipboardic for PC
Using Clipboardic is extremely simple as it does not require any installation process. The 60 KB file can be downloaded from the link provided at the end of the article. To run the tool, simply click the  'Clipboardic.exe' executable file.
If one wishes to share his clipboard data with multiple computers that are available on his network; he can do so by simply placing the 'Clipboardic.exe' file in a shared network drive. You can also identify the file owner by looking in the 'Computer Name' column.
Clipboardic is released as freeware and can be distributed via a CD-ROM, USB drive or any other way. It can be translated to other languages and works fine on all the versions of Windows.
Download Clipboardic from here.
NOTE: Our commenter Gregg DesElms has informed us by a comment on a post on CopyCat that if both your computers have Internet access, you can also use the following websites to copy  clipboard/data/text from one computer to another:
MoveMyText | HeyPasteIt | FriendPaste.
How do I share a clipboard between two computers?
There are two ways to share a clipboard between two computers. First, you can use the in-built functionality of Windows 11 and Windows 10. However, if you do not like that, you can opt for Clipboardic. It is a free program that allows users to share the clipboard between two computers. However, you must have an internet connection in order to obtain the data.
How do I view clipboard data in Windows?
The simplest way to view the clipboard data in Windows is by pressing the Ctrl+V. It helps you paste the copied or cut data into another program. You can use Paint or Paint 3D to view the image, Notepad to view the text, etc. On the other hand, you can simply use that hotkey to check copied files and folders.
The Windows Clipboard is very basic in nature and does not offer many features. As a result, many free Clipboard alternatives like ArchiveClipboard, Enhanced Clipboard Manager, CopyCat, Orange Note, Ditto, Clipboard Magic, etc, are available on the internet.