The Windows Cloud Clipboard feature lets you have a list of multiple copied text in place so you can reuse it. That said, we know for a fact all Clipboard Data is cleared every time the computer restarts, but how do we do it manually? In this post, we are sharing how you can turn on or off and clear clipboard history in Windows 11/10.
Turn On/Off & Clear Clipboard History in Windows 11/10
Earlier, there was no feature to turn off the history of the clipboard. You had to use other ways to clear clipboard history. Microsoft did listen to the feedback and it's here.
Steps to turn on/Off Windows 11/10 Clipboard History:
Use WIN+X to open the Power menu and select Settings.
Navigate to Settings > System > Clipboard
Turn off the toggle under Clipboard history.
It means that we are turning off the Cloud Clipboard feature. The default clipboard will hold one last item, and will not display the data on the clipboard.
In Windows 11, if you press Win+V to invoke the clipboard manager, you will get a prompt — Turn on clipboard history to copy and view multiple items.
In Windows 10, if you press Win+V to invoke the clipboard manager, you will get a prompt — Cant show history, See all copied items in place, Turn on clipboard history now.
You can choose to turn it on by clicking the available button.
This only hides the existing data and ensures that no copy of the data is maintained.
Clear Clipboard without affecting its History Data
There was a trick of using a command prompt to clear clipboard data, i.e., echo off | clip, but it seems to be not working anymore. It creates a new but blank entry on top of the list of copied items. I remember using the software ClipTTL, which was using the same command every 20 seconds to clear things. It will end up adding more blank data to the clipboard.
To clear the clipboard without affecting its History Data, make sure to PIN the items on the clipboard that should stay.
Next, click on the three-dotted menus and click on clear all. It will delete all the entries but will keep the items you have pinned.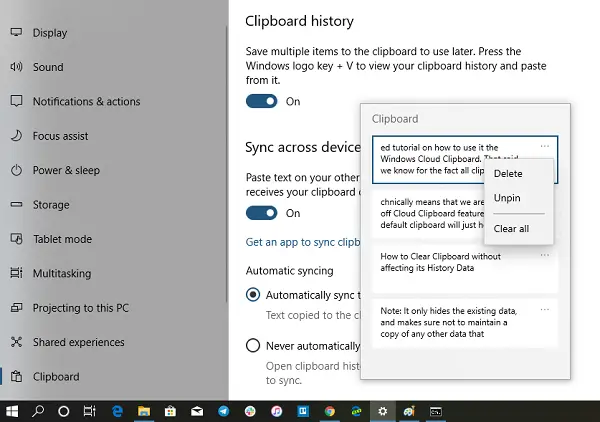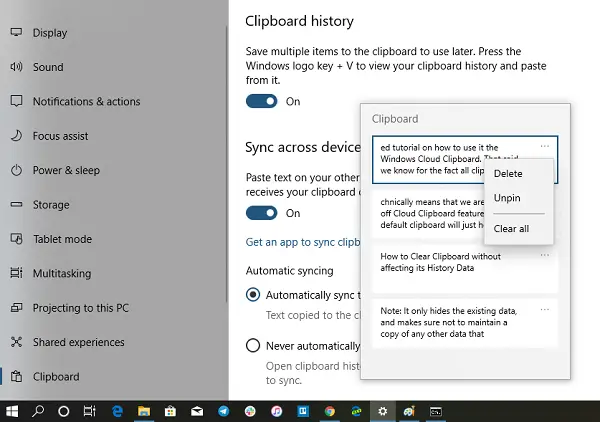 While it is sad that you can no more clear things automatically, it's great that you can turn off the clipboard history.
I hope this helps!