Items of daily use should be accessible to every computer user instantly. Keeping this in mind, many applications are designed to organize things in an orderly way. PinClipBoard happens to be one such application. It is a simple tool to help you manage all data in Clipboard. This free clipboard manager software enables users to track and record history on their clipboard and get quick access to their desired content. It supports the pinning of folders and images too.
Manage Clipboard with PinClipBoard
The default Windows Clipboard is capable of only storing one item at a given time. As such, an alternative application that makes it much more convenient for a user to retrieve the stored data and quickly access it from the notification area of the Windows desktop becomes desirable.
PinClipBoard has a pretty user-friendly interface with easy and quick access to all kinds of files on the computer history. A good feature of the application is that when you install it on one Windows computer and enable its sync service, you can use other devices to access the clipboard data without any other apps or software installed. Plus, no additional account is required. Also, the tool is available in an installer or a portable version
Let's see how to use this software to manage the content of your clipboard on Windows computers.
For tracking clipboard history
On any occasion, when you copy data to the clipboard PinClipBoard logs the Windows clipboard history and restores the data in your local database. The data copied then becomes instantly visible under the 'History' tab of the app. After that, you can retrieve the data easily by simply double-clicking on it when necessary.
On current version, PinClipBoard record data in following formats including: <Plain Text> <Html Code> <Images (Bmp/Png/Jpg/Gif/Tiff)>. The developer promises to add more file formats in near future.
An important thing to note here is that since all data is restored in the local database, the user will not lose the data even he accidentally shuts down or restarts the system.
Pin frequently-used data in the favorites
PinClipBoard lets users select and mark the data for quick access. For example, you can pin the text to the "Pin Board" so you can return it back quickly by double-clicking on it rather than searching it in the clipboard history.
For pinning your favorite item, follow these instructions,
Go to the "History" tab and right-click on the item you want to pin. Then, click the "Pin" button to select the item and move it from the "History" tab to "Pin Board". If you want to copy the item, simply double-click on it.
Getting easy access to folders by pinning them.
Go to "Pin Folder" tab and drag and drop any desired folder onto the panel. PinClipBoard will record the folder path. Hereafter, whenever you want to open the folder, simply double-click it and the folder will be accessible to you readily.
Enabling PinClipBoard sync service to share data across devices
This feature is touted to be one of the most important features of PinClipBoard. It proves handy, especially in situations where you would like to copy the text or image from one computer but paste on another computer. With the ability of sync offered, you can certainly get this job done. No additional apps or programs are required.
Please Note: For this feature to work, it is essential that all devices are linked to the same WLAN network. Outlined below in brief, are the steps to enable sync service and share the clipboard across different operating systems.
Go to "Settings" and enable sync service by clicking on the switch button.
A QR code and IP address will appear on your computer screen.
Scan the Qr code with scanner app installed on your mobile phone or just enter the IP address in the browsers (Available for Mobile Phones, Tablets, and Computers).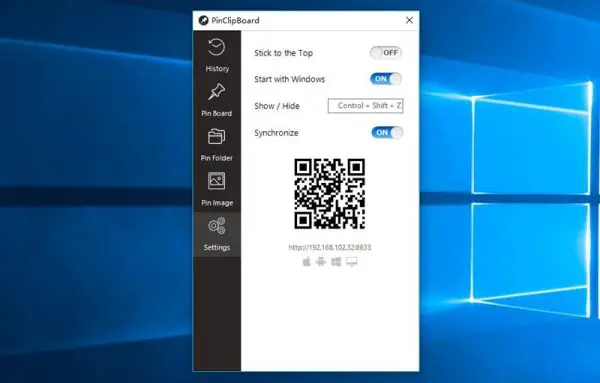 PinClipBoard generates the Port Number in the WLAN IP address, completely random and unique to you every time. This is important as well as necessary from your data security and privacy protection viewpoint.
All in all, PinClipBoard is one of the most important productivity apps for anyone who wants to add value to their everyday work.
It is available for download on its homepage. A portable version is available as well.