You may get the Xbox App sign-in error (0x409) 0x80070422 on your Windows 11 or Windows 10 PC. When this error is triggered on your device, you will notice you're unable to sign into Xbox Live through the app and other services could be affected. This post provides the most applicable solutions to fix this error.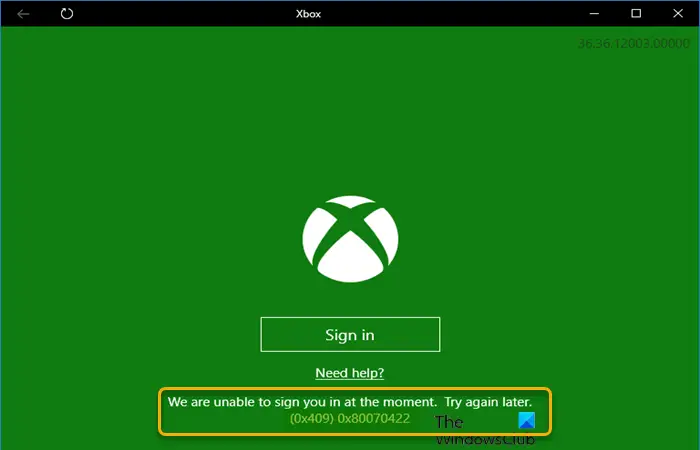 We are unable to sign you in at the moment. Try again later.
(0x409) 0x80070422
This issue given that it's an Xbox app sign in error, you'll most likely encounter the problem due to mainly bad or poor network and internet connection; probably at Microsoft end, your locality or both. The error also indicates that some of the services the Xbox App uses have not been enabled, or not working properly. In most cases where network/internet connectivity is the culprit, you can wait and try again later as indicated on the error message; if the error doesn't go away, you can read the rest of this post for a speedy resolution!
Xbox App sign-in error (0x409) 0x80070422 on Windows PC
If the Xbox App sign-in error (0x409) 0x80070422 has been triggered on your Windows 11/10 PC, you can in no particular order try our recommended solutions below:
Initial checklist
Restart and set Xbox services to Automatic startup
Clear Xbox cache
Repair/Reset/Reinstall Xbox app
Let's take a look at the description of the process involved concerning each of the listed solutions.
1] Initial checklist
Before you proceed proper with the suggested fixes below, you can carry out and complete the following pre-checks, and after each task see if you can successfully sign into the Xbox app without issues or not:
Restart PC. You can restart your PC to make sure all essential processes and services that can impact your internet connectivity with the proper functioning of the Xbox app on your PC are fully loaded without any sort of temporary glitch.
Check operation status of Microsoft Services. As this issue is related to Xbox app, it's likely a case of Xbox Live services outage which could be region-specific or widespread. So, you can check the operation status of Microsoft Services for Xbox Live and try again. Also, check to make sure there are no connectivity issues at your end – if any, you can fix Network & Internet connection problems.
Reset/Clear Microsoft Store cache. If the Microsoft Store cache is corrupted, it will most likely interfere with the proper functioning of UWP apps including the Xbox app that's dependent on it. So, you can reset/clear Microsoft Store cache and see if that helps.
Run Windows Store Apps Troubleshooter. While there are a number of ways to fix problems with apps, the Windows Store Apps Troubleshooter is baked into Windows 11/10 – the utility automatically scans and fixes any issues that may prevent apps you acquired in the Store from working properly.
Update Windows. We always reiterate that PC users make sure at all times that Windows is updated on their device; this is because if Windows is updated as and when due, you'll potentially be saving yourself from 'headaches' and unnecessary system downtime from minor PC issues due to outdated Windows build/version. On the other hand, you may encounter issues after installing a recent Windows update. If that's the case here, you can perform System Restore or uninstall the update to return your system to a pristine working condition.
Read: Xbox app not downloading or installing on Windows PC
2] Restart and set Xbox services to Automatic startup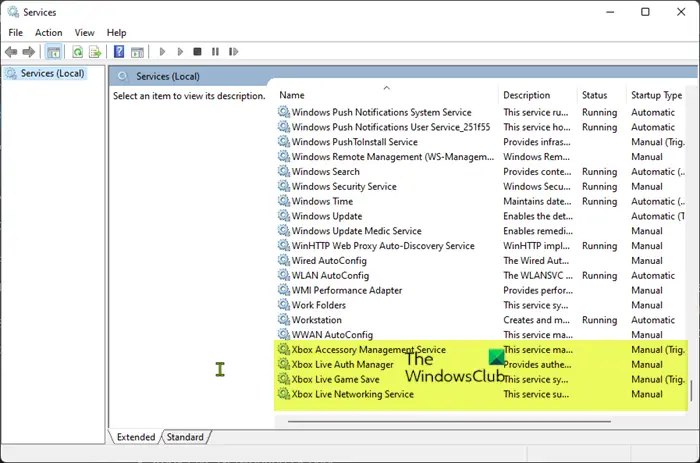 As already mentioned, if some or all of the essential services the Xbox App relies on to function have not been enabled or not working properly, you're likely to encounter the issue in focus. In this case, you can restart all Xbox services and as well make sure these services below are set to the Windows default:
Xbox Accessory Management Service – Manual (Triggered)
Xbox Live Auth Manager – Manual
Xbox Live Game Save – Manual (Triggered)
Xbox Live Networking Service – Manual
Do the following:
Press Windows key + R to invoke the Run dialog.
In the Run dialog box, type services.msc and hit Enter to open Services.
In the Services window, scroll and locate the Xbox Accessory Management Service.
Double-click on the entry to edit its properties.
In the properties window, click the drop-down on the Startup type and set it as mentioned above.
Next, make sure the service is started. If already started, restart the service.
Click Apply > OK to save changes.
Repeat for the other Xbox services listed above.
You may click on the Start button to start each of the Services.
Read: We weren't able to install the app (0x800700B7) Xbox app error
3] Clear Xbox cache
Over time, temporary files and cached data stored on your Windows 11/10 PC to improve gameplay might become corrupted, which can lead to issues with connectivity, game freezes, or slow or unsuccessful game loads. So, for gamers especially that mostly make use of the Xbox app, it's recommended you clear cache, and as well clear temporary files on your gaming PC occasionally.
This solution requires you to clear the Xbox cache. Here's how:
C:\Users\YourUserName\AppData\Local\Packages\Microsoft.XboxIdentityProvider_8wekyb3d8bbwe\AC\TokenBroker
At the location, if present, delete both the Accounts and Cache folder
Exit File Explorer.
Read: Error 0x800c0005 when playing media on Xbox App on Console or PC
4] Repair/Reset/Reinstall Xbox app
As a last resort, if nothing else works, you can repair or reset the app first and if that doesn't help, you can uninstall and install the Xbox app via Microsoft Store on your Windows 11/10 PC  and see if signing into the app is successful.
Any of these solutions should work for you!
Related post: Fix Error Code 0x80242020 in Microsoft Store or Xbox App
How do you fix error code on Xbox app?
Generally, to fix error code on the Xbox app on your Windows 11/10 PC will depend on the error code and possibly the accompanying error message. Here are the common methods that you can try in most cases:
Reset the Gaming Services & App Installer apps.
Reinstall the Microsoft Gaming Services.
Install the Windows Update.
Check for updates for the Xbox app.
Repair the Xbox app.
Reset the Microsoft Store & Xbox app.
Read: Windows Store apps not working or opening in Windows 11/10
What is error code 10 on Xbox app?
The Xbox Wireless Controller error code 10 signals a problem with the device driver. This can also be produced by an incompatibility with your OS or a controller malfunction. Testing the device on another system can isolate if it's a problem with the system or the peripheral.
Similar error code posts: