If when you try to install any game via the Xbox app or Microsoft Store on your Windows 11 or Windows 10 computer and you get the Something unexpected happened prompt with error code 0x80040154, then this post is intended to help you with the most appropriate solutions to the issue.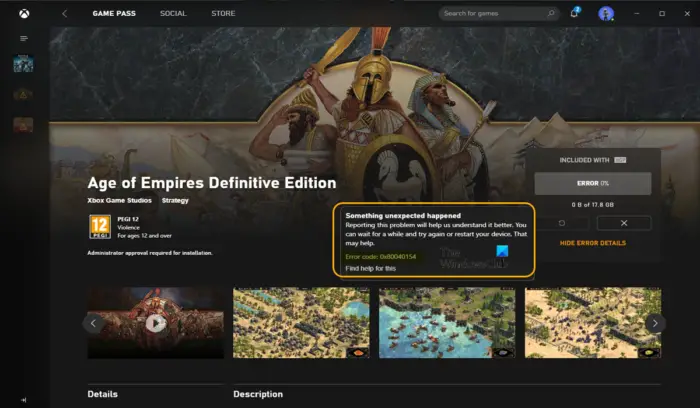 Something unexpected happened
Reporting this problem will help us understand it better. You can wait a bit and try again later or restart your device. That may help.
Error code: 0x80040154
Fix Xbox app Error code 0x80040154
If you get the error code 0x80040154 when you attempt to install games via the Xbox app or Microsoft Store on your Windows 11/10 device, you can apply our recommended solutions in the order presented to have the issue resolved on your system.
Initial checklist
Reinstall Gaming Services
Reset the Microsoft Store & Xbox app
Uninstall ZoneAlarm (if applicable)
Restore your system using System Restore.
Let's look at the description of the process as it relates to each of the listed solutions.
1] Initial checklist
Before you proceed with the solutions proper below, we suggest you complete each of the following general troubleshooting tasks, and on completion of each task, you can try installing the game and see if the error code 0x80040154 reoccurs.
Wait a while and try again. In some cases, issues such as these are often due to a temporary service outage either at the game server or Microsoft end and should be back up and working again soon. You can check to make sure Microsoft Services like Xbox Live are up and running and also that the game server is not down.
Restart PC. If you have waited a bit and also confirmed that all game-related services as well the game server is up and running but the error isn't resolved, you can restart your PC as suggested on the error prompt and see if on boot you can now install the game.
Check your internet/network connection. This follows if you tick the box for the first two tasks but you're still unable to install games on your computer. To rule out the possibility of internet/network connectivity issues being the culprit here, you can attempt to fix Network and Internet connection problems on your device. Also, if you're using a VPN, you can disconnect from the network and see if that resolves the issue. On the other hand, if you're not behind a VPN, it may help to sort out the connection issue to connect to a VPN.
Run Windows Store Apps Troubleshooter. If the error is due to the Xbox app suffering a minor glitch consequently breaking the app functionality, you may be able to resolve the issue by running the Windows Store Apps Troubleshooter and applying any recommended actions. You may need to reset the Xbox app and Microsoft Store to clear the cache on your gaming device and see if the issue is resolved.
Make sure Windows is updated. It's generally a good idea to always check for updates and install any available bits on your Windows 11/10 device. This ensures any potential bugs present that might interfere with normal operations of the system as a whole is eliminated.
Read: Fix Error Code 0x80242020 in Microsoft Store or Xbox App
2] Reinstall Gaming Services
Damaged or corrupted cache or temp files generated by the Gaming Services, or the App Installer apps could be a likely culprit. In this case, you can reset or reinstall Gaming Services to resolve the issue. To perform this task, follow the instructions:
First, press Win+X hotkey and select Windows Terminal (Admin).
Now, enter the below command to remove the whole Microsoft Gaming Services infrastructure:
get-appxpackage Microsoft.GamingServices | remove-AppxPackage -allusers
Next, let the command complete and once the uninstallation is complete, reinstall the package back using the below command:
start ms-windows-store://pdp/?productid=9MWPM2CQNLHN
When the package is installed back, restart your system and see if the error is resolved.
3] Reset the Microsoft Store & Xbox app
If the repair option doesn't;t work, you can try resetting the Xbox app. This error can be triggered if there are some corrupted settings and customizations associated with the Xbox app. So, you can reset the app to the default settings. But, do remember that resetting will delete your Xbox app's data. Hence, be sure of taking a backup of your data.
To reset the Xbox app, you can follow the below steps:
Firstly, press the Windows + I hotkey to launch the Settings app.
Next, navigate to the Apps tab and then tap on the Apps & features option.
Now, look for the Xbox app from your list of apps.
After that, tap on the three-dot menu button that you see next to the app.
From available options, click on Advanced options.
On the next page, locate the Reset section and then click on the Reset button.
Then, confirm the resetting process by clicking on the Reset option on the next prompt.
4] Uninstall ZoneAlarm (if applicable)
As revealed following investigations on this particular error, oddly enough, most affected PC users had ZoneAlarm security software installed on their Windows 11/10 computers. In this case, what worked was uninstalling ZoneAlarm. We recommend you use a third-party Uninstaller Software or if available, use the native AV removal tool for ZoneAlarm. If completely removing ZoneAlarm from your device solves the problem, you can switch to an alternative third-party AV solution for Windows or the built-in Windows Defender.
5] Restore your system using System Restore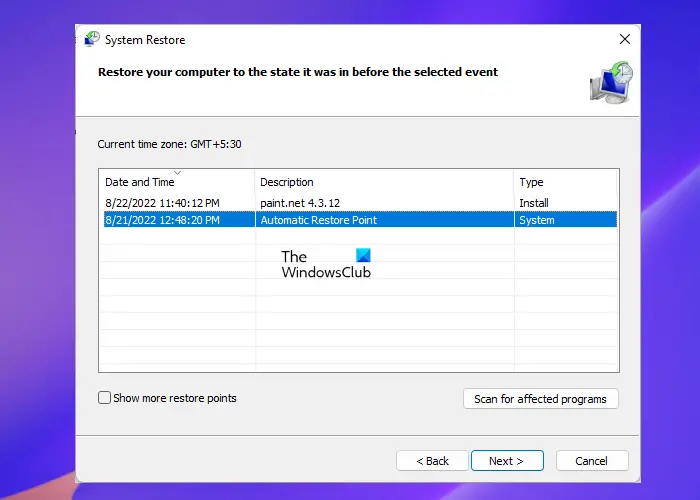 System Restore is a viable solution to the issue in focus especially if you weren't having any problems installing games on your Windows 11/10 PC up until recently. It could be there was a system update or virus definition update which is the most likely culprit here assuming you previously were able to install games until recently even though you had ZoneAlarm installed. In any case, as an alternative to uninstalling ZoneAlarm if this applies to you, you can restore your system to an earlier point in time before the issue in focus started by following these steps.
Press the Windows key + R. to invoke the Run dialog.
In the Run dialog box, type rstrui and hit Enter to launch the System Restore Wizard.
At the initial screen of System Restore, click Next.
At the next screen, check the box associated with Show more restore points.
Now, select a restore point before when you noticed the issue on your device.
Click Next to advance to the next menu.
Click Finish and confirm at the final prompt.
If you do not have ZoneAlarm installed on your device, but you noticed you started having issues downloading and installing games via the Xbox app after you recently updated Windows, t. In that case,u can uninstall the new update using Command Prompt or via the Installed Updates applet in Control Panel and see if that solves the problem for you. If it does, then good, else you can proceed with the next fix.
Read: Fix Error 0x80040154 for Microsoft Store or Windows Update
I hope you find this post helpful!
What does error code 0x80040154 mean?
The error code 0x80040154 could indicate a different issue depending on the instance as you can encounter the error code in several case scenarios. For instance, several Outlook users have encountered 0x80040154 error when working in Outlook on Windows computer. This error usually occurs when there is a problem with your Outlook configuration, you've accidentally unregistered the 'inetcomm.dll' file or there is some issue with your Office installation.
Read: Error 0x80040154, Windows Hello for Business setup for PIN fails
How do I fix the app installation failed with the error message Class not registered 0x80040154?
If you get the app installation failed with the error message Class not registered 0x80040154, in such cases, you may not be able to install apps on your Windows 11/10 computer via Microsoft Store. To resolve this issue, open Microsoft Store, and navigate to Settings > App Updates > Sync Licenses. Then, restart the system and try downloading apps again.