If your Windows Laptop Battery drains in Sleep Mode then this post can help you. Some users have complained about this problem that when they put their laptop in sleep mode for about 6-7 hours or more, it completely drains the battery. For some users, this excessive battery drain started after upgrading their OS. If you also face this problem, then the fixes covered in this post below will surely be helpful.
The battery does reduce when the laptop is in Sleep mode but it shouldn't be up to a great extent. It may go down between 10 to 20% when you put your system in sleep mode for a very long time. Other factors like battery health and capacity, wake timers, etc., can also affect battery loss.
In sleep mode, your laptop enters the low-powered state, and only the RAM consumes the battery, while the other parts, like the hard disk, processor, etc., are powered down. But, if the battery drains completely or reduces up to a great extent in a sleep state, then it can be a concern.
Windows Laptop Battery drains in Sleep Mode
If your Windows Laptop Battery drains in Sleep Mode, use the following solutions:
Run the Power troubleshooter
Check the devices allowed to wake the computer using Device Manager
Use the Hibernate mode
Disable Wake Timers
Use SleepStudy tool
Disable Network connectivity in Standby
Check your laptop's Battery Health.
Let's check all these solutions one by one.
1] Run the Power troubleshooter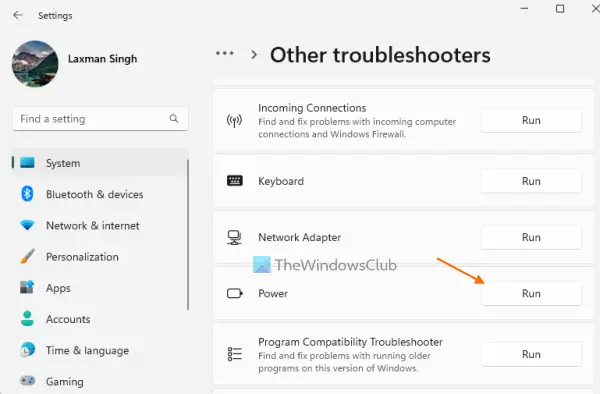 First, run the built-in Power troubleshooter tool of Windows 11/10 and see if it helps to fix your laptop's battery-draining problem in sleep mode. This tool can detect various issues such as if the power plan mode is optimal, the time before the display goes to sleep is too long, the time before the hard disk and the computer goes to sleep is too long, the screen saver is enabled, etc., and helps to fix them.
In Windows 11, access the Other troubleshooters' section (under the Troubleshoot page) in the System category of the Settings app, and then press the Run button for Power troubleshooter.
If you are using Windows 10, then access the Update & security category, and open the Troubleshoot page. Click on the Power option and press the Run the troubleshooter button. Let the troubleshooter detect problems and then it will provide the fixes that you can apply easily.
Related: Laptop Battery drains after shutdown
2] Check the devices allowed to wake the computer using Device Manager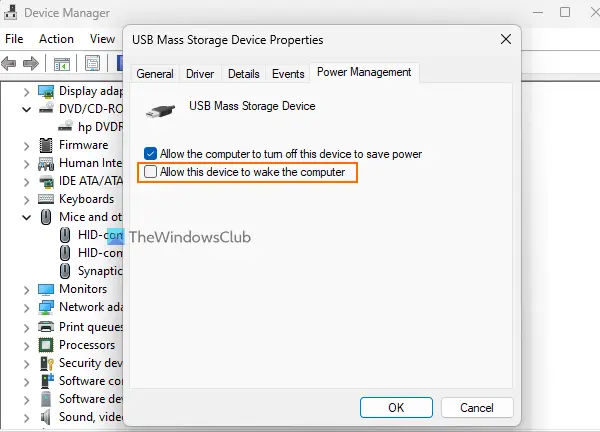 If a device is allowed to wake your laptop from sleep automatically, then that could be why your laptop battery is draining fast, as the sleep mode could be interrupted from time to time because of such devices. While the devices such as a mouse and keyboard are required to wake the computer or laptop, if some unnecessary devices (say a Bluetooth device) are allowed to wake the laptop from sleep mode, then you should turn off this option for such devices.
For this, you can use the Device Manager. Here are the steps:
Open the View menu
Select the Show hidden devices option so that all devices are visible there. Now as you are not sure which devices are set to wake up your system, you need to expand each device section one by one. This would be time-consuming but worth trying
Right-click on a device and select Properties
In the Properties window, switch to the Power Management tab. Not all devices have this tab so you skip such devices
Uncheck the Allow this device to wake the computer option
Press the OK button.
Use the same steps to prevent unnecessary devices from waking your laptop from sleep mode.
Alternatively, you can also use PowerShell or Command Prompt window to check which devices can wake your computer from sleep mode and then use the Device Manager to turn off the setting for those devices.
Read: Computer automatically waking up from Sleep
3] Use the Hibernate mode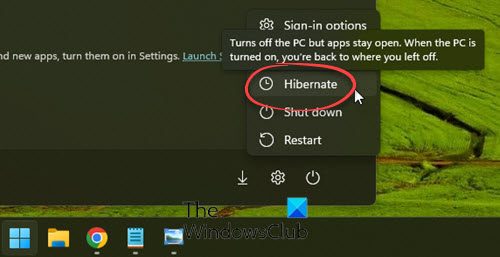 You may already know that the Hibernate mode uses less power than the sleep mode. So, if the sleep mode is not as effective when you have to leave your laptop for a very long time, then you should use the hibernate mode to ensure that your laptop battery won't drain too much. When you will wake up your laptop from hibernate mode, you will be back where you left your work.
If you can't find the Hibernate option, you first need to enable Hibernate mode on your Windows 11/10 system and then this option will show in the Power menu, Shut Down Windows section, etc.
4] Disable Wake Timers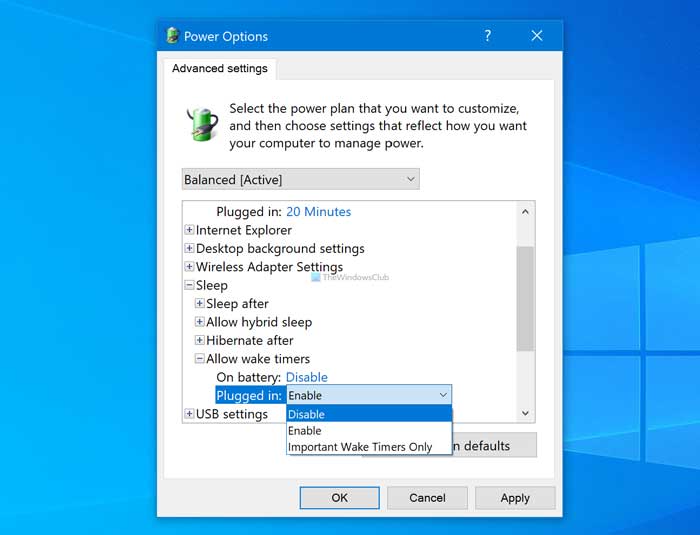 A wake timer helps to automatically wake your computer or laptop from the sleep state at the specified time to perform a scheduled task. This could be the reason that drains your laptop's battery while you would be thinking that you put it into sleep mode.
You can easily find wake timers in your Windows PC using an elevated CMD or PowerShell window. Along with that, you can also disable Allow wake timers in sleep mode for On battery mode as well as Plugged in mode using the Power Options window.
5] Use the SleepStudy tool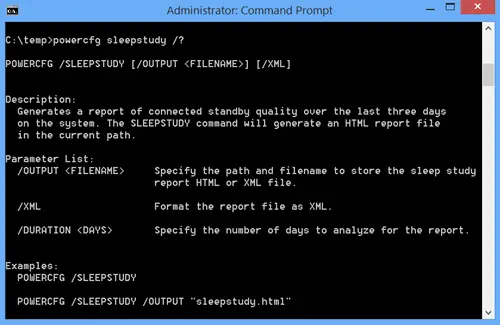 You can also use the Windows 11/10 built-in SleepStudy tool to find what is draining the battery. It generates a detailed report in HTML format for battery drain over the last 3 days. You can also filter the report for all session lengths or the session length greater than 10 minutes for Active state, Screen Off state, Hibernate state, Sleep state, etc.
For a System Power State, say Sleep state (or Standby), you can check the start time, total duration, entry reason for sleep state (like System Idle, Application API, etc.), exit reason (Power Button, Mouse, etc.), and battery capacity (in percentage) remaining at start time. Battery remaining charge capacity at entry and exit can also be seen in that report.
To use the SleepStudy tool, open an elevated Command Prompt window and execute the following command:
Powercfg /SleepStudy
This will generate your System Power Report and you can see the path where that report is saved in the CMD window. Open that HTML report and filter it to find out battery drain information in sleep mode and other states.
Related: How to manually calibrate the Battery of Windows laptop to increase its life
6] Disable Network connectivity in Standby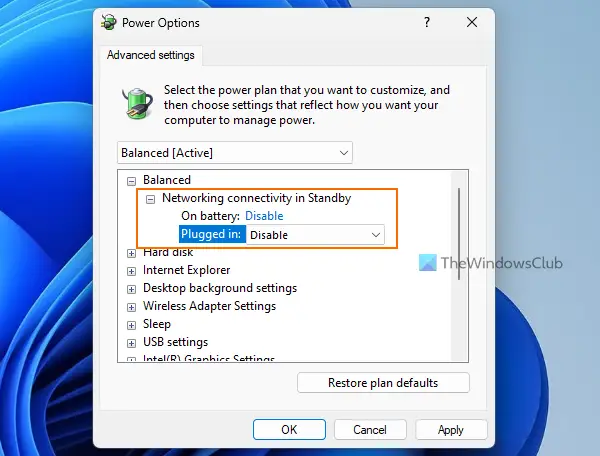 This solution helped one of the users with the same problem. Modern Standby systems support network connectivity in standby mode and if it is enabled when your laptop is asleep, the system will remain connected to WLAN or Wi-Fi to receive notifications, incoming calls, emails, etc. So, that could be one of the reasons for draining your laptop battery while it is in sleep mode. Therefore, you should disable network connectivity in Standby and see if this helps.
In the Power Options window, expand the Network connectivity in Standby section for your power plan, and select Disable option for the On battery mode and Plugged in mode. Press the OK button to save the changes. You can also disable the networking connectivity in Standby using Group Policy Editor, Registry Editor, and other ways.
7] Check your laptop's Battery Health
You should also check your laptop's battery health to find out if the battery needs a replacement. Over a period of time, battery charge capacity will decrease for sure, and if you see a significant amount of drop between the design capacity and full charge capacity, then you should consider replacing the laptop battery.
You can generate a battery health report using the built-in Powercfg (Power Efficiency Diagnostic Report) tool of Windows 11/10. The report is generated in HTML format that you can open in any web browser. Look for the DESIGN CAPACITY and FULL CHARGE CAPACITY. You can also check the Battery capacity history section to find out the decrease in charge capacity of your laptop battery over the period of time.
If you want, you can also use some best laptop battery test software and diagnostic tools for Windows 11/10 to check the battery health of your laptop.
Why my laptop battery is draining without use?
There could be multiple reasons why your laptop battery is draining without use. For example, if apps and programs are running in the background, a download is in progress, the screen does not off, your laptop doesn't go to sleep, etc., then this can cause battery drain. If you want to fix battery drain issues on Windows 11/10, then you should turn on the battery saver mode, check battery usage by apps and programs, disable unnecessary programs from running in the background, use a custom power plan, etc.
Read next: Laptop Battery Usage Tips & Optimization Guide for Windows PC.