A laptop is nothing without its battery because this piece of kit allows the device to have power even when not connected directly to a power source. However, laptop batteries do not stay healthy forever, therefore, one should always try to have a handy tool on hand to test battery health. The web right now is filled with Windows tools designed for testing the health of your laptop's battery, though it's not easy to determine which is better. To help with that decision, we've decided to list the best of the bunch to make things much easier.
Check Laptop Battery Health
Over time, you will likely see several errors pertaining to your battery as it can no longer hold a proper charge. By this time, it should be clear the battery is hitting the end of its life, but before making any huge decisions, the best step to take is to run a few diagnostics.
Windows 10 brings with it multiple new features and Battery Saver Mode is one of them. When, in the active state, the feature conserves battery life by limiting the background activity and adjusting the hardware settings. It then displays information related to the amount of battery life and estimated time a user has remaining. But if you are looking for a free tool, read on.
Best Battery Diagnostic Tools for Windows 11/10
Here is a list of some of the best free Battery Diagnostic Tools for your Windows 11/10 laptop:
BatteryCare
Powercfg Tool
Battery Optimizer
Battery Status Monitor
Vista Battery Saver
BATExpert
BatteryCat
BatteryInfoView.
1] BatteryCare
If you want to optimize the performance of your laptop battery along with the usage, then BatteryCare is among the best of the lot to get the job done. With this tool, it will ask the user to calibrate the battery whenever it completes a certain number of discharge cycles.
When the procedure is completed, the program will then remember the last time calibration was done. It will show the calibration numbers, date, and much more.
For those who want to see a lot of data of their battery on a single page, well, no problem because BatteryCare makes this a possibility. Interestingly enough, it will also monitor your hard drive and CPU, which is not a bad addition.
Download BatteryCare from the official website.
2] PowerCFG Tool
The Power Efficiency Diagnostic Report Tool is a built-in feature of Windows 10, and it's pretty solid. However, you will have to perform all tasks from the command line, and not everyone is interested in working with a tool that lacks a graphical user interface.
We like it because it allows the user to generate precise information on their battery. The report is very detailed, probably more so that you expect.
In order to generate the report, fire up the Command Prompt, then type powercfg /batteryreport and hit Enter on the keyboard.
Now, the generated report will also be saved to your computer at C:\Users\<username>\battery-report.html.
3] Battery Optimizer
Battery Optimizer is a freeware that will run advanced diagnostics and testing and offer recommendations on how you could make better use of your battery. It will also tell you the health or state of your battery.
4] Battery Status Monitor
Battery Status Monitor or BattStat is a battery status monitor and power management application. It displays a floating widget on your desktop.
You can download it from Sourceforge.
5] Vista Battery Saver
If you are an intensive Windows user, you may like to check out this freeware utility Vista Battery Saver. This tiny program claims to save up to 70% of your battery by disabling some Windows features. It works on Windows 10/8/7 too.
6] BATExpert
BATExpert is an application that helps users visualize the status of their laptop battery. It is a simple program and can be run on any type of laptop. It is a free Laptop battery monitoring tool that allows you to check the current status and other details of your laptop battery.
7] BatteryCat
BatteryCat is another Battery monitoring and health tool for your laptop. You can download it from Sourceforge.
8] BatteryInfoView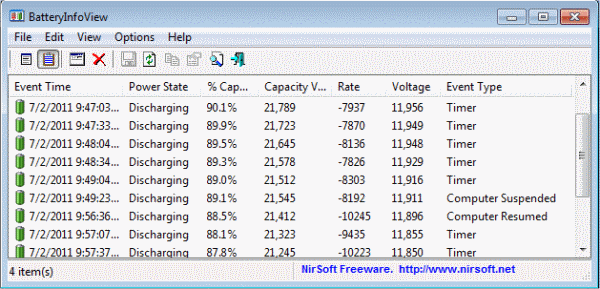 BatteryInfoView delivers a ton of information about your battery, but what really drew us to it, is the two components it focuses on. You see, the first screen is all about showing information about Designed Capacity, Full Charged Capacity, Battery Health, Number of charge and discharge cycles, among other things.
When it comes down to the second screen, it shows data on event time charge and discharge, along with the power stage. Bear in mind that whenever you suspend or resume the battery, a new log line is created.
Additionally, the option is there to export battery information for future printing or whatever else you might need it for.
If you are a fan of Microsoft Store apps, then these Battery monitor, analytics & stats apps for Windows 11/10 are sure to interest you.
Related reads:
Tips to fix Battery drain issues.