Windows Sleep Study Tool is a new tool from Microsoft that helps you study what exactly is draining your battery power in a Windows 11/10/8.1 InstantGo supported computer. InstantGo, as we explained earlier, is a new power mode on select Windows 11/10/8.1 devices that allow your system to sleep while updating apps in the background, keeping it ready to resume, when required.
Find what is draining the Battery on Windows laptop?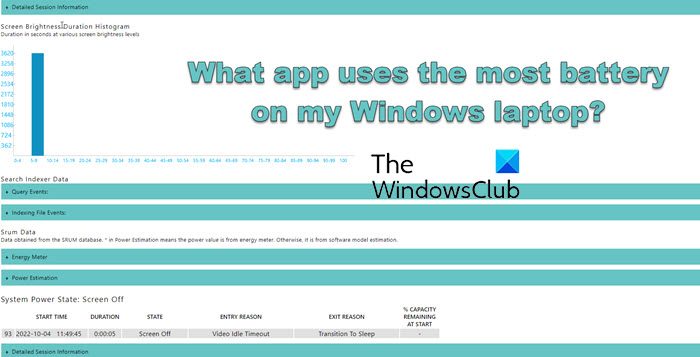 A blog post from Microsoft explains, that even in the sleeping state, your system continues to work although at a lower frequency. This exercise consumes power, and the battery drain is not readily perceptible. Here, Windows Sleep Study Tool has a role to play. The tool generates a report as an HTML file, where you can see the top five reasons why your device is running out of battery at a time when you need it most.
Windows Sleep Study Tool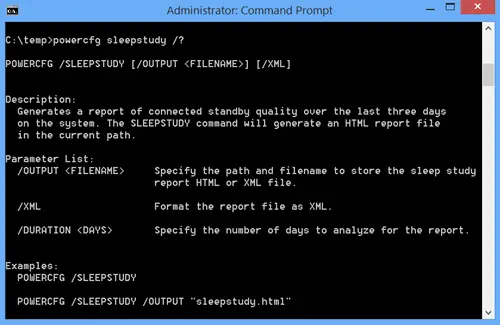 At first, you have to determine if your hardware and software support InstantGo by entering the following into a Command Prompt window and then looking to see if Standby (Connected) is included in the list of sleep states:
powercfg

 

/a
If it does exist, you can fire the tool to review all the sleep sessions that last longer than 10 minutes on your PC and provides you with a report that color codes each session according to its power consumption.  Running the following command  will generate a sleepstudy-report.html report, which you can open in any browser:
powercfg

 

sleepstudy
A session is defined as the period from Screen Off to Screen On. In cases when the system is plugged into AC power, the policies are less stringent than when on battery power. And while the tool still tracks connected standby activity on AC power, it is more useful to identify unexpected drains on battery, or DC power.
Sleep Study is a very useful tool to track your battery drain while in sleep mode on an InstantGo capable system.
It helps users better understand the subtle ways in which different activities can affect battery life.
Read: