Putting your Windows PC to sleep while not in use is an excellent method to extend its battery life and save energy. You can wake your PC anytime by moving the mouse, pressing the power button, or pressing a keyboard key. However, if your PC keeps waking up frequently, it's time to check which Devices can wake your computer from Sleep Mode.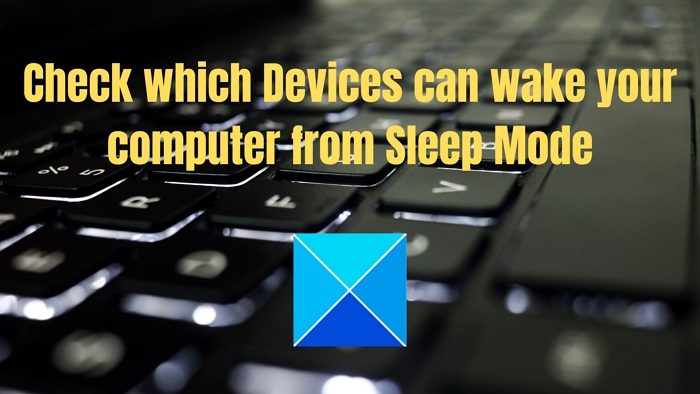 This post will use the powercfg tool that helps Windows users control all configurable power system settings, including hardware-specific configurations.
Devices capable of waking your PC from sleep mode
It's important to understand that not all devices linked to your PC can wake Windows out of sleep mode. To find out which of your devices supports waking the PC, use Command Prompt or Windows PowerShell to check.
Type Windows Powershell into the Windows search bar, right-click on the result and click Run as administrator to open it.
Click on the Yes button on the User Account Control.
Type or copy and paste the following command, and press the Enter key.
powercfg -devicequery wake_from_any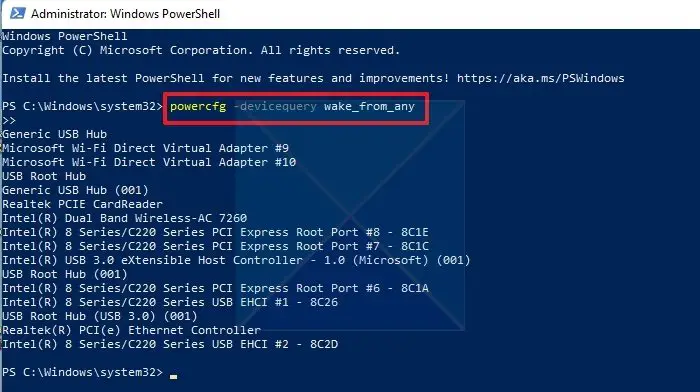 It will show a list of your system's devices capable of waking up Windows from any sleep state.
Devices allowed to wake your Windows PC from sleep mode
This method will show you which devices can wake your windows PC from sleep mode. You can find out by using Command Prompt or PowerShell. Here is how to go about it:
Open Windows Terminal (Make sure to choose the Run as administrator option).
Type or copy and paste the following command and press the Enter key.
powercfg -devicequery wake_armed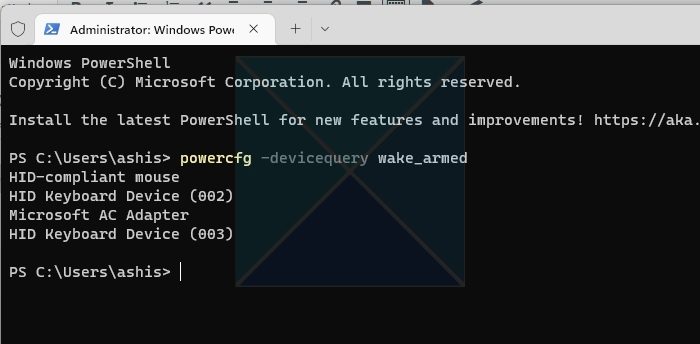 It will display a list of devices that can wake your computer from sleep.
Conclusion
You can now understand which devices can awaken your PC from sleep and how to stop them from doing so. Nevertheless, switching to sleep mode on your PC might not always work your PC, especially if there are too many things that can wake the PC up. It is always better to shut down your PC entirely in certain situations. So, as mentioned in this article, you can check which devices can wake your computer from Sleep Mode using these two methods.
Read: Computer automatically waking up from Sleep
How do you change what devices can wake the computer?
Devices that can help waker up the PC come with Power Management configuration. It means those devices are registered with the Power Management of the OS and are allowed to send interrupt to wake up the PC. Thankfully, it is easy to change this behavior once you have figured out the specific devices. It would be best to use Device Manager to find the device and then look into the Power Management tab properties. Windows allows users to disable the ability to wake up.
Read: How to find out what woke your computer from Sleep Mode
Can you remotely wake a computer from sleep?
Windows offers a Wake-on-Lan feature to some network devices that allows them to wake up the PC remotely. It is usually available with Network cards and can be configured differently by the user. That said, third-party applications such as TeamViewer also support this feature if your PC hardware cannot do it. They keep running a service in the background that can listen for signals from the network like the hardware tools. However, these take extra effort to configure as they are not as simple as installing and deploying services.