On Windows devices, the unanticipated waking of a PC from sleep mode is quite common. Sometimes, when you leave your workstation, you put your PC to sleep, but you still would want to keep the programs open. By setting your PC in sleep mode, you may save energy and let it rest without turning it off. So, there may be various factors if your computer keeps waking up from sleep mode. Discovering the source of automated wake-ups is the first step in diagnosing them. So, check out how to prevent your Windows PC from waking up from sleep mode.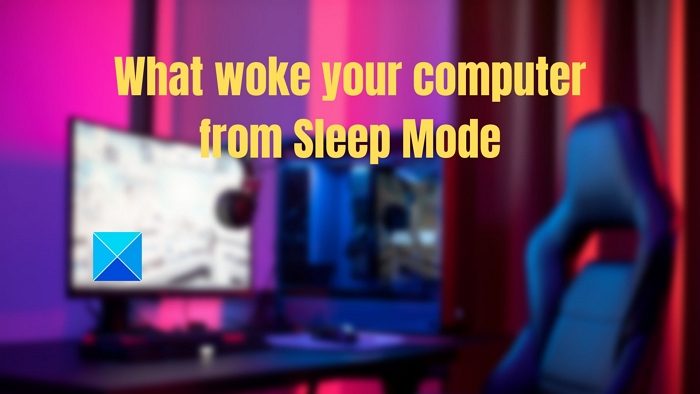 What is keeping my computer awake?
If no application runs in the front, and you are not using the PC, then only processes that run in the background can keep the PC awake. These are primarily categorized into
Backup software
Scheduled Tasks
Background Services
Antivirus scanning
Network activity
Power Settings
or anything that can communicate with a local or internet service and override the sleep timer.
How to Find Out What Woke Your Computer From Sleep Mode
Given below are two methods to find out what woke your PC from sleep mode:
Using Windows Terminal
Using Event Viewer
1] Using Windows Terminal
Using the POWERCFG command on Windows Terminal, you can find out what woke your PC from sleep mode. It's a command-line utility that can control the power states of individual devices and analyze the System for common energy efficiency and battery-life problems.

Right-click on Start Menu, and select Windows Terminal (Admin)
In the Terminal, type or copy and paste the following command and press Enter.
powercfg /lastwake
It will display the reason for your PC waking from sleep mode. For example, in this case, it is the File Explorer.
Related: Windows computer turns on by itself randomly
2] Using Event Viewer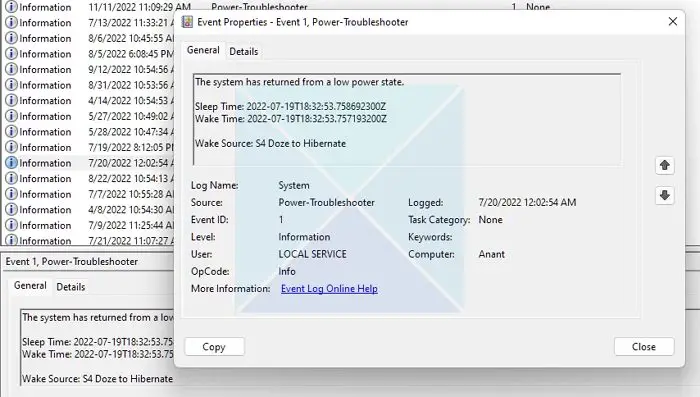 The Event Viewer app uses the following method to find why your PC woke from sleep mode.
Type Event Viewer into the Windows search bar and click on the result to open it.
Double-click the Windows Logs option from the left pane and click on System.
Under the Source list, find and click on the Power-Troubleshooter option.
Click on the General tab and go through the information given in the box below.
You will get sleep time, Wake Time, and wake source details. Please go through them to discover why your PC woke from sleep mode.
Related: Computer automatically waking up from Sleep
Allow or Deny a Permission to a Device to Wake Your PC From Sleep Mode
Once you know which devices are waking up your computer without your consent, you can take the necessary steps to prevent them from doing so.
Right-click on the Windows logo and open Device Manager from the context menu.
Find the device you want to change and double-click on it to open its Properties window.
Click on the Power Management tab and check or uncheck the Allow the computer to turn off this device to save power option.
Click OK to save the changes.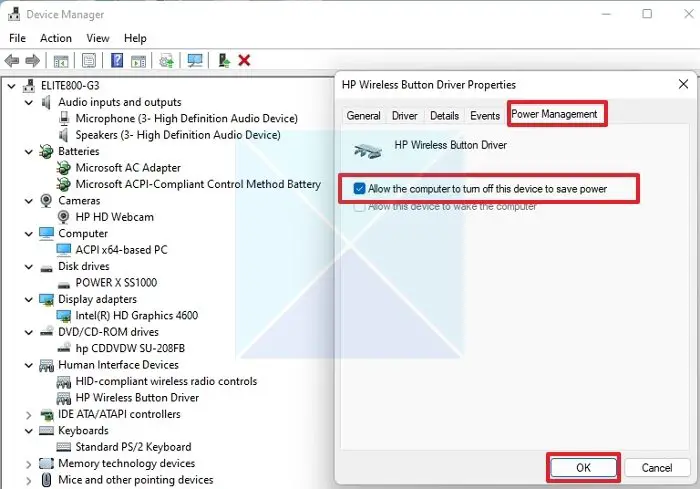 Repeat the above steps if you want to configure power management settings for other devices. Network connections, scheduled tasks, and background wake timers are capable of waking Windows from sleep mode in addition to your devices.
Related: What is a Wake source for Windows computers?
So, now you can understand which devices can awaken your computer from sleep and how to stop them from doing so. Nevertheless, switching to sleep mode on your PC might not always be the best. It is always preferable to turn it off entirely in some situations. So, if your computer wakes up from sleep mode unexpectedly, you can always use the two methods mentioned in this article to understand and prevent the issue.
Read: How to check which Devices CAN wake your computer from Sleep Mode
Is putting your PC to sleep OK?
It is always a good idea to do that. When a PC is in sleep mode, it consumes minimal power. It saves energy and increases life for the monitor as it saves it from excess burn. Since the PC resumes instantly, there is no long wait, and you jump start from where you left off. That said, keep a tab if the PC goes very slow if you wake it from sleep. In that case, keep other accounts logged out and ensure no heavy application runs.
Also, some laptops are configured to put Windows into hibernation instead of sleep mode. While it does not harm, sleep mode is convenient compared to hibernate mode.