If when you run the Get Windows 10 compatibility checker app, you receive a message that Windows 10 will not run on this PC, then this post will help you identify the possible causes and suggest some solutions.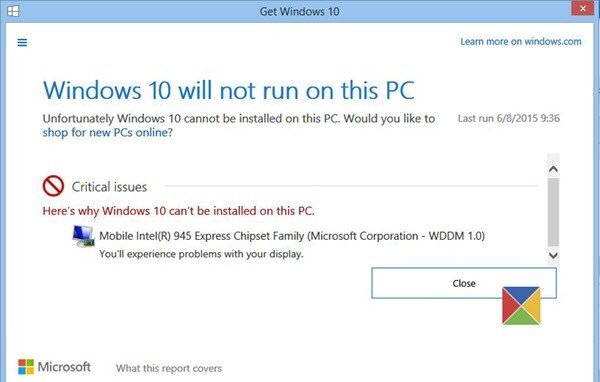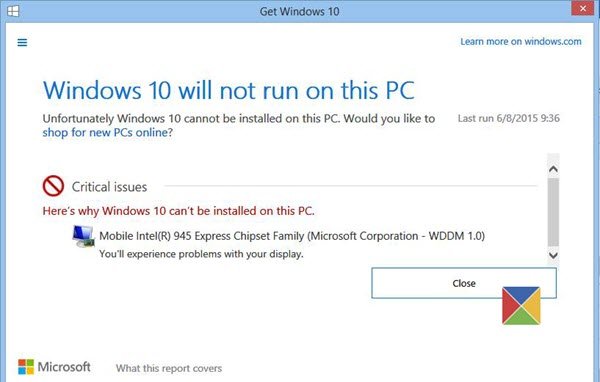 Windows 10 will not run on this PC
The message will also state:
Unfortunately Windows 10 cannot be installed on this PC. Would you like to shop for new PCs online? Here's why Window 10 can't be installed on this PC.
The possible reasons given could be:
Mobile Intel (R) 945 Express Chipset Family may cause problems
Parallels Display Adapter (WDDM) isn't supported
VMWare SVGA 3D is unsupported
And so on.
Read Windows 10 Hardware Requirements.
Broadly speaking, if your PC can run Windows 8.1, you're good to go. But if when you run the Windows 10 Device & App Compatibility checker on your computer, you receive this message, here are a few things you could check:
1] Check if your PC meets Windows 10 System Requirements. Particularly, your Processor must be 1 GHz or faster with support for PAE, NX, and SSE2
Physical Address Extension (PAE), NX processor bit (NX), and Streaming SIMD Extensions 2 (SSE2) are features of the processor, and they're needed to run Windows 10. PAE gives 32-bit processors the ability to use more than 4 GB of physical memory on capable versions of Windows, and is a prerequisite for NX. NX helps your processor guard the PC from attacks by malicious software. SSE2 is a standard instruction set on processors that is increasingly used by third-party apps and drivers.
If your PC doesn't support PAE, NX, and SSE2, you won't be able to install Windows 10. Also, check if your OEM computer is ready for Windows 10.
2] Ensure that all your device drivers are up-to-date.
3] Consult a hardware technician and see if you need to and if it is possible to upgrade some components.
4] Check out this checklist for the smooth installation of Windows 10.
5] If you made any changes to your system, run the Windows 10 Compatibility Appraiser manually again if you need to.
The upgradeability of a device has factors beyond the system specification. This includes driver and firmware support, application compatibility, and feature support, regardless of whether or not the device meets the minimum system specification for Windows 10. It will take some time for some OEMs to provide compatible drivers for the existing drivers. If your computer cannot straight away upgrade to Windows 10, contact your computer manufacturer to download the latest drivers or to know if they will be providing compatible device drivers for the new operating system.
If you need additional information, check out the Windows 10 FAQ and Windows 10 Known Issues, Problems, and Solutions.
Is 4GB RAM enough to run Windows 10?
4GB RAM is enough according to specifications, but here is the catch. It is enough for the OS, but you will need more memory if you want to run anything more. So, if you are planning to do casual work on Windows 10, it is best to have 8GB of RAM, and for anything heavier than that, you should get 16GB of RAM.
Is TPM compulsory for Windows 10?
Windows 10 needs TPM 1.2 for Windows 10 to work, and it was not a compulsory check. It was only required when you needed to encrypt the device using BitLocker. Though starting with Windows 10 version 1511, TPM 1.2 and 2.0 are supported.