Some gamers have reported the issue whereby they are unable to save game data for certain games on their Xbox console. They get the message We can't save more data for this game or app with error code 0x80830003, even though there's sufficient storage space on the destination drive. This post provides adequate solutions to this issue.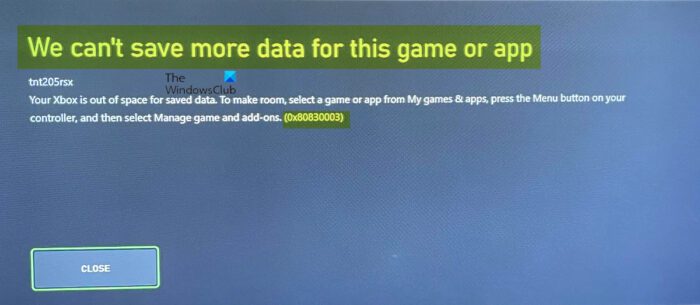 We can't save more data for this game or app

Your Xbox is out of space for saved data. To make room, select a game or app from My games & apps, press the Menu button on your controller, and then select Manage game and add-ons. (0x80830003)
Read: Your Xbox is almost full; How to get more space on your Xbox One?
We can't save more data for this game or app (0x80830003)
Cloud saves are unlimited, so if you get the We can't save more data for this game or app error message with error code 0x80830003 when you try saving game data on your Xbox Series X|S or Xbox One console, you can try our recommended solutions in the order presented below to resolve the issue on your gaming system.
Restart Xbox console
Power cycle console
Clear local saves on console
Reset Xbox console
Contact Xbox Support
Let's take a look at the description of the process involved concerning each of the listed solutions.
1] Restart Xbox console
Once you get the We can't save more data for this game or app (0x80830003) on your Xbox console knowing fully well that you do have sufficient storage space on your drive, your first line of action should be to restart your Xbox console which will resolve any temporary glitch that might be the culprit.
To restart your console, do the following:
Press and hold the Xbox button on the controller to launch the Power center.
When the options show, select Restart Console.
Select Restart and wait until your console finishes the reboot.
Once the restart is finished, see if you can successfully save your game data on your console – proceed with the next solution if you're still unable to do so.
Read: Uninstalling games from Xbox does not free up disk space
2] Power cycle console
To power cycle, a device is the same as to hard reboot a device. Similar to a restart. but slightly different in actions required to complete. So if restarting your console didn't help with the issue in view, you can power cycle your Xbox console. To perform this task, do the following:
Press and hold the Xbox button on the front of the console for approximately 10 seconds to turn off your console.
Unplug your Xbox from the mains.
Wait at least 30-60 seconds.
Once the time elapses, plug your Xbox back into the power outlet.
Now, press the Xbox button on the console or the Xbox button on your controller to turn your console back on.
After you perform this procedure, and you don't see the green boot-up animation when the console restarts, you can repeat these steps and make sure that you hold the power button until the console completely shuts down.
Read: How to transfer Xbox One Games and Apps to External Hard Drive
3] Clear local saves on console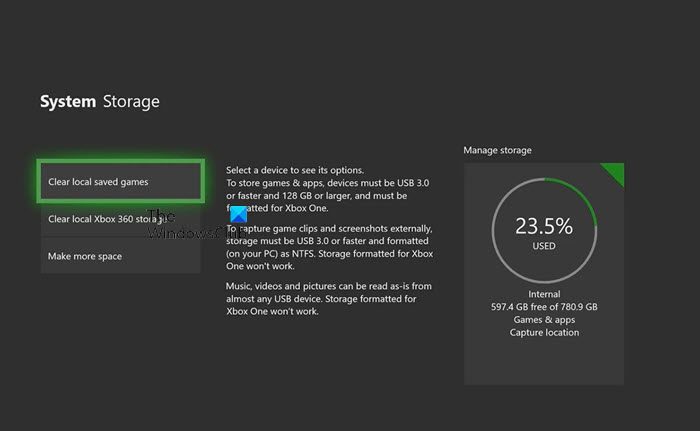 This solution requires you to clear your local saves (cloud saves will remain as long as you're connected to the internet) and then uninstall the games, restart the console, and then re-download the games. Before you proceed with this task, as a precaution, save all your game progress to the cloud. If you have signed in to your Xbox account, your game progress will be saved automatically to the cloud.
To clear local saves on the console, do the following:
Press the Xbox button to launch the menu.
Click on Profile & system.
Go to Settings > System > Storage.
Select the Clear local saved games option.
The console will now restart.
When you clear the locally saved game data, your game progress will be deleted only from your Xbox console – so you can safely delete your game data locally only if you have saved your progress to the cloud. Your game data will be automatically downloaded to your console from the cloud once you launch or start the game again.
Read: Xbox is not syncing game data to the cloud
4] Reset Xbox console
The issue you are currently facing could be due to your storage drive being corrupted. In this case, to resolve the issue, you need to completely reset your Xbox console to factory settings. Make sure to select the Reset and keep my games & apps option. To perform this task, do the following:
Go to the Homescreen.
Scroll left on the Home screen to open the guide.
Select Settings from the list of options displayed.
Next, choose All Settings.
Select System.
Now look for Console info & updates.
Select Reset console.
5] Contact Xbox Support
If you have exhausted all your options but the issue in hand isn't resolved yet, and you have confirmed you have sufficient storage space to save your game data, you can reach out to Xbox support and see if they can offer any suggestions on what to try to fix the issue.
Hope this post helps you!
Related post: Failed to load save data, Save data is corrupted in Elden Ring
What to do when your Xbox says we can't save more data for this game or app?
When you get this error, it is due to conflicting data between the local and cloud. If you are out of space to save data, there is an option in the Xbox settings to clear all local save data. Doing this means each saves will have to download from the cloud again when you open a game.
How do I fix error code 0x80830003?
To fix error code 0x80830003 on your Xbox console after you must have freed up some space and the error still occurs, you should try performing a hard reset of your console by pressing and holding the Xbox button on the front of your console for 10 seconds. Once the gaming device has turned off, disconnect the power cord from the back of the Xbox One and wait two minutes.
Why won't my Xbox sync my data?
If Xbox won't sync your data, it's usually because when you're playing on one Xbox console after having played on a different console that hasn't finished synchronizing your saves to the cloud. To resolve the issue, you can select Sync's last saved data to stop the other console's upload and instead sync the data on the console you're currently using.
Read: Fix Xbox Sync Error Code 0x838601e7
Can't save a game on Xbox One?
To fix saved game issues on Xbox, enable Energy-Saving Mode. Then, shut down your console and unplug your router to reset your connection. In addition, you can back up your data to an external hard drive and clear local saved games. If the issue persists, have your Xbox serviced or replaced.
How do I clear the cache on my Xbox One?
To clear the cache on Xbox One, simply turn the console off and unplug the power cable from the console and power outlet. When you clear the cache, all temporary data that games and apps use to run faster on your gaming console will be deleted.