If you receive The Server stumbled, We all have bad days error message, Error Code 80072EFF, 80072EFD, 0X80072EE7, 801901F7 or 0x80072F05 when you open Microsoft Store, or when you go on to download some Microsoft Store app using Windows 10, then this post may be able to help you.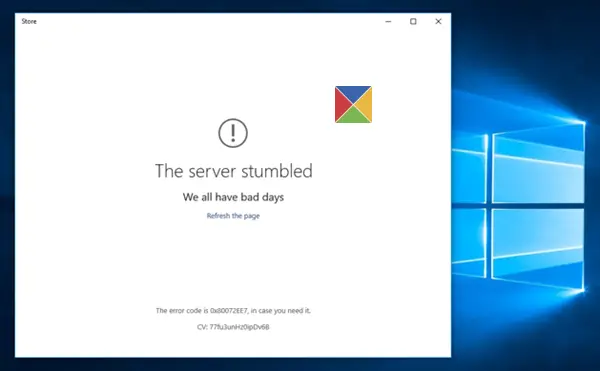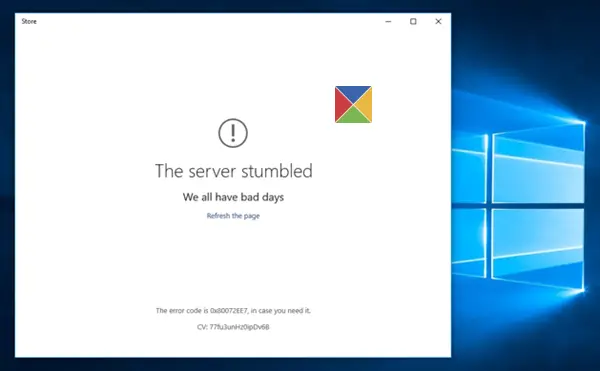 The Server stumbled, We all have bad days
Here are a few troubleshooting steps you may want to try.
1] Refresh the Store page
If could be a temporary issue with Windows Store itself. Refresh the page after a while and see if it works.
2] Install the latest Store app version and Windows Updates
Make sure you have the latest Windows Updates installed on your Windows 10 system.
3] Disable security software temporarily
Disable your antivirus and see if it works
4]  Run Windows troubleshooters
Run the built-in Windows troubleshooters like Windows Store Troubleshooter, Network Adapter Troubleshooter and Internet Connection Troubleshooter and see if it helps.
5] Check Time settings
Check the System Date and Time Zone on your computer. Make sure it is correct.
6]  Reset Windows Store Cache
Reset Windows Store Cache and see if it helps.
7]  Re-register the Windows Store app
Re-register the Windows Store app and see if it helps.
8] Reset Windows Store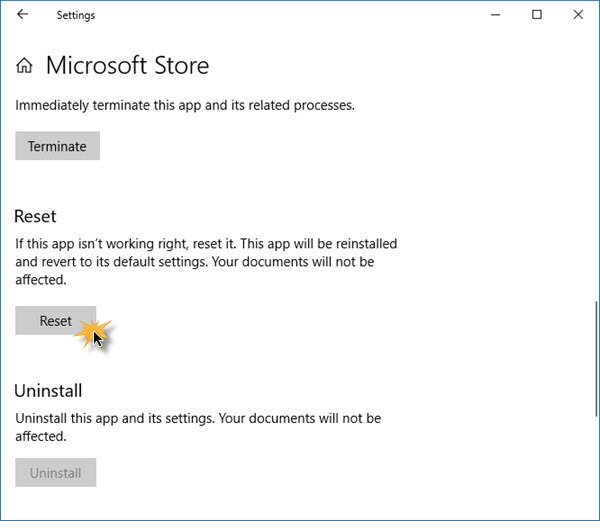 If Windows Store is not working properly, open Windows 10 Settings > Apps > Apps & Features > Locate Microsoft Store > Advanced options > Reset.
9] Disable Proxy
If you are using a proxy connection, then disable proxy and see if it works. To disable proxy, open Internet Explorer > Tools > Internet Options > Connections tab > LAN settings > Uncheck Use Proxy server > Apply. If this does not work you may want to reset your Proxy using the reset proxy command to reset the WinHTTP proxy to Direct. Type the following in an elevated command prompt window and hit Enter.
netsh

 

winhttp

 reset proxy
If you know the error code also, then this may be of great use to you:
80072EFF : This indicates that TLS is disabled, and should be re-enabled. So you need to enable TLS. T do this, open Settings > Network and Internet. Select Wi-Fi and click on Internet Options. Click on the Advanced tab and go to the Security section. Ensure there is a checkmark next to Use TLS 1.3.
Select Apply/OK.
80072EFD : This indicates a connection with the server could not be established. Look at general internet connection settings, Enable ILS, check your proxy settings and make sure that you do not have an invalid proxy. Remove your Internet connection and ass it back and see if it helps. See this workaround if you see Error Code 80072EFD.
0X80072EE7 : Change the DNS Server. Open Control Panel > View network connections > Choose your network > Right-click on it and select Properties > Scroll down to Internet Protocol Version 4 (TCP/IPv4) > Click Properties > Select Use the following DNS Server addresses. Here you may use Preferred DNS Server – 8.8.8.8 and Alternate DNS Server – 8.8.4.4. These are the addresses of Google Public DNS Servers.
801901F7 : This error code indicates the Windows Update service is not running. Use these steps to re-enable it. Re-enable it via Services.msc. Set the service on Automatic.
More suggestions here: Troubleshoot Windows Store not opening.
Let us know if anything helped you.
See this post if you receive a Try again later Something happened on our end Windows 10 Store error message.
Also, see Windows Store apps are not opening and Check your connection Windows Store error.