A lot of users have reported that the SysMain process (earlier known as Superfetch) causes high CPU usage. While the SysMain service is helpful in understanding how you use your hard drive, it isn't exactly necessary for your computer.
Service Host SysMain causing High CPU and Memory usage
The SysMain service is the one that is related to Superfetch. Its job is to maintain and improve system performance over time. It is found in the System32 folder. Basically, the SysMain process is responsible for collecting data of every kind of usage on the system. Then that data is reorganized in the forms of blocks for your hard drive and prioritized accordingly.
If the Service Host SysMan process if causing high-resource utilization, then before you decide to disable it, try the followig:
If you use an HDD on your system, then it's quite probable that SysMain will cause high CPU because of the simple fact that HDD is slow in reorganizing itself. If you encounter the problem with high CPU usage due to SysMain, the clear solution is to disable the service.
Disable the SysMain service from the Service Manager
Using elevated Command Prompt
Using the Registry Editor
Try the following methods to disable the SysMain service:
1] Disable the SysMain service from the Service Manager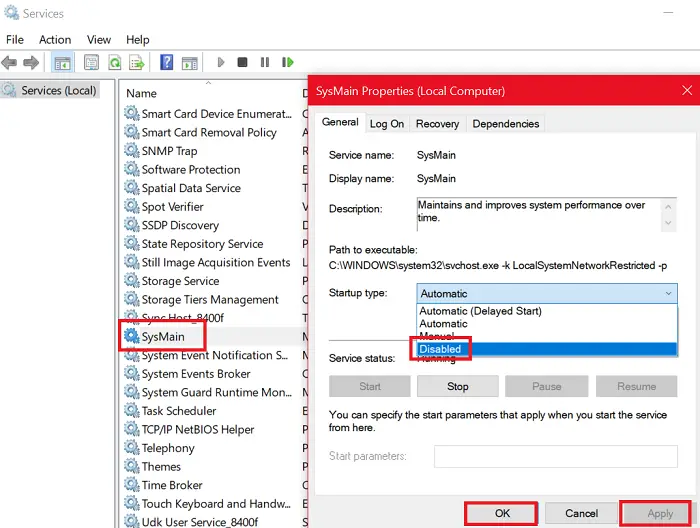 The easiest method to kill the process associated with SysMain is to disable the SysMain service from the service manager.
Press Win+R to open the Run window and type the command services.msc.
Hit Enter to open the Service Manager window.
Scroll down to the SysMain service.
Right-click on the SysMain service and select Properties.
Change the Startup Type to Disabled.
Hit Apply and then on Ok.
2] Disable SysMain using elevated Command Prompt

The method involving Command Prompt is somewhat easier since all you would need to do is copy-paste a command.
Search for "command prompt" in the Windows Search bar.
In the right-pane corresponding to Command Prompt, select Run as administrator.
Then, in the elevated command prompt window, type the following command and hit Enter:
sc stop "SysMain" & sc config "SysMain" start=disabled
Once you get the SUCCESS message, consider the job done.
Restart your computer.
Read: Service Host: Diagnostic Policy Service 100% Disk Usage.
3] Disable the SysMain using the Registry Editor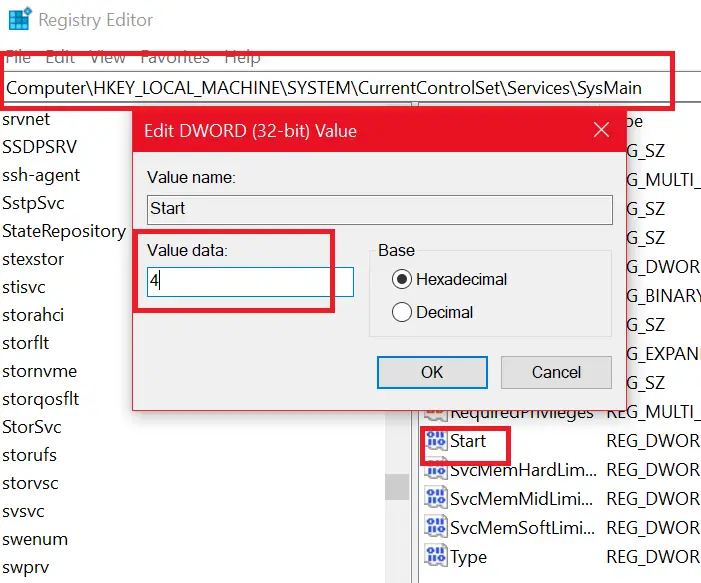 The Registry Editor is a wonderful tool for making long-term changes to your system. The procedure to disable the SysMain service through the Registry editor is as follows:
Press Win+R to open the Run window and type the command regedit. Hit Enter to open the Registry Editor window.
Go to the following path in the Registry Editor:
HKEY_LOCAL_MACHINE\SYSTEM\CurrentControlSet\Services\SysMain
On the right-pane, double-click on the value Start.
Change the value of the Value Data to 4 and click on OK to save the settings.
We hope something helpe you fix the High Resource Utilization issue on your computer.