After updating my Firefox, I could not open several sites, including Google.com, Twitter.com, Facebook.com, etc. I received the error – Your Connection is not secure, SEC_ERROR_UNKNOWN_ISSUER. If you receive this error, there are two ways you can deal with it.
SEC_ERROR_UNKNOWN_ISSUER Firefox error
Before you begin, we suggest you do the following:
If the above does not help, Mozilla suggests that you resolve this issue by disabling the SSL scanning in your security software like Avast, Bitdefender, ESET, and Kaspersky. So you will have to check this setting in your security software. I am giving below the example of Kaspersky.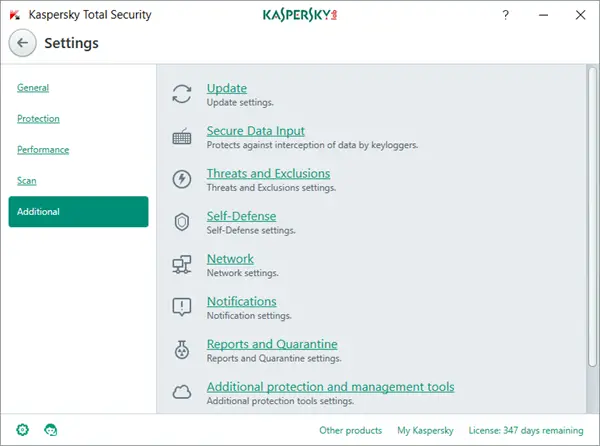 Open your Kaspersky software and click open Settings. You will see its icon on the bottom left side.
Select Additional > Network.
On the Network settings page, under Encrypted connections scanning section, select Do not scan encrypted connections.
When you do this, it does leave your system a bit insecure, as this will reduce the protection of your computer as modules like Parental Control, URL Advisor, Private Browsing, Web anti-virus, etc., will not be able to control encrypted connections.
In Avast open the dashboard, go to Settings > Active Protection and click Customize next to Web Shield. Uncheck the Enable HTTPS Scanning setting.
Bitdefender users need to click on Modules > Web Protection > Toggle off the Scan SSL setting.
ESET users should disable and re-enable SSL/TLS protocol filtering or generally disable the interception of secure connections.
This was just an indicative list, and you will have to do so accordingly for your security software.
The other option is to add an exception if the website allows you to.
On the error or warning page, click Advanced.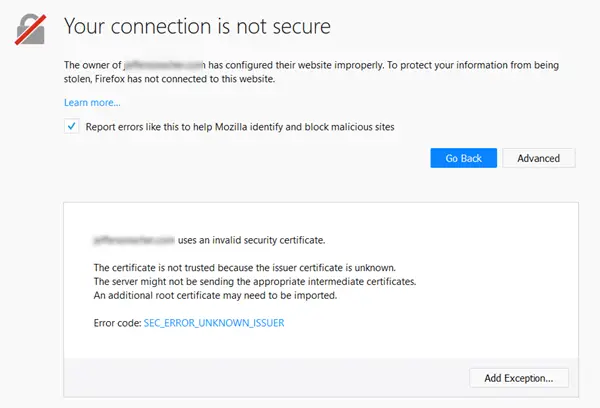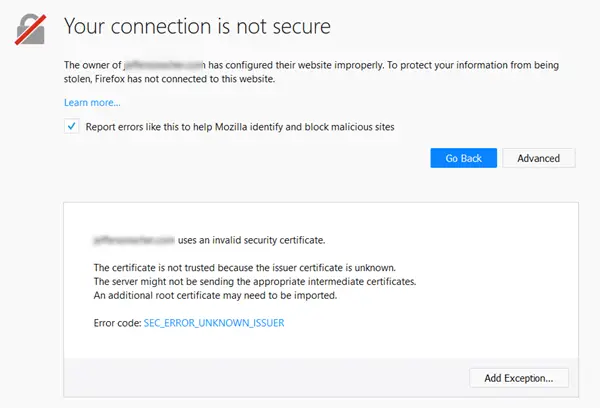 Next, click Add Exception. The Add Security Exception dialog box will open.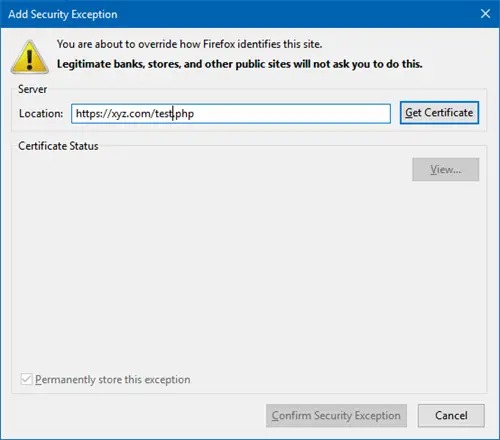 You can click Get certificate and then on View if you want to see the certificate.
Once you are ready, you have to click Confirm Security Exception if you are sure you want to trust the site.
Restart Firefox and see. The warning will no longer appear.
If nothing helps, reset Firefox and see.
Trust this works for you.
Related read: How to troubleshoot Time related errors on secure websites for Firefox.