The sdbus.sys file is located in C:\Windows\System32\Drivers, and it contains the code required to correctly load and configure the Windows operating system. During an ADMA transfer process, the Secure Digital Bus Driver (Sdbus.sys) converts the DMA data structure of the operating system to the ADMA data structure of the SD card. The DMA and the ADMA data structures are also known as descriptor tables.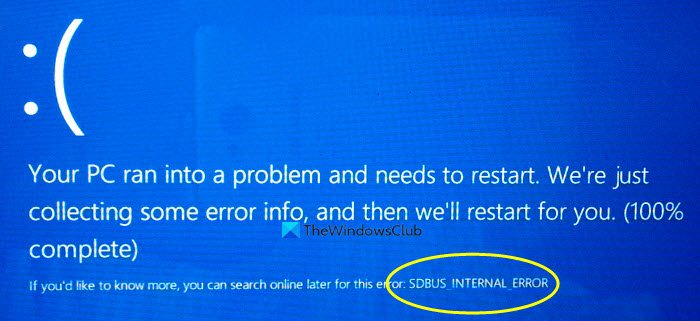 When this file fails to load properly, your system could throw  up a Blue Screen error:
SDBUS_INTERNAL_ERROR (sdbus.sys}
This post provides the most suitable solutions you can try to successfully fix the Sdbus.sys Blue Screen error in Windows 11/10.
The sdbus.sys blue screen error usually appears after the installation of new software or hardware, on Windows startup, or when you run a specific sdbus.sys-related program. Knowing the exact time when this error occurs makes it easy to troubleshoot the problem.
Some of the reasons that cause the sdbus.sys error include:
Incompatible, outdated or missing device drivers.
Corrupt or missing components in the Windows registry.
Incomplete or incorrect software installation.
Memory (RAM) issues.
Faulty hardware.
Fix Sdbus.sys Blue Screen error
If you're faced with this issue, you can try our recommended solutions below in no particular order and see if that helps to resolve the issue.
Run the Blue Screen Online Troubleshooter
Check for Driver updates
Scan for memory issues
Run CHKDSK
Run System File Checker
Perform System Restore
Repair Windows 11/10
Let's take a look at the description of the process involved concerning each of the listed solutions.
If you can log in normally, good; else you will have to boot into Safe Mode, enter the Advanced Startup options screen, or use the Installation Media to boot to be able to carry out these instructions.
1] Run the Blue Screen Online Troubleshooter
This solution requires you to the Blue Screen Online Troubleshooter from Microsoft. It helps beginners & novice users troubleshoot their Blue Screens and fix the stop error automatically.
2] Check for Driver updates
Run Windows Update to check for Optional/Driver Updates. You can also update your drivers manually via the Device Manager.
3] Scan for memory issues
Corruption in RAM can potentially make Windows 10 unstable and thus trigger the Sdbus.sys BSOD. So if you added a new RAM stick, remove it and check if that is causing the error. If not, then you need to run a Memory test. Windows will initiate checking for the abnormalities in RAM. If it finds any, you need to replace the affected RAM.
4] Run CHKDSK
This BSOD issue possibly occurs due to system error or having bad sectors on the hard drive. In this case, you can run chkdsk using the command prompt and check if it works.
5] Run SFC scan
This solution requires you run SFC scan and see if that helps.
6] Perform System Restore
You can restore your system to an earlier point. This will restore your system to an earlier point when the system was working correctly.
7] Repair Windows 11/10
If none of the above suggestions help, try Reset This PC or Cloud Reset. If that too does not help, you may need to repair Windows using the installation media to resolve this issue.
This should help!