We often use mouse right-click to perform different operations. Right-click context menu shows different options in different applications. What if the right-click context menu disappears appears and disappears quickly before you can select an option? Some users experienced this problem. If you are in the same situation, follow the suggestions provided in this article to fix the issue.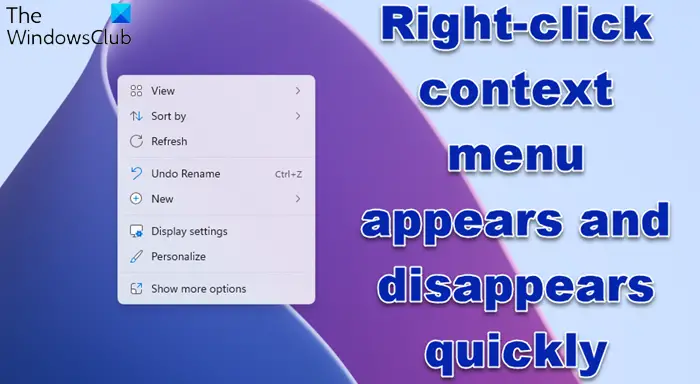 Right Click menu disappears quickly on Windows 11/10
If the right-click context menu disappears appears and disappears quickly and you are unable to select an option, use the following solutions to fix the problem. Before you proceed, check for Windows Update , and if an update is available, install it.
Restart Windows Explorer
Repair corrupted system image files
Change Performance Options
Uninstall the latest Windows Update
Use Context Menu Editor
Troubleshoot in a Clean Boot state
Pause OneDrive sync
Restore your system
Perform an In-pace Upgrade.
Let's see all these fixes in detail.
1] Restart Windows Explorer
This is the first thing that you should do. Restart Windows Explorer and see if it helps. The steps to do this are as follows:
Press the Ctrl + Shift + Esc keys to open the Task Manager.
Under the Processes tab, scroll down and locate Windows Explorer.
Right-click on Windows Explorer and select Restart.
Wait for a few minutes and then check if the problem persists.
2] Repair corrupted system image files
Corrupted system image files are among the most common causes of such types of problems. System File Checker is a Windows 11/10 built-in tool that repairs corrupted system image files.
Run an SFC scan and see if it helps. It will take some time. Hence, you have to wait till the process gets completed. Do not interrupt the process.
When the SFC scan is completed, we suggest you run the DISM scan. To use System File Checker and DISM tools, you must open the Command Prompt as an administrator.
3] Change Performance Options
Some users were able to fix the issue by changing the Performance Options. You should also try this. Go through the following instructions: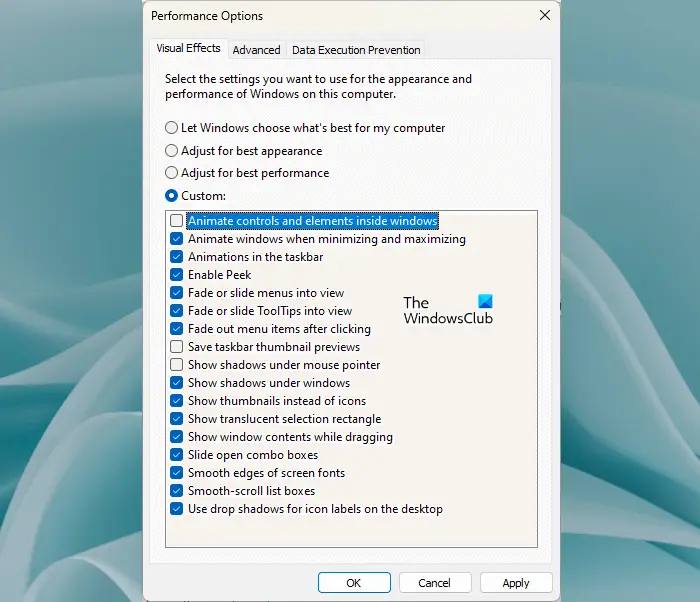 Open Windows 11/10 Settings.
Go to System > About.
Click on the Advanced System Settings link.
The System Properties window will appear. Now, go to the Advanced tab.
Under the Performance section, click Settings. This will open the Performance Options window.
Uncheck the Animate controls and elements inside windows checkbox.
Click Apply and then click OK.
Now, see if the problem is fixed. If not, use other solutions.
4] Uninstall the latest Windows Update
According to the reports, some users experienced this issue after installing the Windows Update. If you are also one of them, uninstall the latest Windows Update.
5] Use Context Menu Editor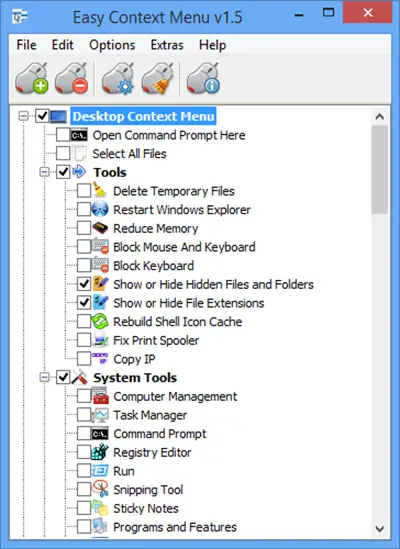 Use a Context Menu Editor to remove unwanted context menu items. Sometimes 3rd-party integrations can make this issue appear.
6] Troubleshoot in a Clean Boot state
It is also possible that the problem is occurring due to a conflicting third-party background application. To confirm this, you have to troubleshoot in a Clean Boot state. When you disable all the startup apps and third-party services that state is called the Clean Boot state.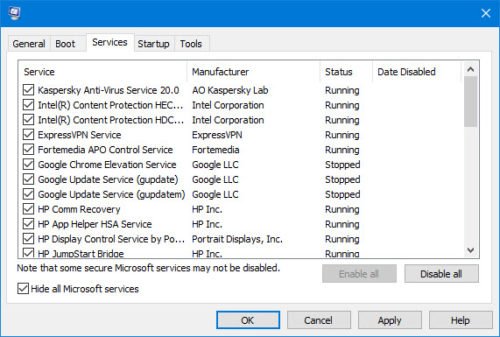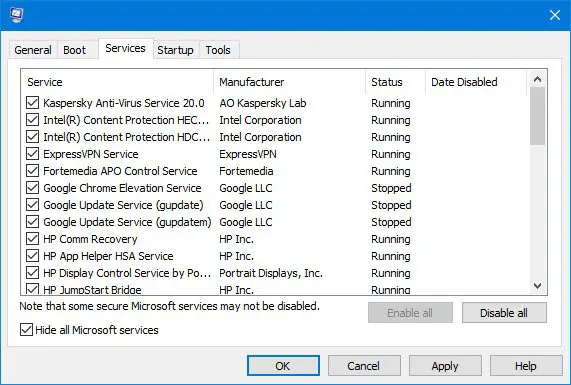 Start your computer in Clean Boot by using MSConfig and then check if the right-click menu keeps disappearing quickly. If the problem does not occur in the Clean Boot state, you have to find out the problematic third-party app or service. For this, enable some startup apps using the Task Manager and restart your computer. If the issue does not persist, enable the remaining startup apps. If the problem occurs, one of the apps that you have just enabled is the culprit. To identify it:
Open the Task Manager.
Disable any one of the startup apps.
Restart your computer.
Check if the problem persists.
Repeat the above steps until you find out the conflicting startup app. Follow the same procedure to identify the conflicting third-party service, but this time you have to use the MSConfig app.
7] Pause OneDrive sync
Some affected users reported that the issue was occurring due to OneDrive sync. OneDrive keeps syncing your files in the background. To check if this is the case with you, pause OneDrive sync.
If this fixes the problem, uninstall OneDrive and reinstall it by downloading its latest version from the official website of Microsoft. Alternatively, you can also install the OneDrive app from Microsoft Store.
8] Restore your system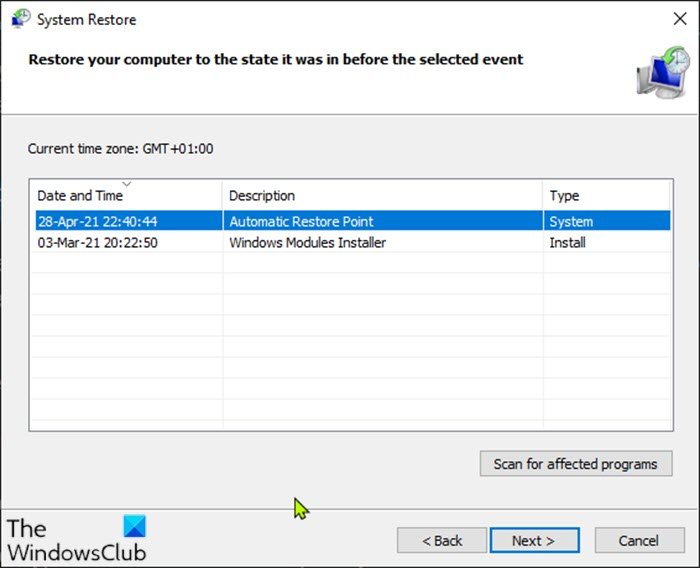 System Restore is a tool that takes your system back to its previous working state when a problem occurs. Performing a System Restore can fix this problem. While restoring your system, select the date before which the right-click menu was working fine. Do note that this tool will uninstall all the programs that you have installed after the selected date. Your personal files will not be affected by this action.
9] Perform an In-pace Upgrade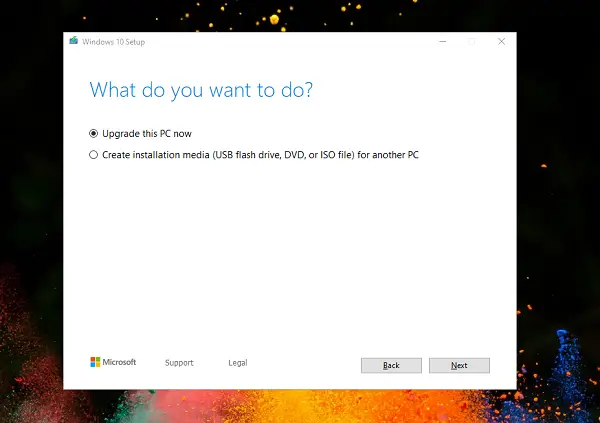 If none of the above fixes helped, you need to repair your system. Perform an In-place Upgrade to repair Windows 11/10. This method will install the Windows operating system over the currently installed Windows operating system without uninstalling it. Hence, there is no risk of data loss. But it is always better to back up your data.
I hope this helps.
Read: Right-click not working on Start Menu or Taskbar.
What is the shortcut for opening right-click?
Shift + F10 is the shortcut to open right-click context menu. You can use any of the Shift keys (right or left) to open right-click menu. To display the right-click menu for a file or folder, first, select it by using your mouse left click, and then press the keyboard shortcut.
Why is my right-click not showing options?
If your right-click is not working properly, the problem may be due to hardware or software issues. A conflicting background app may be responsible for this issue or your mouse driver may have been corrupted. Corrupted system image files are also responsible for such types of issues.
Read next: Cannot right-click on the desktop on Windows.