Mouse or Trackpad is the primary input device that we use with Windows computers. At times you may find that the mouse right-click is not working are that you have a slow right-click. If you face these issues, this post is sure to help you.
Right click not working or slow to open on PC
If your mouse right-click button is not working or is unresponsive and slow to open on Windows 11/10/8/7 computer, here are some suggestions that are sure to fix the problem. It could be a hardware or a software-related problem.
1] Hardware Problems
There is a slight possibility that this could have been caused due to some real hardware problems. Check your mouse or trackpad for physical damages. If you are using a mouse, try connecting it to other devices and check its operation. And if you are using a trackpad, connect an external mouse to see if the right-click works. If a hardware defect is identified, you can take your device to the service center and get it repaired or replaced.
If you do not have access to any other external device, you can swap the mouse buttons to see if the right-click is working or not.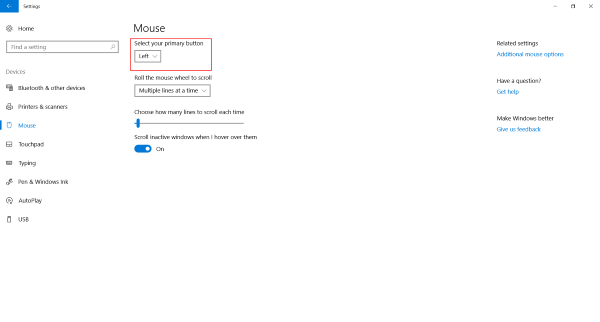 To swap the buttons, open Settings then go to Devices and then into Mouse. Now change the settings which say Select your primary button. Now test out if the clicks work fine or not.
Related: Right-click not working on Start Menu or Taskbar.
2] Software Problems
If you have not been able to get the right-click working by now, there must be a software problem. Did you start facing this problem after you installed some software recently? Try uninstalling it and check if the right click started working. Perform a Clean Boot and check.
What usually happens is that some third-party shell extension is creating this problem on the right-click menu. Windows come with a default set of options in the right-click menu. But you can add more features and software to the right-click menu with the help of third-party software. Identifying this third-party shell extension is a major task here. And for that, we can take the help of numerous tools available out there. The most reliable option is ShellExView.
This is a rather comprehensive tool that would let you view all sorts of shell extensions installed on your computer. All third-party extensions are highlighted in a peach color. You can directly skip to these extensions and start disabling them one by one. After you disable each extension, do not forget to check if the right-click has started working. This would help you locate the culprit shell extension, and you can completely remove the source third-party software if required.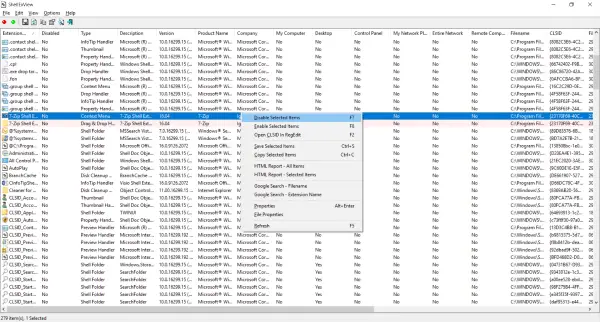 Other than that, you can use ShellExView to obtain a lot of information about installed shell extensions. You can check what context menu's they affect and what type of extension is that. Click here to download ShellExView.
Read: Right-click not working on Chrome or Firefox.
CCleaner is another popular tool used by Windows users for cleaning up junk files and folders from their computers. The tool offers features that let you delete 3rd party shell extensions and restore right-click functionality.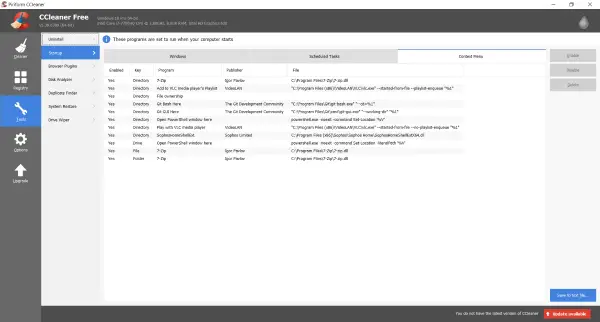 To do so, open CCleaner, go to Tools section and then into Startup. Now open the Context Menu tab to view the list of all third-party shell extensions installed on your computer. You can follow the same procedure to disable all these extensions and check the one responsible for creating problems with the right-click menu.
Hope this post helps you!
See this if your Mouse left-click button is not working.