Right-click context menu in Outlook helps users perform different operations, like deleting an email or folder, creating a new folder, sorting subfolders, opening folder properties, etc. But if for some reason, right-click is not working in Outlook, the solutions provided in this article will help you.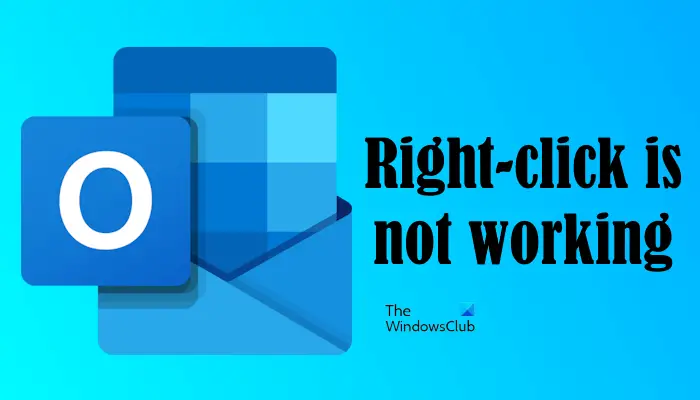 Why is my right click not working in Outlook?
One possible cause of this issue is a corrupted Outlook profile. Another reason why the Outlook right click may not be working is conflicting add-in(s).
Fix Right-click is not working in Outlook
According to some users, right-clicking in the Outlook desktop app does nothing and hence, they cannot use this functionality in Outlook. As a result, even Copy and Paste is not working in Outlook! Use the solutions below if right-click is not working in Outlook on your system.
Launch Outlook in Safe Mode
Create a new Outlook profile
Disable Hardware Acceleration
Repair Office
Reinstall Office
Below, we have provided all these solutions in detail.
1] Launch Outlook in Safe Mode
Sometimes, installed add-ins cause issues in Microsoft Office applications. The problem that you are facing in Outlook might be occurring due to a conflicting add-in. To confirm this, launch Outlook in Safe Mode. See if the right-click works in Safe Mode or not. If yes, the problem was occurring due to an add-in. Now, you have to identify that add-in. Follow the steps provided below: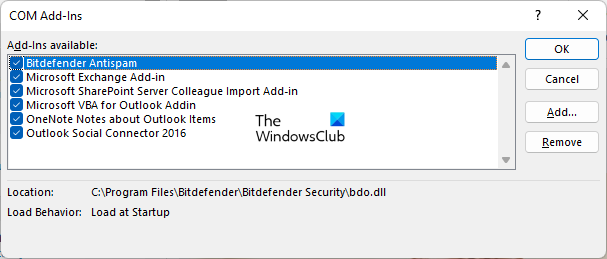 Exit Outlook Safe Mode and launch it in normal mode.
Go to "File > Options > Add-ins."
Select COM Add-ins in the drop-down on the right side and click GO.
You will see the list of installed and active add-ins. Now, uncheck any one checkbox and click OK. This action will disable that add-in.
Restart Outlook and see if the problem persists.
Repeat the above steps until you find the problematic add-in. Once you find it, remove it and find its alternative.
2] Create a new Outlook profile
One possible cause of this issue is the corrupted profile in Outlook. If you already have multiple profiles in Outlook, check if the problem occurs in another profile or not. If not, your user profile is corrupted. However, removing and recreating the profile can also help.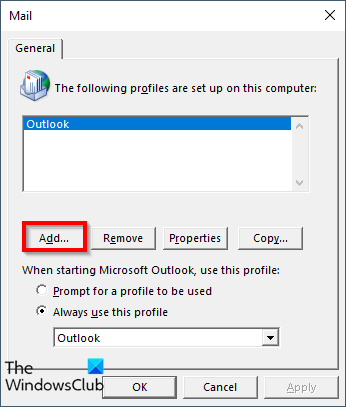 Create a new profile in Outlook and then see if this problem occurs in that user profile.  If not, you can continue using that user profile and delete the old one.
3] Disable Hardware Acceleration
According to the reports, disabling the Hardware Acceleration worked for some users. Hence, you can also try this. The Hardware Acceleration option is now removed from Options in all Office applications. Hence, you can do this by modifying the Registry.
The following method shows you registry modification. Therefore, follow all the steps carefully as incorrect modification can make your system unstable and put you in trouble. Before proceeding, it is better to create a System Restore Point and backup registry.
Open the Registry Editor. Copy the following path, paste it into the address bar of the Registry Editor, and hit Enter. Or, you can go to the following path manually by opening the required branches in the Registry Editor.
HKEY_CURRENT_USER\Software\Microsoft\Office\16.0\Common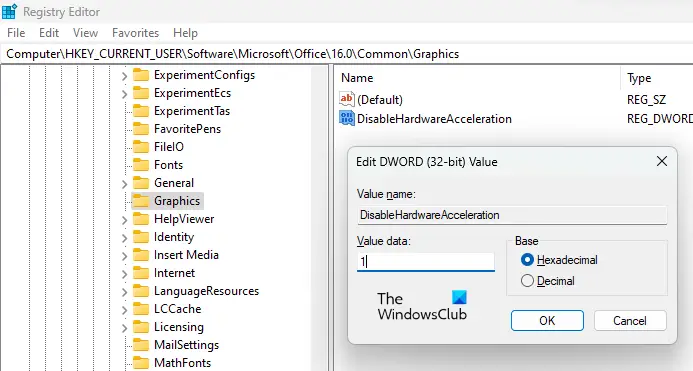 In the above path, the 16.0 may be different depending on the version of Microsoft Office installed on your system. Once you reach the above path, expand the Common folder. Now, look for the Graphics subfolder. If the Graphics subfolder is not there, you have to create it. To do so, right-click on the Common folder and go to New > Key. Name this newly created key Graphics.
Now, select the Graphics key and check if the DisableHardwareAcceleration value is available on the right side. If not, create it. To do so, right-click in the empty space on the right side and select New > DWORD (32-bit) Value. Name this newly created value as DisableHardwareAcceleration. Now, double-click on the DisableHardwareAcceleration value and enter 1 in its Value data. Click OK to save the changes.
Close the Registry Editor and restart your system to apply the changes. This should work.
4] Repair Office
In some cases, updates can cause problems or issues with applications. It is possible that a certain Office update has created this issue. Repairing Microsoft Office fixes a lot of problems. We suggest you run an Online Repair and see if it helps.
5] Reinstall Office
If repairing Office did not fix the problem, uninstalling and reinstalling Office can help. But you have to uninstall Office completely from your computer. Download Microsoft Support and Recovery Assistant Tool from the Office website of Microsoft and use it to completely uninstall Office from your system. After that, restart your computer and then install it again.
Before you proceed towards uninstallation of Office, make sure that you have its activation key. You will need this key at the time of reactivating Office.
That's it. I hope this helps.
Read: How to change the display of the Mail Count in Outlook.
Why is my right-click paste not working?
If right-click paste is not working in Outlook on the Web, you have to allow clipboard permissions to Outlook.com in your web browser. If you cannot copy-paste at all in Windows, then this post shows you how to fix the clipboard to reset the Copy and Paste function.
Read next: Cannot dismiss reminders in Outlook.