The Copy and Paste feature in Windows is one of the most basic and often-used features in the OS. But for some reason, if you find that it is not working generally as required, then this post will help you fix the issue. This problem can occur if some system file is corrupted or if some third-party process interferes with this function's smooth working. In this post, we will fix the problem where Copy Paste is not working as expected.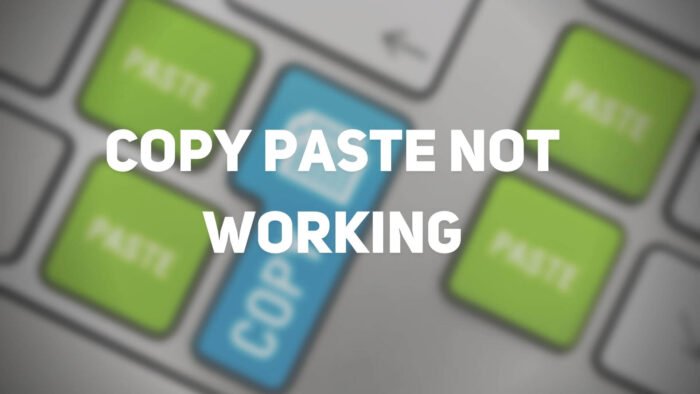 Copy and Paste not working in Windows 11/10
If you cannot copy-paste, then this post shows you how to fix the clipboard to reset the Copy and Paste function in Windows 11/10. Here are a few things you could try:
Restart rdpclip.exe process
Restart explorer.exe process
Reinstall the program in which Copy-Paste is not working
Clear clipboard history
Run SFC and DISM
Troubleshoot in Clean Boot State
Use Refresh Windows Tool.
Let us see these suggestions in detail.
1] Restart rdpclip.exe
Right-click on the Taskbar and select Task Manager.
Here, locate the rdclip.exe process, right-click on it, and select End Process.
Next, click File tab > Run new task. Type rdpclip.exe and hit Enter.
It is helpful if Copy and Paste are not working on your Remote Desktop Connection.
2] Restart Explorer.exe
Restart the File Explorer process and see if it makes the problem go away.
3] Reinstall the program in which Copy-Paste is not working
If the Copy-Paste is not working on any particular program, you should Reinstall or repair the program and see if that helps.
See this post if Copy Paste not working in PowerPoint.
4] Clear clipboard history
Clear clipboard data and see if it helps. It has been known to help some.
To clear the Clipboard History using the command line, open CMD.exe and execute the following command:
echo off | clip
As soon as you hit Enter, check if the right-click Copy and Paste function is working fine.
5] Run SFC and DISM
Run the System File Checker. The process will replace potentially corrupted system files; If this does not help, maybe you want to run DISM to repair a potentially corrupted system image.
6] Troubleshoot in Clean Boot State
To find out if some third-party process is interfering with the smooth working of this function, you may perform Clean Boot and then try to identify the offender manually.
Read: Ctrl+C and Ctrl+V not working in Windows 11
7] Refresh Windows 11/10
If nothing helps, back up your data and then use the Refresh Windows Tool from Microsoft.
How do you see a text which I copied earlier?
If you have enabled the Windows Clipboard, you can use Win + V to see some of the recently copied text. You can use this feature to copy multiple items and then paste them anywhere. It saves time, and you don't have to switch or scroll a lot.
Why won't my PDF let me copy and paste?
Some PDF files restrict copy function on any PDF software. That is by design and not something you can fix. However, if the PDF file can be printed again as a PDF file, you will be able to copy text from it. You can use Microsoft Print to PDF
I hope something here helped you get the Copy-Paste function working back.