When trying to access Outlook.com or accessing any of its sections, you get a looping error that eventually stops and says: Something went wrong, and we can't sign you in right now. Please try again later, then here is how to resolve this. It can happen with Office 365, Outlook WebApp, etc.
Something went wrong, and we can't sign you in right now error in Outlook.com
Forum users report that it happens only on Edge, but not on Chrome or any other fresh browser they try. It is likely a browser issue where the cookies might have gone corrupt. Here are our suggestions:
Clear your browser cache
Check Microsoft Services Status
Disable Extensions & Add-ons
Reset the browser.
Since we will talk about resetting the browser, make sure to take note of all extensions, and backup of password if any.
1] Check Microsoft Services Status
Check if any Microsoft online services are down or facing issues here. If you see Outlook.com with a red cross, it's happening because of it. Wait for the Outlook service to restore, and then sign in again.
2] Clear your browser cache
The files may be corrupt. It could be any file like cookies or any security file which verifies your identity. If that's the case, then Outlook.com is not able to verify if you have been authenticated earlier. You need to clear your browser cache.
On Edge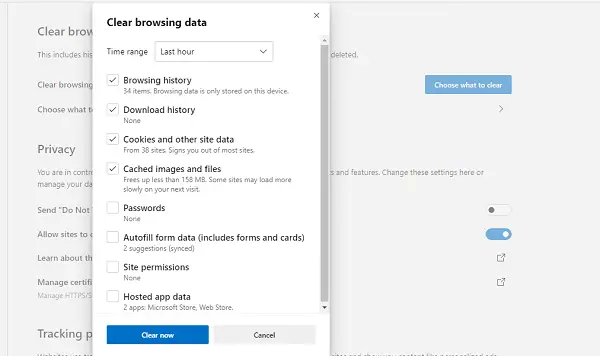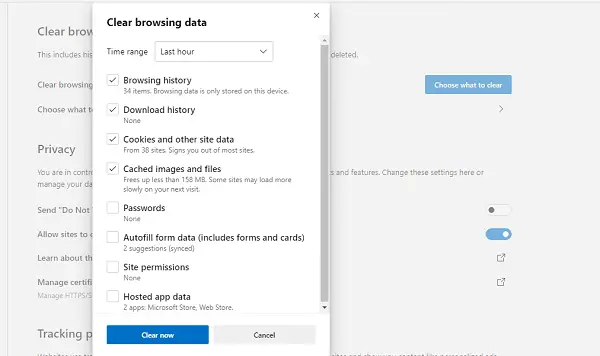 Type edge://settings/privacy in a new tab, and hit Enter
Click on what to clear
Select Time Range as All time and check the box against Cookies and other site data
Click on Clear now button.
On Chrome
Go to chrome://settings/privacy
Scroll to the end to find Clear Browsing Data
Select Cookies and other site data.
On Firefox
Go to about:preferences#privacy
Select Cookies and Site data
Click on Clear data.
In any of these browsers, you can delete only website cookies and site data.
3] Disable Extensions & Add-ons
You may have extensions that control the way you connect to the internet. It would be best if you can disable the extensions or addons or start the browser in safe mode. This way, you can check if they are responsible.
4] Reset the browser
If nothing works, it would be best that you reset the browser in which you are having the problem. You will lose all extensions, settings, and other things that you usually use every day.  Read our tutorial on resetting Chrome, Firefox, and Edge.
If you have connected your account with an account on the browser, you should be able to get most of the things once the problem is resolved. I hope these tips were useful and helped you to get rid of the "Something went wrong, and we can't sign you in right now" error.