Most modern computer systems, especially gaming ones, make use of multiple fans to keep the internal components cool. They expel the heat produced by the system through vents and draw relatively colder air from outside to prevent any damage to the system. If, however, your fans start to spin super fast and the monitor turns off abruptly, read this post to know how to fix the issue.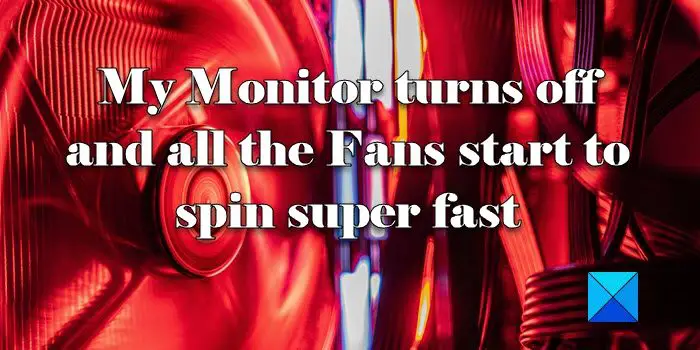 My Monitor turns off and all the Fans start to spin super fast
The fan issue indicates that your GPU temperature is not under control. A dedicated GPU generates a lot of heat, and hence gaming PCs tend to be at a higher risk of getting overheated quickly.
When the GPU gets overheated, it deactivates and puts the screen in sleep mode to protect the system from potential damage.
When this happens, the fans start making a noise and spin at their maximum speed. You may also see a message on the screen that says 'DisplayPort: No signal', indicating that the monitor is still on and working, but the processor has stopped sending it signals.
To fix the problem where the monitor turns off and all the fans start to spin super fast, use these solutions:
Keep your device from overheating.
Fix Power Supply Issues.
Install BIOS update.
Clean install the graphics driver.
Take your device to an authorized professional for repair.
Let us see these in detail.
1] Keep your device from overheating
When a system produces more heat, the fans work harder to dissipate it, leading to speed and noise. An overheated GPU can only impact system performance, but an overheated CPU can impact the entire computer system, including the hardware.
Use these tips to keep your PC from overheating:
Thoroughly clean your PC to remove lint or dust buildup. Dust can cause blockage in air vents and prevent the air from flowing around the fan, making it more difficult to dissipate heat. Use a vacuum or a compressed gas duster to clean the air vents. Consult your laptop manufacturer's website or manual for detailed information on cleaning the inside of your computer. Do not open the back lid if you're not sure what you're doing and the laptop is under warranty.
Always place the laptop on a flat surface. When you place the laptop on a soft surface (such as a bed or lap), you would probably block some or all the air vents at the bottom. But when you place it on a hard surface, the rubber feet ensure that the laptop is raised enough to allow a smooth airflow through the vents.
Use an additional cooling pad to make sure your GPU temperatures stay under control.
If you've manually configured your GPU to run faster than its rated frequency, it is at the risk of overheating under prolonged load. Disable overclocking if your GPU is constantly thermal throttling.
Undervolt GPU to reduce its power consumption. The less power it takes, the cooler it gets.
Lower in-game settings (anti-aliasing, ambient occlusion, display resolution, etc.) to deal with overheating on a low-end GPU.
Plugin your charger to make sure your laptop receives enough power to compensate for hardware-intensive games.
Read: How to fix overheating and noisy laptop fan issues.
2] Fix Power Supply Issues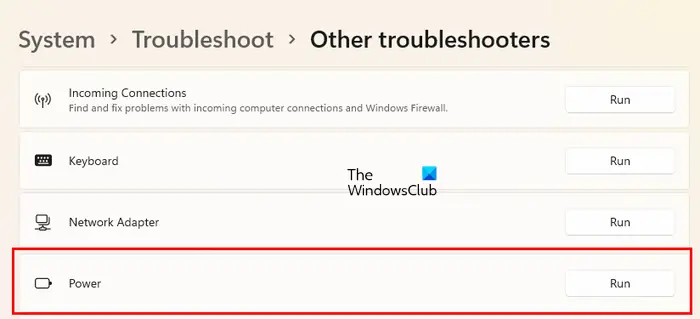 The issue may also be related to the power supply. Try unplugging and re-plugging the power cables, or replace them and see if it helps. Use a low or balanced power mode to push power limits. If you've previously customized the power settings, run the built-in Power Troubleshooter to scan and fix power issues on your Windows 11/10 PC.
Clean the computer from the inside to prevent the Power Supply Unit (PSU) from overheating. An overheated PSU (Power Supply Unit) can raise the internal temperature of your computer and put all the connected components at risk of malfunctioning. If the PSU is underpowered or getting old, consider replacing it to resolve power supply issues.
3] Install BIOS update
Some system fans rely on BIOS to set up the speed profiles. If the fans are spinning really fast, try resetting the BIOS to defaults or installing a BIOS update if available.
Visit the manufacturer's website and go to your computer's product page. See if an update is available. If you see multiple updates, download the latest update. Do not download an update that is not meant for your computer or is older than the one installed on your system. Once the update is downloaded, update BIOS on your Windows 11/10 PC.
4] Clean install the graphics driver
Make sure your graphics drivers are compatible and up to date.
5] Take your device to an authorized professional for repair.
If everything else fails, take your system to a professional technician for repair. He will clean the dust settled over or beneath the GPU fans and reseat GPU and RAM. If the issue persists, he will probably replace the GPU (with expired thermal compound), the PSU, the motherboard (with bad capacitors), a faulty fan, or a faulty charger.
I hope you find this useful.
Why does my PC randomly shut off and fans speed up?
Random or frequent shut-offs occur when a PC overheats or has a faulty power supply. Gaming laptops have a higher tendency to get overheated quickly. When GPU temperature goes out of control, the fans spin at their maximum capacity to cool it down. An overheated GPU also deactivates itself and stops sending signals to the monitor to prevent permanent damage to the CPU or motherboard.
How do I check if my PC is overheating?
Watch out for random shut-offs or blue screen errors. Listen to the warning beeps coming out of your computer case. Pay attention to the noise of the fan. Monitor your PC's CPU temperature using third-party tools. Sluggish performance, frequent app crashes, and CPU throttling are other indicators of PC overheating.
Read Next: Video card not detected but the fan is spinning.