At times when you try to open Microsoft Edge, it may open and close instantly. That usually means the Edge browser crashed.  Something happens as soon as you launch the browser; it can be a page with a script that was already open, or a corrupt Edge file, an extension, or an outdated file.  This post will share what you can do to recover if Microsoft Edge closes immediately after opening on Windows 11/10.
Microsoft Edge closes immediately after opening
If Edge closes automatically immediately after opening, follow these suggested methods to resolve the problem .
Update Microsoft Edge in Safe Mode or in Clean Boot State
Delete Edge Cache Files
Start Edge in InPrivate Mode
Reset Edge
Repair or Reinstall Microsoft Edge
Set a Custom start page
Scan for damaged system files.
Go through the list and see which of them may apply in your case. You may need admin permissions for some of these. Do note that running Windows Store Troubleshooter will not work because it's not a store app anymore. Also, make sure you are using the stable version of Edge.
1] Update Microsoft Edge in Safe Mode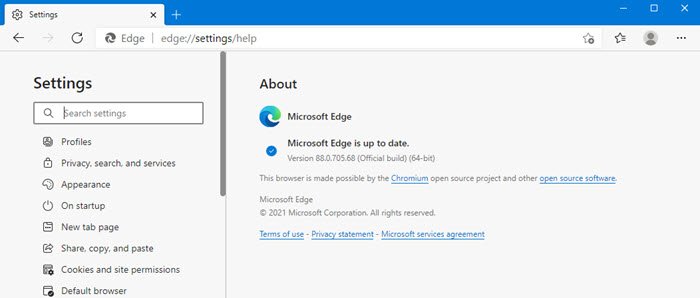 Boot Windows into Safe Mode or in Clean Boot State.
See if you can open Microsoft Edge. Type edge://settings/help in the address bar and hit Enter.
While in Clean Boot/Safe Mode, you may want to also update all Microsoft Edge extensions.
Once done, restart in normal mode and see if Edge works properly.
If that does not help, then try the next suggestion.
Read: Microsoft Edge freezes or crashes when opening a PDF
2] Clear Edge Cache
Since you cannot open Microsoft Edge, it would be best to clear the Edge cache files directly.
You may need to use Disk Cleanup Tool or a freeware like CCleaner to delete all the browser cache.
3] Start Edge in InPrivate Mode
Launch Edge in InPrivate mode. To do this, locate the Edge browser in the Start menu or Taskbar. Right-click on it, and then choose InPrivate mode.
If you cannot start Edge InPrivate this way, then open the Run box, type the following command and hit Enter:
start msedge –inprivate
This made makes sure Edge loads without extensions. If this is working fine, then click on the menu bar, and select Extensions.
Uninstall or turn off all extensions.
Restart Edge in a normal way, and then turn the extension on one by one. Close, and restart one by one.
Try and identify the offending extension and remove it.
4]  Reset Edge Browser
Again, see if you can launch Edge when Windows 10 is booted in Safe Mode. If yes, good! Type the following URL in the address bar and hit Enter.
edge://settings/reset
You need to Reset Edge.
If this does not help, then in your normal mode, ensure that Edge processes are all closed via the Task Manager.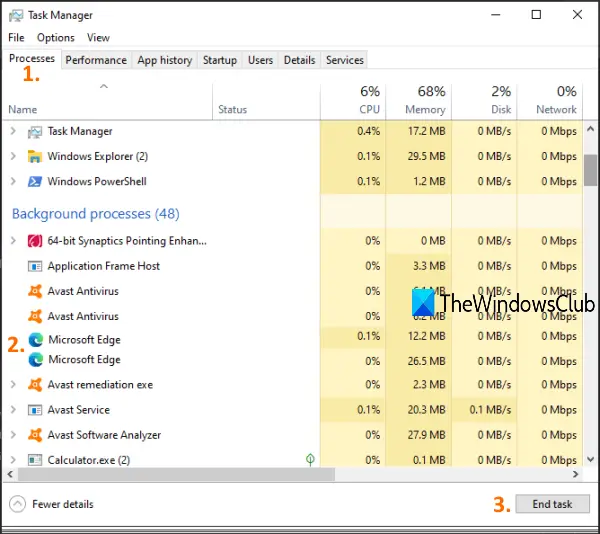 It might be possible that some processes of Edge browser are running in the background which might be causing this issue that Microsoft Edge won't open or keeps crashing. So, you just need to find and end those running processes.
For this, open Task Manager, and access the Processes tab. Scroll down to find any running process of Microsoft Edge. Select that process and use the End task button. Repeat the same if there are other running processes of Edge browser.
Then open File Explorer and navigate to the following folder:
C:\Users\<username>\AppData\Local\Microsoft\Edge\User Data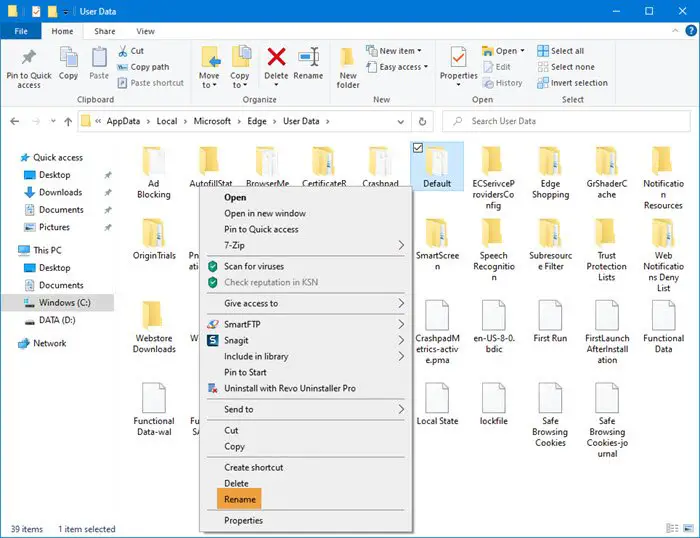 Locate the profile folder named as Default. Rename it to Default-old.
Close Explorer and now see if you can start Edge.
When you do this, the browser settings and user preferences will have got reset.
Read: Microsoft Edge won't open.
5] Repair or Reinstall Microsoft Edge
Windows 11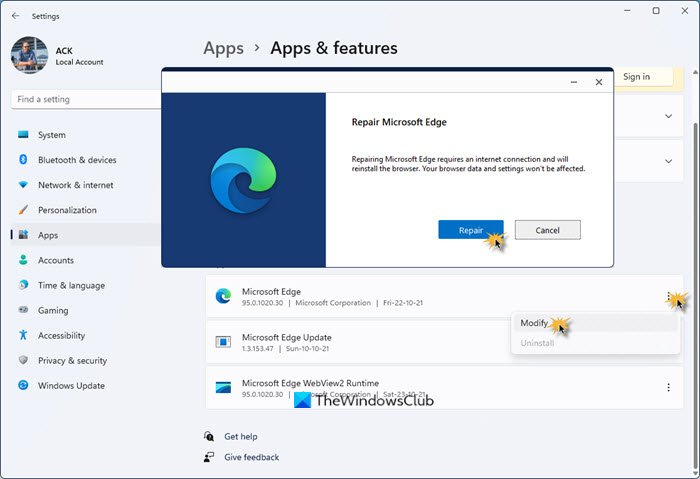 To reinstall or repair the Microsoft Edge browser on Windows 11, do the following:
Press Win+I to open Windows 11 Settings
Select App settings
On the right side, click on Apps and features
Search for Edge in the Apps list
When Microsoft Edge appears, click on the 3-dotted link
From the flyout select Modify
Finally, click on Repair to start the reinstallation of the Edge browser.
Windows 10
You should know that the new Microsoft Edge Chromium browser installed via Windows Update does not offer you the option to uninstall it. What you can do is repair Microsoft Edge via Settings and see.
Open Settings > Apps > Apps and features and search for Edge. Press Modify.
In the box that opens, click Repair.
This will repair Edge, and you will see a new icon placed on the desktop.
Alternatively, you could download Edge and run the installer.
If you are not much into troubleshooting and want to get it quickly resolved, this suggestion is good. If you have enabled history sync, it should not take much time to get you started with it.
Read: Microsoft Edge won't close
6] Set a Custom start page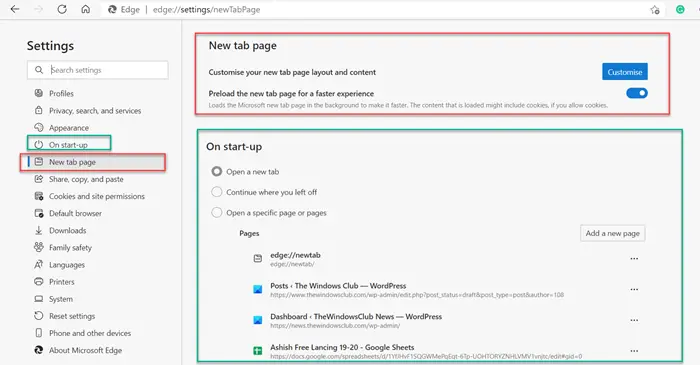 If you can open Edge once in a while, change the custom start page. Else see if you can open the browser in Safe Mode by executing this command in CMD:
start msedge –inprivate
If you can open it good, else this tip may not help.
You might have a favorite website or the fancy page as the default page when you open a new tab or when you open a new instance.
Go to Settings > New tab page > Customize > change to Focused. This will load with a Bing search bar and a list of icons of the recently visited pages.
Next, in the Settings, click on the "On start-up" options. Set the option to "Open a new tab" instead of "Continue where you left off" or "Open a specific page or pages," and the next time you open, combined with the Focused setting. It will load with minimal things.
7] Scan for damaged files
System File Checker or SFC is a built-in command that can repair damaged files that are required by Microsoft Edge. It can happen because you may shut down the computer or a task by directly killing it.
Open Command Prompt with admin permission by typing cmd in the Run prompt (Win +R), and then press Shift + Enter.
Type SFC /scannow to start the scanning process
Once done, relaunch Edge and see if it works fine.
There are few more things you can try, which include signing-out of Edge, using a different account, and checking if you have the same problem with another user account. But in most cases, resetting the Edge browser should work fine.