For some users, the Mail app of Windows displays its emails in HTML format instead of the regular readable format. In this post, we will talk about this issue and see what you need to do if Mail App is showing HTML code for Emails in Windows.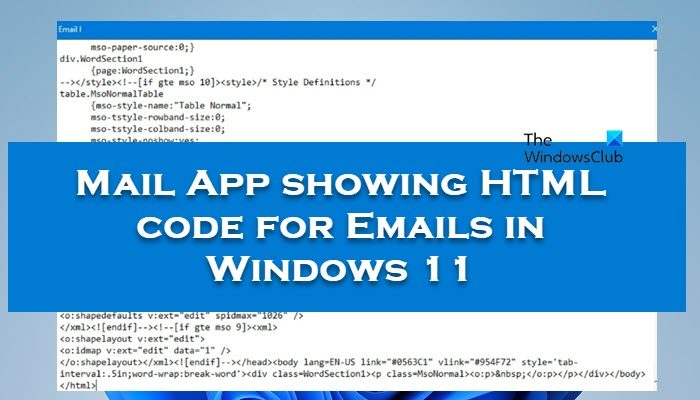 Fix Mail App showing HTML code for Emails in Windows 11/10
If Mail App shows raw HTML data or code for Emails, follow the solutions mentioned below to resolve the issue.
Check your bandwidth
Remove and then re-add your Email account
Allow Mail through the firewall
Reset the Mail app
Reinstall Mail app
Use the browser or an alternative email client.
Before you begin, make sure you have updated Windows and the Mail app.
1] Check your bandwidth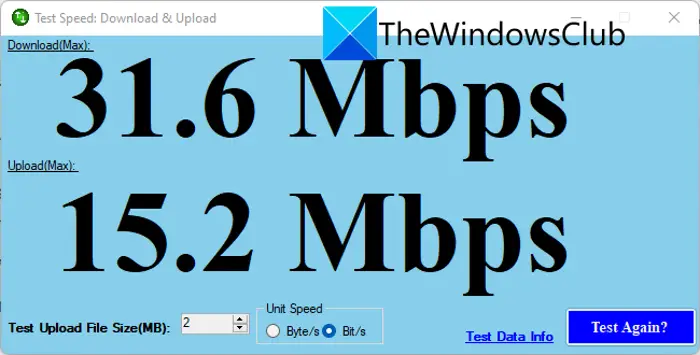 When your Internet connection is slow, the Mail app or any other mailing service will show your emails in HTML format. That's because it takes a little more Internet to view the email after properly formatting it as it has to load the required content. So, let us first check the bandwidth using any of the mentioned Internet Speed testers. In case, the Internet is slow, reboot your router and if that doesn't work, contact your ISP. If the Internet is not slow, mails are still getting displayed in HTML format, disconnect from the Internet and then reconnect. Hopefully, your issue will be resolved.
2] Remove and then re-add your Email Account
Sometimes, the issue is nothing but a glitch that can be easily resolved by removing and then adding the email account. So, go ahead and do that. This will remove temporary glitches and hopefully, resolve the issue.
3] Reset the Mail App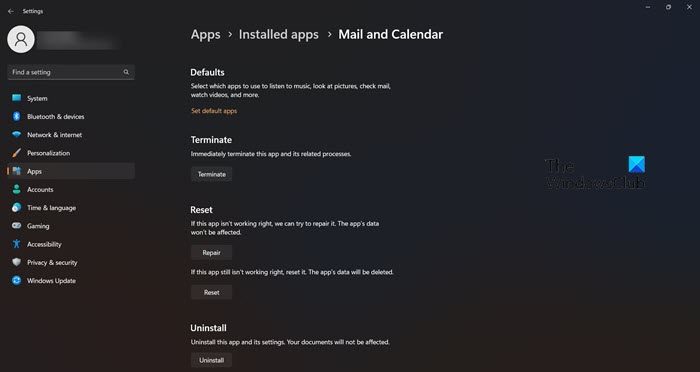 The Mail app will show some peculiarity if it is corrupted or misconfigured. Microsoft is well aware of this vulnerability and has included options to reset and repair it. We will be trying to do the same to resolve the issue. Follow the steps given below to do the same.
Open Settings by Win + I.
Go to Apps > Installed Apps or Apps & Features.
Search for "Mail and Calendar".

Windows 11: Click on the three dots and select Advanced Options.
Windows 10: Select the app and click on Advanced Options.

Click on the Reset button.
Once the app is reset, open it, set up the email account if required and see if you get mail normally.
4] Allow Mail through the firewall
The Mail app will start showing your emails in HTML format if your security program interferes with it. To confirm this, we recommend you allow the Mail app through the firewall. If you are seeing this weird issue due to your security program, it will be resolved.
5] Use the browser or an alternative email client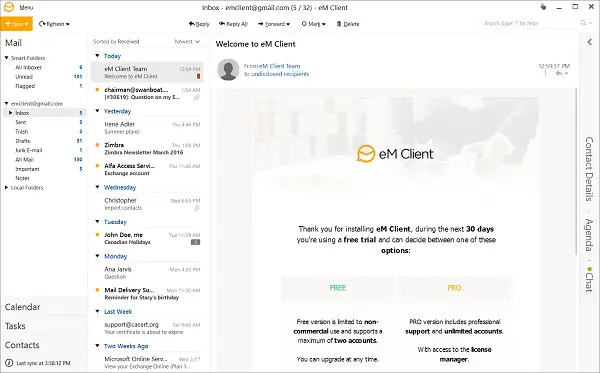 In case, nothing works, the only thing you can do is wait for the issue to be resolved by the developers. You can check your emails in a browser until an update is available that you can install – or you can consider using an alternative email client like Microsoft Outlook or eM.
Read: Cannot open Mail and Calendar app on Windows
Does Windows 11 have a Mail program?
Yes, Windows 11 has a Mail program called Mail and Callendar. If you want to access it, just search "Mail and Callendar". You can not just add Microsoft account, but accounts from other providers.
Read: Best Free Mail Servers for Windows
Is Windows 11 Mail the same as Outlook?
Mail and Outlook are two different means to do similar things. Mail is the default application preinstalled on Windows computers. It is meant for regular day-to-day users, however, Outlook is used by professionals and corporates.