Right now, it seems like every single company wants to create an ecosystem for their product. You have Android and Chromebooks, Samsung Galaxy and Desk, and Apple and all of its products, and now Microsoft is trying to achieve the same with the Phone Link app, which basically connects your computer and phone to create an ecosystem of its own. In this article, we will see how to use the Phone Link App in Windows 11 and what you can do with it. In case you missed this, the Your Phone app is now called the Phone Link App in Windows 11 and Windows 10.
How to use Phone Link app in Windows 11/10
To use the Phone Link App, you need a few things. First of all, the app itself. Usually, the Phone Link App will be present on your computer, but in case, it's absent, you can go to microsoft.com and get the app. You should also download the Link to Windows app from PlayStore (play.google.com) on your computer.
Link your Computer to your Phone
Now that you have downloaded the respective apps, it's time to link your phone to your system. Open the Phone Link app on your system by searching it from the Start Menu. Also, launch the Link to Windows app on your phone. Now, follow the given steps to link your computer to your phone.
Sign in on both the devices using your Microsoft ID.
On your computer, you will be redirected to the Pair devices tab, you can Pair manually and then generate a PIN, but a better option would be to click on the Pair with QR code option.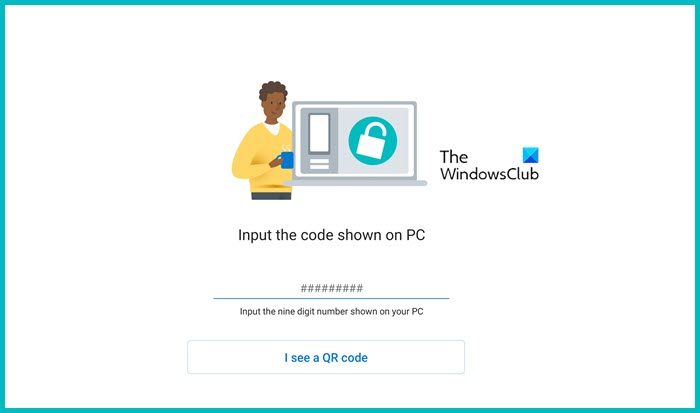 On your phone, click on the cog or settings button > Linked computers > ADD COMPUTERS > Continue. If you have a Pin enter it, else, click on I see a QR code. 
You will be asked to review some permissions and grant some.
Do all that and click on Continue afterward.
This will allow you to pair your computer with an Android device.
Receive notifications on your computer
Phone Link allows you to view notification that comes to your Phone. It also allows you to Refresh, Customize and Clear all by clicking on the three horizontal dots and selecting the option of your choice.
If you have enabled notification for the Phone Link app, which usually gets enabled automatically, you will see all the notifications even when the app is in the background.
Read: Your Phone app Notifications are not syncing or working.
SMS using the Phone Link app
You can also text your friends and family on your computer via the Phone Link app. You need to launch the app and then go to Messages. Now, find out the contact you want to text, type the message and send it. You will also be able to view all the messages coming your way.
Read: How to send Text Message or SMS using Phone Link
View your Photos on your computer
Now you don't have to send all your pic to your computer via a sharing app, you can just use the Phone Link app to see all the photos of your system, save them somewhere, share them or open them with some other app. To access it, you need to click on the Photos tab from the top of your window. You see all the photos on your phone in the form of tiles.
Read: How to send Links from Android phone to PC
Make a call from your Windows computer
Finally, let us talk about one of the most interesting features of the Phone Link app, that's to make a call. You can go to the Calls tab, and click on Get started. You will be asked to connect your phone via Bluetooth to enable calling, a permission requested will come your way asking allowance for accessing call history and records and contact, if you want you can give that, but even if you decide not to do that, calling will still work.
Just dial a number and make the call via Bluetooth. However, the limitation as you may have guessed is that the phone needs to be near the system.
Disconnect your devices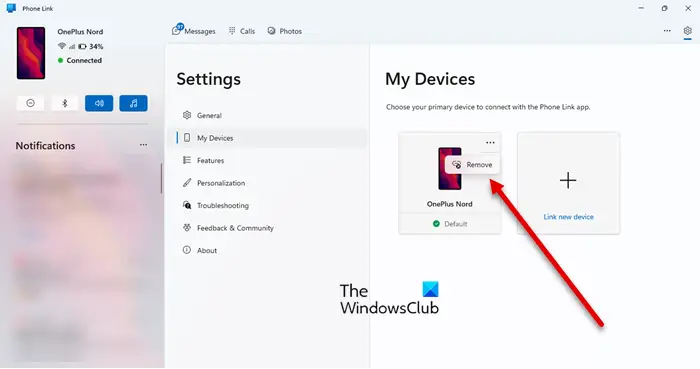 To disconnect your android device from your system, just go to Settings by clicking on the cog button, then to My Devices, click on the three vertical dots of the device you want to disconnect, and click Remove.
To disconnect your computer from your android phone, press the cog button to enter your Settings, and go to Linked computers. Tap on the connected device and it will be disconnected.
Related: Troubleshoot Your Phone app problems & issues
Does Phone Link app work on iOS?
Phone Link app allows users to mirror the content from their Android smartphones to Windows computers. Currently, the Phone Link app supports only Android devices but Microsoft has started beta testing of the new iPhone functionality of the Phone Link app on Windows 11. The feature is available for insiders. Soon, Microsoft will make it available for all users. For now, only Insiders can use this feature. If you are a Windows Insider, you can use the Phone Link app to connect your iPhone to your Windows computer.
How can I use Android apps on Windows 11?
You can use the Amazon App Store if you have the latest version of Windows 11. However, the feature is only available in some regions. You can also try to sideload Android apps using WSA or use an emulator such as BlueStacks.
Related reads: