Windows 11/10 comes with a lot of improvements and additions. There is some good news for Android users too. You can easily connect your iPhone or Android phone with Windows 10 using the all-new Phone Link app. This feature was highly talked about and is one of the major things in the update. In this post, we've walked you through the process of linking your mobile phone with your computer and using the Phone Link app.
You should note that the Your Phone app is now called the Phone Link App in Windows 11 and Windows 10. In addition, the Your Phone Companion app for Android is now called Link to Windows.
Phone Link app for Windows PC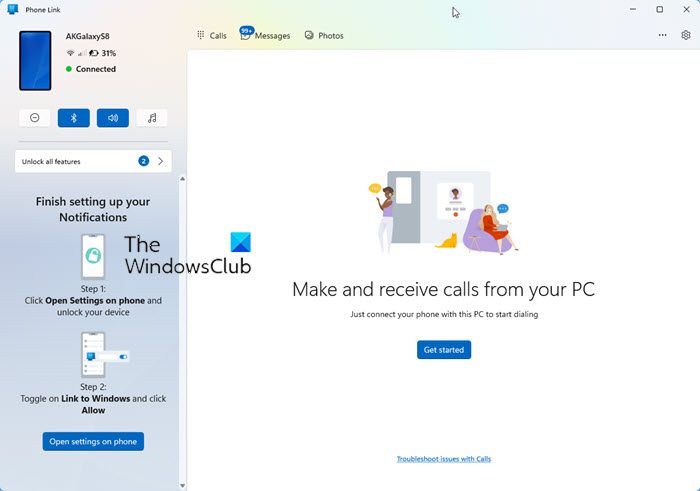 Setting this entire thing up involves a few steps on both the devices. So make sure you follow all of them to get the setup right. There might be a few connection issues initially, but you can always reset everything and try again.
On PC
Open the Microsoft Store and search for Phone Link. Install the latest version of this application. And if you already have it installed on your computer, make sure you update it to the latest version. Start the application, login with your Microsoft Account and in the next screen click on the "Link your Phone" button.
Now in this window, enter your mobile phone number, and you are good to go on the PC part.
On Mobile
Check your messages if you have received a text regarding Phone Link app. Clicking on the link inside the message will take you to Google Play store from where you can install the companion application.
Once the application has been installed, login using the same credentials you used while setting up the PC. Grant all the permissions requested by the app such as read messages, read files, send messages, etc.
Once this is done, you are ready to connect your PC with your phone. Now back on your PC, open the Phone Link app again and wait till it automatically detects your phone. In the meantime, you might also get a notification on your mobile requesting you to allow this PC to read your data. Tap on Allow to successfully set up a connection between your phone and PC.
To link your iPhone and Windows PC, you will have to install Microsoft Edge or Continue on PC as the companion app on phone.
Mirror content from Phone to Windows 11/10 PC
Phone Link app
Once you are connected, you can enjoy the features of Phone Link app and get your work done directly from your PC. Currently, the app supports only two functions, and they are Photos and Messages.
The Photos section will display all the photos from your device. You can click open any photo. Or you can copy them or share them directly from there. This comes in handy when you quickly want to copy those last few photos that you captured on your phone.
And the Messaging section is also very useful. It would display all the incoming messages on your device. You can read them, view entire conversations or even reply to them. You can also create a new message and send it to anyone. Remember that all your contacts are also synced so that you don't have to remember any number or lookup to your phone before sending an SMS.
This was all about Your Phone app included in Windows 11/10. The feature is still in development so that we can expect more improvements and refinements over time. Also, there can be a few more inclusions made in the things that this app allows us to read from our phones. Overall, a nice experience using this application and it is a step ahead in connectivity between our phones and PCs.
Related reads: