The user needs to have the Phone Link app installed on the computer and the Link to Windows app on an Android device or iOS device to sync data between Windows PC and the smartphone. However, until now, it was not possible for someone to sync over the data using mobile data. But now, Microsoft has added this capability. It is only applicable to Android phones because iOS has minimal privileges. In this article, we will be checking out how to toggle Sync over mobile data for Link to Windows for Android.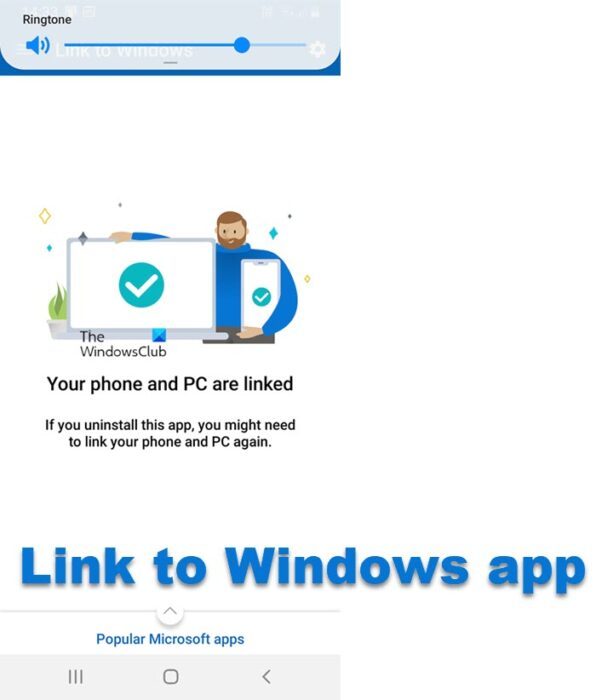 You should note that the Your Phone app is now called the Phone Link App in Windows 11 and Windows 10. In addition, the Your Phone Companion app for Android is now called Link to Windows.
Sync over mobile data with Link to Windows app for Android
First, make sure that have the Your Phone app for Windows 11/10 (preinstalled) and the Link to Windows app on your respective devices. Second, use the same Microsoft account to sign in to both applications.
When you are all set up, the Windows app will send a notification to your paired phone to ask if the app is allowed to sync data.
Select Allow from the notifications themselves.
On the Android application, select the gear icon on the top right corner.
Select Sync over mobile data. 
It will redirect you to a new page where you will have only one option to toggle. The name of that option will be Sync over mobile data. Toggle it on.
You are done!
The data will now start to sync between the phone and the PC over mobile data too.
I hope you found this guide useful, and it helped in enhancing your productivity.