If you are trying to share the internet from your Android mobile to your Windows 11/10 PC, but USB tethering is not working, then this post will help you. You may be able to connect your Android mobile to a computer via USB cable but may not able to use the internet. In other words, if you have connected your mobile to your computer via USB cable, and you have enabled the USB tethering option in your mobile – but still the internet does not work on your computer!
USB tethering not working on Windows 11/10
To fix the USB tethering problem on Windows 11/10, follow these suggestions:
Install USB RNDIS Adapter
Run Internet Connections & Network Adapter troubleshooters
Disable unnecessary network adapters
1] Install/update USB RNDIS Adapter
The Remote Network Driver Interface Specification or RNDIS driver can be helpful to fix your issue. If the pre-installed driver is not helping you to provide internet, you can install the USB RNDIS driver. For that, do follow these steps.
)pen the Device Manager. You can press Win + X, and select Device Manager from the list. Expand the Network adapters option, right-click on Remote NDIS based Internet Sharing Device and select Update driver.
Generally, this option appears as 'Remote NDIS based Internet Sharing Device'. However, if you are using a Samsung mobile, you might find 'Samsung' in the title of this option.
After that, select Browse my computer for driver software and Let me pick from a list of available drivers on my computer. Then, you have to remove the tick from the checkbox saying Show compatible hardware.
Now find out Microsoft from the list that is appearing on your left-hand side, select Remote NDIS based Internet Sharing Device on your right-hand side, and click the Next button.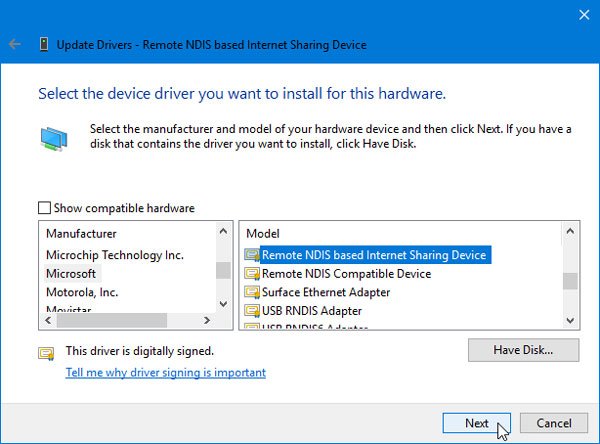 A popup will appear, and you need to select Yes. After that, the driver will be installed. Click the Close button, restart your computer, and check if it solves the issue or not.
2] Run Internet Connections and Network Adapter troubleshooters
As you are using Windows 10, this is very easy to find out the troubleshooters. You can open Windows 10 Settings and navigate to the Troubleshoot page in the Update & Security section. Here you should find some troubleshooters to fix common Network issues like this one. From the list, you need to run two troubleshooters, and they are Internet Connections and Network Adapter. To run a troubleshooter, select it and click the Run the troubleshooter button.
After that, you need to follow the screen instructions to finish the process. This step can show everything if there is an internal issue.
3] Disable unnecessary network adapters/connections
Let's assume that your Ethernet connection is displays ping loss. This means that the internet is unstable at this moment. Meanwhile, if you try to use the USB tethering functionality, you might not get the internet connection from your mobile. As your computer gives priority to the Ethernet connection, the internet will be disconnected frequently.
Therefore, you should disable that Ethernet connection. For that, you need to open the Run prompt by pressing Win + R buttons together, type ncpa.cpl and hit the Enter button. Now, right-click on the Ethernet connection, and select Disable.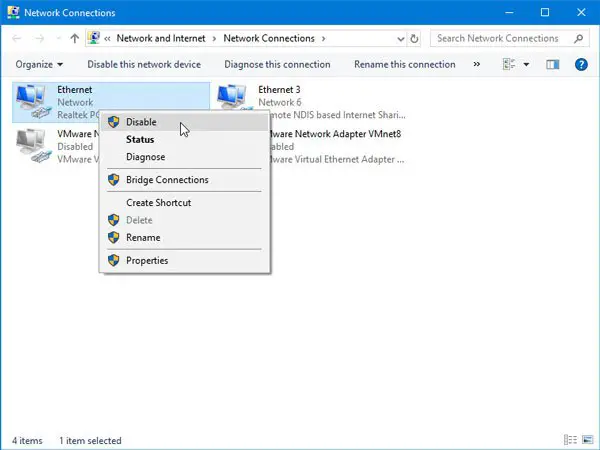 After that, check if you can use the internet or not.
These are some of the common troubleshooting suggestions. However, you could verify a few other things:
Check if the USB tethering option is selected on your mobile. You cannot expect an internet connection on your computer if you haven't turned this option on.
Make sure you have a valid internet pack on your mobile. You cannot use USB tethering with a Wi-Fi connection. You must have a cellular data connection.
Turn the Airplane mode on and off. Sometimes it may help you when you are in a lousy network coverage area.
Hope these solutions will help you fix the problem.
TIP: See this post if USB tethering causes Blue Screen on Windows.