By default, your Windows 11 or Windows 10 PC is set to boot from the first connected internal hard drive. If you want to boot from a USB drive or an external drive, you need to change the boot order. In this post, we will walk you through the steps on how to boot from USB Drive within Windows 11/10.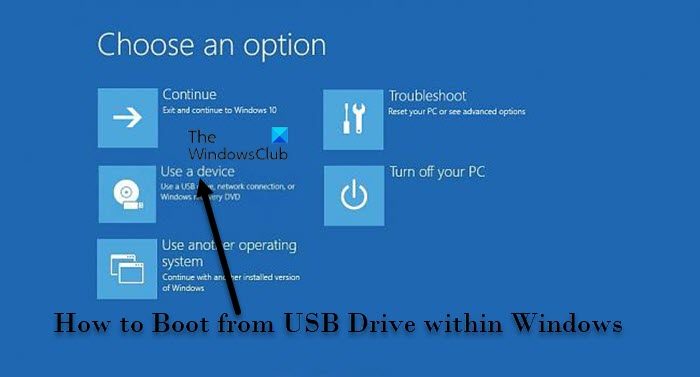 How to Boot from USB Drive within Windows 11/10
Normally, if you are unable to boot into Windows and cannot access your files, you can create a bootable drive and use the media to boot and repair your OS installation.
Perhaps, not widely known by PC users, there is an option to boot from a USB drive within a running Windows OS installation. If Fast Boot is enabled in UEFI/BIOS, you may not be able to boot from a USB flash drive unless you boot from the USB within Windows; otherwise, you will have to temporarily disable Fast Boot or Ultra Fast Boot to be able to boot from a USB drive.
To Boot from USB Drive within Windows 11/10, do the following:
Plug in a bootable USB drive to a USB port on your PC.
Boot to Advanced Startup Options via Settings app.
After the computer restarts, click/tap on the Use a device option.
On the next screen, click/tap on the USB drive that you want to boot from.
The computer will now restart and boot from the selected USB drive.
That's it!
How do I boot my PC from a USB drive?
To boot from USB drive on Windows 11/10, follow these steps:
Press the Power button for your computer.
During the initial startup screen, press ESC, F1, F2, F8 or F10.
When you choose to enter BIOS Setup, the setup utility page will appear.
Using the arrow keys on your keyboard, select the BOOT tab.
Move USB to be first in the boot sequence.
Can Windows boot from a USB connected drive?
If you have a bootable USB drive, you can boot your Windows 10 computer from the USB drive. The easiest way to boot from USB is to open the Advanced Startup Options by pressing and holding the Shift key when you choose the Restart option in the Start menu.
How do I get USB to show in boot menu?
You can enable the Quiet Boot option in the Main Menu. Under the Advanced menu, ensure that the Legacy USB Support option is enabled. Do the following:
Restart the system into the BIOS.
Ensure the Boot Mode is set to EFI (or UEFI). This is found in the Boot Options menu.
Make sure that the USB Boot Priority is enabled.
Save the changes and exit.
Is bootable USB safe?
The short answer: Yes. It is safe to run an operating system from a USB flash drive. But keep in mind that if you do decide to install Windows to a USB drive, a Flash Drive(UFD) drive, ESATA drive or store Windows Native Boot VHD on USB/UFD drive, this scenario will not be supported by Microsoft.