Phone Link is a Windows app by Microsoft that brings in the integration of a smartphone with the computer running Windows 11/10. Currently, it can sync your smartphone's notifications, Photos, and Messages with the computer. In the future, it will be able to cast your Android Phone's screen to Windows 11/10 screen. But some users have been reporting that the Phone Link app does not start properly or won't launch at all. It is a pretty annoying issue and is caused by damaged system files or corrupt installation of the app. We will be checking out how to fix Phone Link app not working or will not open issue.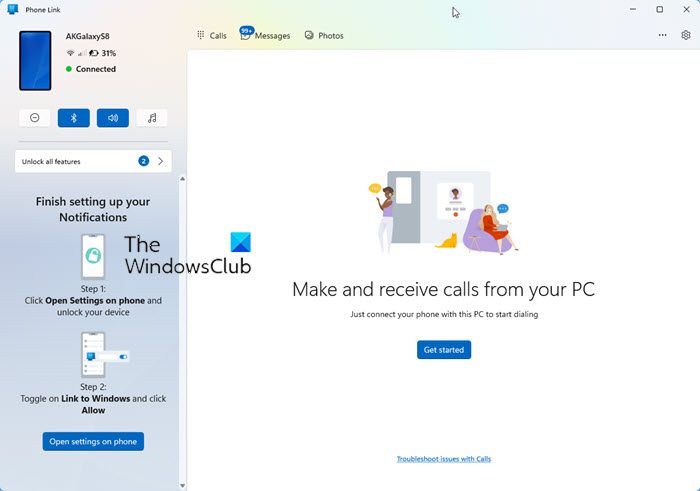 You should note that the Your Phone app is now called the Phone Link App in Windows 11 and Windows 10. In addition, the Your Phone Companion app for Android is now called Link to Windows.
Your Phone Link not working or will not open
The following working methods should be adequate to get the Phone Link app working back again:
Use Windows Store App Troubleshooter
Allow App to run the background
Unlink and link your devices
Reset the Your Phone app
Uninstall and Reinstall the Your Phone app
Reset your Android phone cache
Disable Battery Optimization
Enable Notifications on Phone for the app
Check Do Not Disturb mode for both Phone and PC
Before going ahead, make sure to use the same Microsoft account on Phone Link and the smartphone.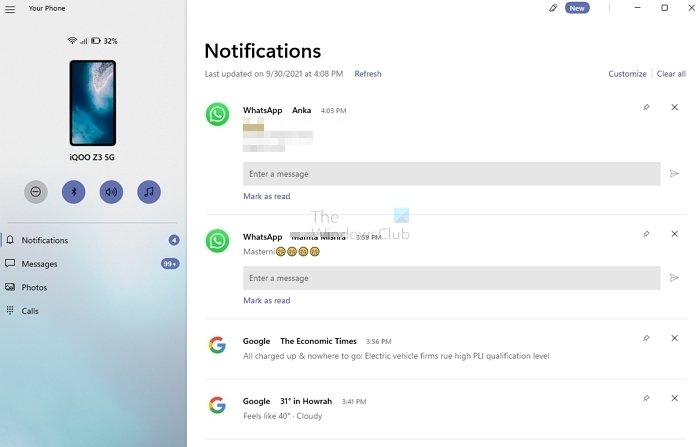 1] Use Windows Store App Troubleshooter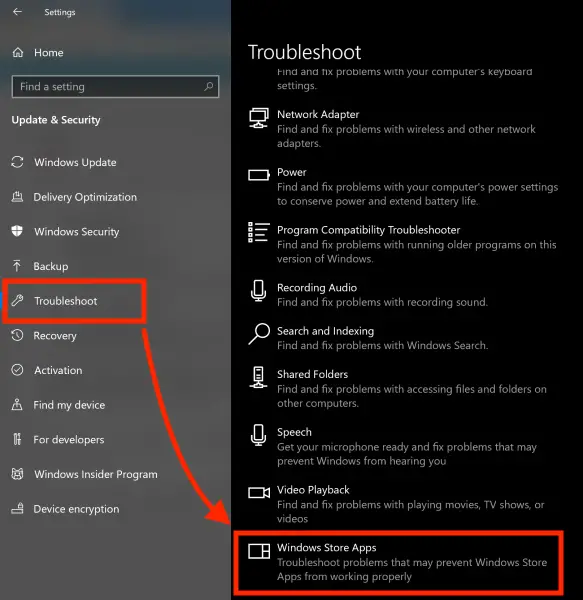 Open the Windows 11/10 Settings App (Win + I) and navigate to Update & Security > Troubleshoot. On the right-side panel, you will find various troubleshooters.
Locate Windows Store Apps Troubleshooter, and run it. Follow the on-screen instructions, and it will fix common problems around the app. Once complete, launch the app and check if the issue exists.
2] Allow App to run the background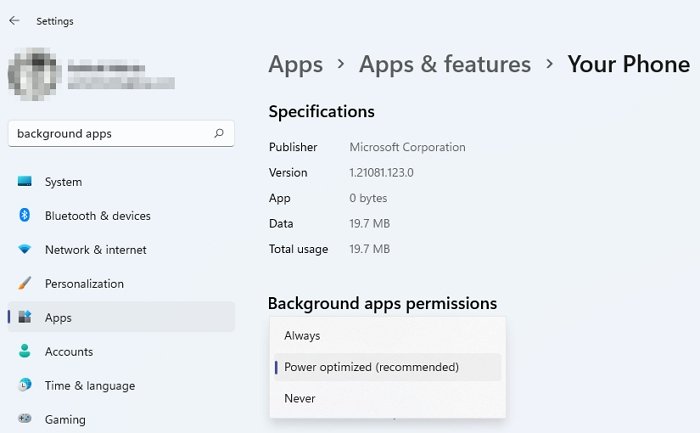 Go to Settings (Win + I) > Apps Apps & Features
Locate your app, and then click on the menu link for Advanced Settings
Under Background apps permissions, change from Power Optimized to Always
It will ensure that the app will keep running in the background and doesn't miss any notification or sync issues.
3] Unlink and link your devices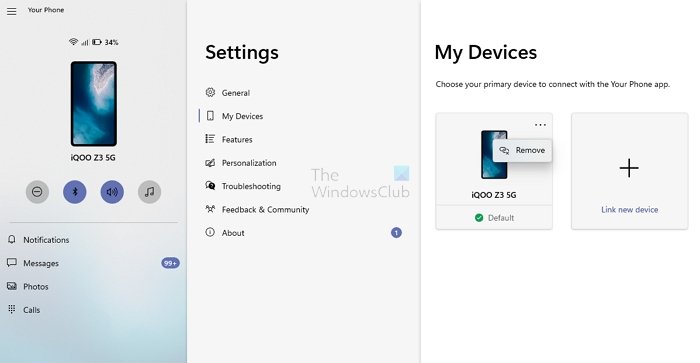 In Windows 11
Open Phone Link app, and then click on Settings at the bottom-left of the app.
Click on My Devices to view all the connected devices
Then you can click on the three-dot menu and Remove link.
In Windows 10:
Open Windows 11/10 Settings > Phone > Unlink this PC.
The final step is to remove the phones from your account on the web.  On your PC, accounts.microsoft.com/devices, and sign in with your Microsoft account. Go to Devices page > Show details > More actions > Unlink this phone.
Now link your devices again. You will have to sign in to all Microsoft apps available on the Phone. If you are using a Microsoft Authenticator app, it will be a lot easier.
4] Reset Phone Link app
Open the Windows 11/10 Settings App and navigate to Apps > Apps & Features.
On the right-side panel, look out for the entry of Phone Link.
Select it and then select Advanced options.
Under the section of Reset, click on the button that says Reset.
You should be good to go now.
5] Uninstall & Reinstall Phone Link app
It is a reasonably straightforward method. You can use any one of these ways to uninstall Windows Store apps. Then install the app again from Microsoft Store. Since this is a fresh installation, it will not have any corrupted files or app issues. The application should open without any problem.
6] Reset your Android phone cache
Open your Android phone, go to Settings > Apps > Link to Windows app > Tap Force Stop > Tap Storage > tap Clear Cache and Clear Data. You can also choose to reinstall the app if needed.
7] Disable battery Optimization
Go to Settings on your Android Phone, and navigate to Battery > Battery optimization. Find Phone Linke app in the list, tap on it. Choose to disable optimization by selecting Don't optimize.
8] Enable Notifications on Phone for the app
On your Phone, Go to Settings > Apps and Notifications. Tap on notification, find the app. in the list, make sure notifications are set to be on. It may differ from Phone to phone as each of them offer their way to change it.
9] Check Do Not Disturb mode for both Phone and PC
Both Windows and the PC come with DND mode. You need to ensure it's not turned on the PC and not turned on the smartphone. DND mode on the Phone is usually available right in the notification drawer.
Read: Phone Link notifications not working or syncing
How do I get notifications sent to my phone app?
Make sure you have notifications turned on, there is no DND mode, and the app is not optimized for the battery on your smartphone. This will make sure notification is not a problem.
How safe is Phone Link app?
The product has been designed by Microsoft and does not steal your data. While it follows general privacy rules, but that applies to a lot of software from the company. The app is designed to help you seamlessly access phone notifications from the PC so the phone can stay at rest.
These tips should resolve any problem with Your Phone App.