If you go to the Windows 10 Settings app, there is a prominent Phone App icon. This option lets you connect your phone with Windows 10, and receive notifications right on the desktop. Now if you see "YourPhone.exe" in the Task Manager and are wondering if it is a virus, then don't worry about it.
What is YourPhone.exe process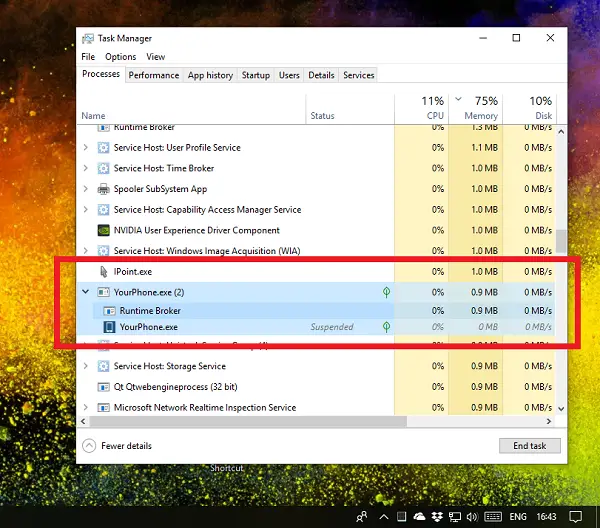 The YourPhone.exe process is used by the Windows 10 operating system to sent and receive messages and data from your phone to your computer. Since the program, YourPhone.exe needs to keep sending any notification on the phone to desktop the process is kept running at all times. Using this for Microsoft apps, you can continue where you left on the phone. So as you keep linking apps, the better the experience – provided you are using the same Microsoft account both on the phone, and the computer.
The process keeps running in the background and sometimes shows up on in the task manager. That said if the program worries you, and you do not want it, there are ways to get rid of it.
Disable YourPhone.exe from running in the background
The best way to get disable YourPhone.exe is to stop it from running in the background.
Open the Settings App > Go to Privacy > Background Apps
Find Your Phone app in the list, click on it and then select Advanced options
Then toggle off the option for Background apps.
Remove Your Phone app from Windows 10
Right-click on the Start button at the corner and select Windows PowerShell (Administrator)
Type the following command and hit Enter:
Get-AppxPackage Microsoft.YourPhone -AllUsers | Remove-AppxPackage
The command will altogether remove Your Phone App from Windows.
YourPhone.exe is not malware – it is a part of the Your Phone app which comes preinstalled in Windows 10 and is typically located in the following folder:
C:\Program Files\WindowsApps\Microsoft.YourPhone_1.19102.525.0_x64__8wekyb3d8bbwe
But if you want to be doubly sure, scan your full system with good antivirus software.
Read: How to use Your Phone app in Windows 10.
Want to know about these processes, files or file types?
StorDiag.exe | MOM.exe | atieclxx.exe | Conhost.exe | JUCheck.exe | vssvc.exe | wab.exe | utcsvc.exe.