Windows 11/10 is a huge operating system. There are more than a billion files that support the overall functioning of a computer. One such file is wab.exe. It weighs around 0.5 Megabytes and is developed by Microsoft itself. It is related to Windows Contacts and is referred to as Windows Address Book. This means that it is used to store the addresses, contact details, e-mail addresses and more for applications like the People app, Windows Mail and Microsoft Office's Outlook and so on.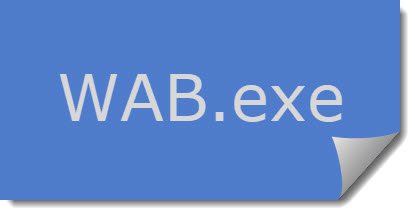 What is WAB.exe on Windows 11/10
This legit Microsoft OS file is located inside this location:
C:\Program Files\Windows Mail.
If it is located in C:\Windows or any other folder then it could well be malware – possibly a worm or a trojan.
If you want to make sure if this file is safe and not, and not some malware imitating the legit process, it is fairly simple.
Hit the CTRL + Shift + Esc key combinations to open the Task Manager. Now, navigate to the tab called as Details on Windows 11/10 or Processes on Windows 7. Select the WAB.exe process, right click on it and select Open file location. If it opens the location mentioned above, you are good to go. Otherwise, you might have issues on your computer that need to be taken care of. You may also check the Properties of this file.
WAB.exe consuming high CPU
In case, this process is acting unconventionally; you will have to re-register a DLL file on your computer. You can do this by hitting the WINKEY + R button combinations to launch the Run utility. Now, type in the following and hit Enter:
regsvr32 WABSyncProvider.dll
Reboot your computer and see if it has helped.
There are other things you could so:
Reset the People app
Reinstall or repair Microsoft Outlook
Run a malware scan using a free second-opinion, standalone, on-demand antivirus tool like Kaspersky or Dr. Web Cureit.
Run System File Checker to replace potentially damaged system files.
Hope this clears up the air.
Want to know about these processes, files or file types?
Index.dat file | Swapfile.sys, Hiberfil.sys & Pagefile.sys | Nvxdsync.exe | Svchost.exe | RuntimeBroker.exe | TrustedInstaller.exe | DLL or OCX files. | StorDiag.exe | MOM.exe | Host Process for Windows Tasks | ApplicationFrameHost.exe | ShellExperienceHost.exe | winlogon.exe | atieclxx.exe | Conhost.exe.