Cyber-criminals send a variety of threats to systems using Trojan viruses. One such Trojan virus is Altruistic.exe. This virus slows down your computer and utilizes significant system resources. If your computer is infected with the Altruistic.exe trojan virus, this post will show you how to uninstall Altruistics from Windows 11/10.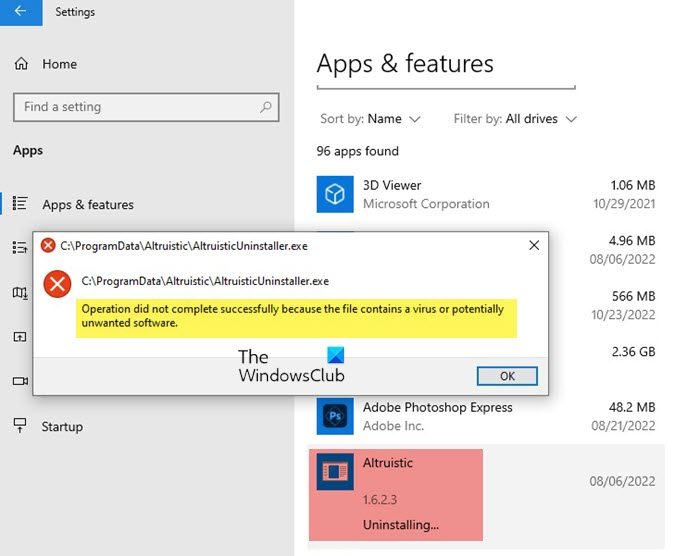 What is Altruistic.exe and how does it harm your computer?
The word Trojan comes from the Trojan horse. A Trojan horse is a type of malware disguised as useful software. The aim is that the user executes the Trojan, which gives it full control of your PC and the possibility to use it for its purposes. Most of the time, more malware will be installed in your systems, such as backdoors or key loggers.
Altruistic.exe is one such Trojan virus. This malware is used by cyber-criminals for crypto mining using your system's resources or for introducing Ransomware. The main resource used is your CPU or graphics card.
How does the Altruistic.exe virus enter your computer?
The Altruistic.exe virus is bundled with genuine software products or is disguised as a genuine file that you installed. Thus, if you install a program from an untrusted website or external media, this virus can enter your computer.
How to uninstall Altruistics from Windows 11/10
To remove the Altruistic.exe Trojan virus from your Windows computer, you will have to end the Altruistic.exe process from the Task Manager and then try to uninstall it via Settings or Control Panel. Additionally, we also recommend that you run a boot-time scan using an antivirus software.
We will guide you through the steps in detail now.
Open Windows Settings, and if you see Altruistic listed, uninstall the program. In case you cannot uninstall it, try using the Control Panel and see.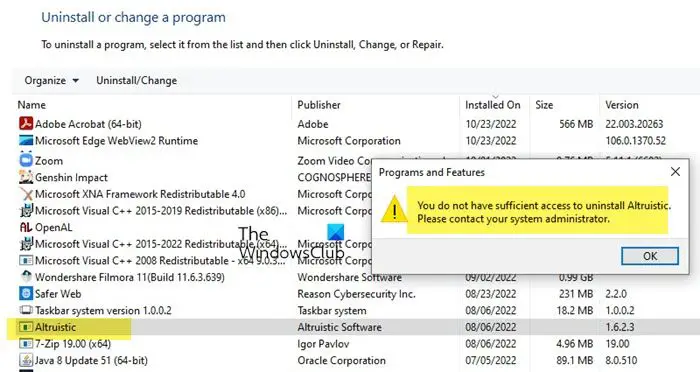 If you cannot uninstall it and you see error messages pop up, then boot Windows computer in Safe Mode and then uninstall this program in Safe Mode.
You may also consider using a free Uninstaller software to force-uninstall Altruistic malware.
Once the uninstallation is done, reboot normally and check.
If this does not help, open Task Manager and locate this Altruistic.exe process
If you see it, right-click on the process and select End process.
If the process ends, then good, you can run an antivirus scan.
If it does not end, then you may have to schedule a boot-time antivirus scan.
Now we recommend you run Windows Defender Offline Scan at boot time.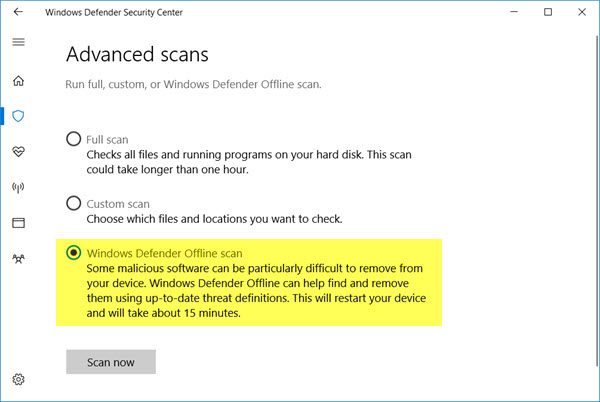 Windows Defender boot-time scan can help you get rid of persistent and difficult-to-remove malware and malicious software.
If you use a third-party antivirus software, you may run its scan in Safe Mode or, better still perform the antivirus scan at boot time. Most popular antivirus software has such a setting.
If you want a second opinion you can always visit online antivirus scanners from well-known security software to scan one's PC, some may prefer to have a standalone on-demand antivirus scanner available locally. At such times you may use these on-demand standalone antivirus scanners.
This should help you remove the malware completely.
Also read: How to remove virus from Windows
How to undo the damage done to your system by the Altruistic.exe Trojan virus?
The Altruistic.exe Trojan virus harms your Windows operating system. If you wish to undo this damage, then after removing this malware, try restoring your computer to a previous restore point when your PC was not infected. If this does not help, then resetting your Windows operating system is the only option.
How to prevent Altruistic.exe Trojan virus on your computer in the future?
To prevent Altruistic.exe Trojan virus on your computer in the future, you can make sure that your Windows operating system as well as your security software is updated from time to time. Also, make sure to install programs from trusted sources only.