Rosetta Stone helps users to understand language in an efficient manner. With the help of this app and perseverance, one can become fluent in the language of their choice. in this article, we will see how to install Rosetta Stone on our Windows computers.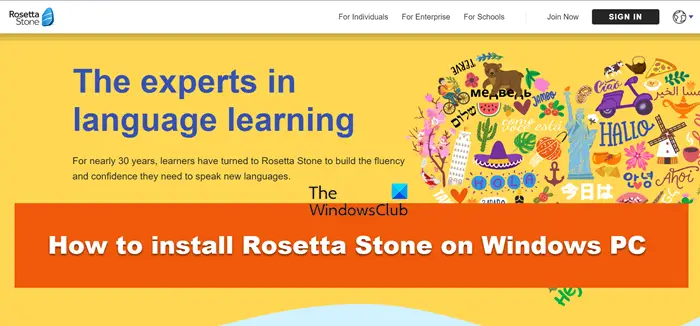 What is Rosetta Stone?
Rosetta Stone is an app that helps us learn a language of our choice. The app has various perks such as it has a plethora of languages to choose from, allows you to have an offline copy of your work, sync your progress across devices, and helps in pronouncing Dysarthria words.
How to install Rosetta Stone on Windows PC
To install Rosetta Stone on Windows PC, you need to install an Android Emulator and install the app on it. Rosetta Stone can be easily downloaded on an Android or iOS device, that's because it is built for those platforms. So, to download the app to Windows, we need to create an Android environment on your computer. To do the same, we first must ensure that the computer meets the requirements.
Processor: 1.5GHz Dual-Core Processor
Memory: 2GBs (at least), 4GBs(Recommended)
Available Space: 15GBs
Additional Software: Virtual C++ and .NET Framework
Note: Make sure to have the latest version of Windows and that all your drivers are updated.
Once you have all the available software and hardware, follow the steps mentioned below to install Rosetta Stone on your computer.
Install an Android Emulator
Download and install Rosetta Stone
Use the application
Let us talk about them in detail.
1] Install an Android Emulator
There are various Android Emulators that you can install, but we recommend going for Bluestacks which is a market leader in the realm and has various features along with an easy-to-use UI. So, go ahead, download and install Bluestacks on your computer and ensure that your computer is compatible with the copy that you have downloaded.
2] Download and install Rosetta Stone
After downloading and installing the emulator, it's time to install Rosetta Stone on the installed emulator. To do the same, open the BlueStacks with administrative privileges. After launching the emulator, you will be asked to log in using your Google credentials. Once you have logged in using your Google account, open PlayStore and search for "Rosetta Stone". You can also go to play.google.com to download the software. All you have to do is click on the Install button associated with the app and your app will be installed.
3] Use the application
Now that you have downloaded Rosetta Stone, all there is left to do is use the application. Since we are launching the Android version of the application, one can use it the way they would use it on an Android phone or a tablet.
Hopefully, now you know how to install Rosetta Stone on a Windows computer.
Read: How to Translate a Web page in Chrome, Firefox and Edge
Can you do Rosetta Stone on PC?
Yes, you can use Rosetta Stone on a computer. There are two ways to do the same, either have an updated version of any browser and go to rosettastone.com, or install the Rosetta Stone app on your computer using an Emulator (follow the steps mentioned above to do the same).
Read: Learn English with English Club app for Windows 10
How do I Install Rosetta Stone on a new computer?
To install Rosetta Stone on a computer, you need to make use of any Android Emulator. After installing the required emulator, you can just download and install Rosetta Stone on it and you will be good to go.
Also Read: Best way to learn a language online fast free.