Not every website supports multiple languages, and we often need translators for that. We often land on some of the web pages with our required information but in a different language. While the 'Google Translate Website' is the most commonly used online tool for translation – we have to copy and paste the content to translate it – which is not practically possible for the entire webpage.
Translating a few sentences or a paragraph is different from translating the entire web page. In this post, we will learn how to translate a web page into different web browsers.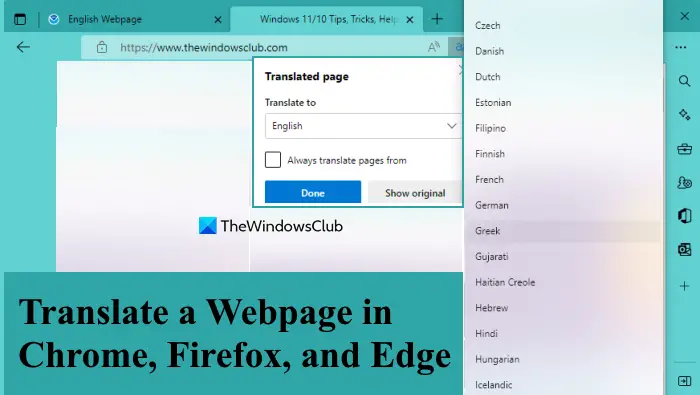 Translate webpage in Chrome
It is the easiest and quickest in Google Chrome. You can translate the entire webpage without hitting many buttons. You need to adjust the settings a bit, and you are done.
Click on the three dots on the upper right corner of your browser.
Go to Settingsà, scroll down, and click on the 'Advanced Settings' tab.
Scroll down and go to Languages and click on your selected Language.
You will see a tab saying 'Offer to translate pages that aren't in a language you read.'
Hit the button to the right and turn it ON, and you are done. Now every time you land on a webpage with a foreign language, Google will offer you the translate option, and you can translate the entire website in just one click.
Go to the webpage you want to translate, right-click and select Translate to English (or your language chosen).
In addition to that, you can also access the Translate Options using the three vertical dots icon present in the translate box. Available options are:
Choose another language: Use this option and then you can select any other available language for the translation
Never translate this site: If you select this option, then you will have to manually translate the same site and its webpages for translation
Page is not in Detected Language: If you think that the translator didn't translate the page into the correct language, you can use this option. After that, you can select some other language and press the Translate button in the translate box.
Read: How to turn off automatic translation in Google Chrome
Translate a webpage in Firefox
Firefox has no translation feature by default. You can, however, add the number of languages you want to. To add a new language-
Click on the menu button on the top right corner of your browser
Go to Preferences and click on 'Choose in the Language and Appearance section'.
Select any language you want and click OK.
For translation in Firefox, you have to install the Firefox Translation extensions. Some of the most popularly used add-ons are GoogleTranslatorforFirefox or ToGoogleTranslate.
Translate a web page in Edge

Microsoft Edge also doesn't have any auto-translate feature, and you have to use the extensions for the same. You can download the Translator for Microsoft Edge from Microsoft Store. It lets you translate the web pages into 60 different languages. Just download and install the tool, and you will see the icon on the top right corner of your browser. Open the webpage you want to translate and click on the icon; that's it. You can select your preferred Language and set the tool to translate every webpage you visit. If not the entire website, you can also choose the text you want to translate and use the tool to translate.
While English is the most commonly used Language worldwide, many users prefer reading web content in their native language. The ways mentioned above can help you read the desired web content in your preferred language.
Translate a webpage in Microsoft Edge using the built-in feature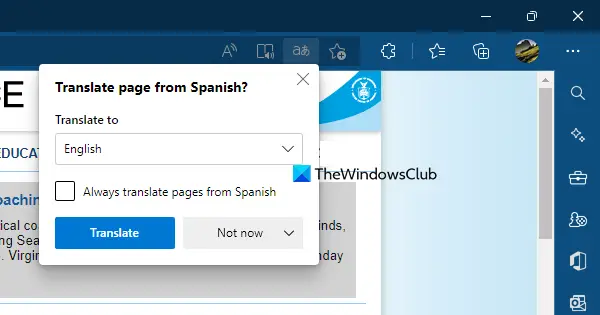 Like the Chrome browser, Microsoft Edge also comes with a built-in feature to translate a webpage. It uses Microsoft Translator and 100+ languages are supported for translation. Here are the steps to use this feature:
Open Microsoft Edge browser
Press the Alt+F hotkey to open the Settings and more menu
Select the Settings option in that menu
Select the Languages setting from the left section
Turn on the Offer to translate pages that aren't in a language I read button.
Now whenever you will open a webpage in a foreign language, the prompt or translate box to translate that webpage will appear. Select a language using that box and press the Translate button.
Alternatively, you can also right-click on the webpage and use the Translate to English option. You can also click on the translate icon available in the address bar of Edge for the webpages to translate them.
The translate box in the Edge browser also provides the following options that you can use:
Change the translation language: There is a Translate to drop-down menu that you can open to change the translation language to French, German, Arabic, and lots more
Toggle to Always translate pages from a particular language
Not now option if you don't wish to translate the webpage
A drop-down menu on the Not now option that lets you access the following options:

Never translate language
Never translate this site. If you select this option, the Microsoft Edge webpage translator option won't work for that site automatically and then you need to translate that site/webpages manually.
How do I get Firefox to translate a page?
Unlike Chrome and Microsoft Edge, the Firefox browser doesn't come with a built-in feature to translate a webpage. So, you need to use some third-party add-ons for this purpose. There is a To Google Translate and Google Translator for Firefox add-ons that are good to use to translate a webpage in Firefox.
How can I translate a PDF file to English?
Google Docs offers translation of PDF files. You will need to upload the PDF file on Google drive, and then open it in Google Docs. Next, click on Tools, and select Translate document. However, this process results in uneven formatting so you will have to fix that.
How do I translate a PDF file on my phone?
There are many apps in the PlayStore such as PDF Document translator, File translator, Microsoft Translator, and others that can get this done easily. Make sure to try each, and understand what works for your case. Also, make sure to look at the feedback and rating of the app.
How do I translate a document in Adobe Acrobat?
Adobe Acrobat doesn't offer any direct or integrated translation method, but you can use the OCR method. It will first create a text document from the PDF, and then you will need to use any online translation service to convert them into your language. Be aware that OCR works, but it is not perfect so make sure to match the text with the original document before translation.