Microsoft has released the latest version of Windows 11, the Windows 11 2022 Update Version 22H2. Microsoft's aim with this new feature update is to continue to deliver innovation and value to Windows users, a demographic that spans over 1.4 billion users. In this article, we will guide you through the process of upgrading to the Windows 11 2022 update on your PC.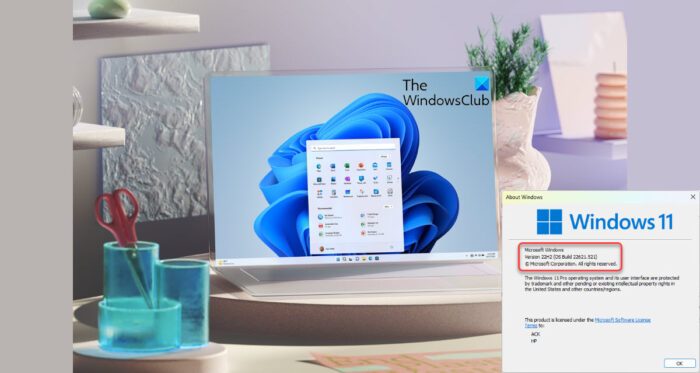 How to get the Windows 11 2022 Update
The Windows 11 2022 Update is the first major feature update that users have received since October last year, and is now free to be installed. Microsoft plans to roll out Windows 11 version 22H2 to all customers in multiple phases. Newer machines are expected to get the update first. Once the update is offered to your device, you will see a notification that an update is available for your computer. If you do get to see it, click on it and carry forward the upgrade process.
If you want to expedite this process, and download and get the Windows 11 2022 Update, you have five options to download the Update.
We will discuss how you can launch this update for both, a Windows 11 and a Windows 10 PC via its Settings. The other options have been linked to their respective posts above. Before you proceed, it will be better to check if your PC is compatible with Windows 11 2022 Update. If it does, and you are already running the initial version of Windows 11, then you shouldn't experience any hiccups with the new update.
Read: Windows 11 22H2 Update not showing
Get Windows 11 2022 Update on Windows 11 via Settings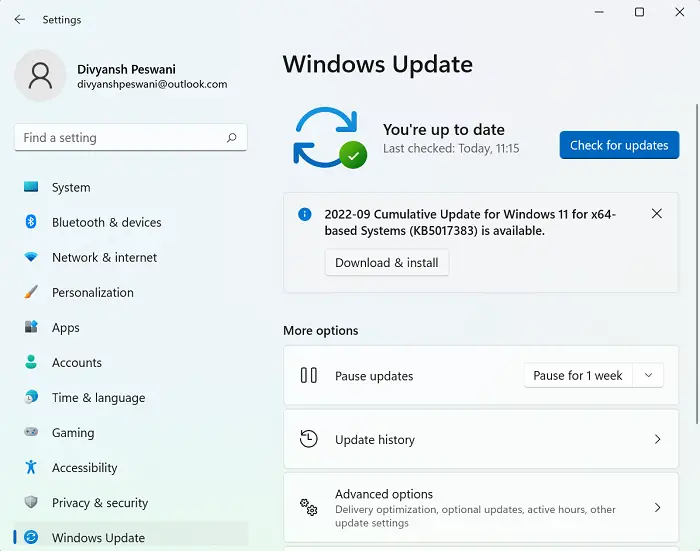 If you're using Windows 11 on your PC, you should follow the steps below to get the 2022 Update Version 22H2:
Press the 'Win + I' key combination to open Windows Settings
From the tabs on the left of the screen, click on Windows Updates
Ordinarily, your PC should check for updates on its own and show an available update by the name of "Windows 11 2022 Update Version 22H2," but if it doesn't, you can always click on the "Check for Updates" button
This should, ideally, bring up an option to install the new Windows 11 feature update
Since this is a feature update, it is not an automatic and mandatory download. You will have to click on the download and install option to initiate the process. If you don't see an option to upgrade to this new version, it may be because Microsoft has held back the update from your PC, possibly because of some conflicting apps, or because your system isn't compatible with the update altogether.
Read: How to reclaim space after upgrading Windows 11 to a newer version
Get Windows 11 2022 Update on Windows 10 via Settings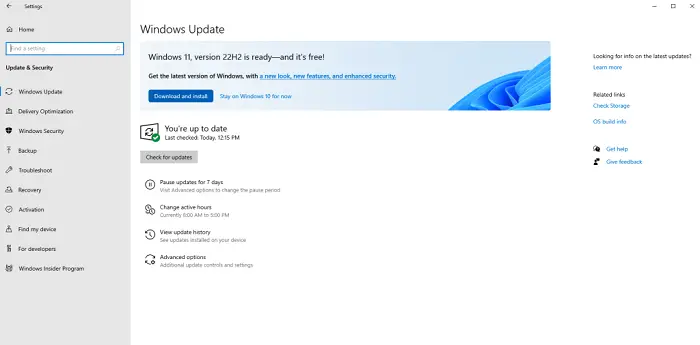 Similarly, you can get this update if you're using a Windows 10 PC as well. First things first, you are required to check if your system complies with the minimum requirements to upgrade to Windows 11. You can do so via the PC Health Check app.
Once you've made sure that the requirements are met, you can install Version 22H2 by following the steps below:
Open Windows Settings
Visit Update & Security > Windows Update
Select Check for Updates
If your device is eligible and ready to be updated, then this feature update will show up.
This post will help you if Windows 11 2022 Update Version 22H2 is not installing.
Read: How to downgrade Windows 11 2022 Update
How many GB is Windows 11 Feature Upgrade?
A very common and rather valid query, while a user looks to upgrade to Windows 11, is how much disk space this update would take up. While directly upgrading from Windows 10 to Windows 11 ensures the file's download size is around 3.5GB big, using an ISO file to install Windows 11 on your PC can take up to 5.3GB of space.
READ: How to Defer or Delay Windows 11 Feature Upgrades.
Can I go back to Windows 10?
If you find your Windows 11 to be sluggish, eating up too much of your PC's battery, or has just generally messed up your settings, then there is a process in place that allows you to downgrade your system back to Windows 10. The way to do this is very easy if you want to roll back within 10 days of upgrading to Windows 11. In that time bracket, all you have to do is open the Windows Settings > System > Recovery, and then click on the Go Back button, to revert your system to Windows 10.
On the off chance that you haven't been able to make up your mind within ten days, there's still a way for you to go back to Windows 10. This would require you to download the Windows ISO file from Microsoft.com and use the Rufus tool. This article discusses the process of reverting to Windows 10 from Windows 11 in detail.
Read: Download Windows 11 Enterprise ISO using Media Creation Tool.