Google Chrome browser combines a minimal design with sophisticated technology that makes browsing faster, safer and easier. While the experience is great, there can be some instances of a few issues that may arise while using Chrome. This post takes about some of the problems you may face while using the Chrome browser on Windows 11/10, and ways to resolve the issues.
Google Chrome problems and solutions
In most cases, resetting Chrome browser settings to default may help you, but if it does not, see these solutions for specific Chrome problems.
1] Touch Screen Not Working when using Chrome
For some tablet users, following an upgrade to Windows 10, the touchscreen stopped functioning in Chrome. It works fine in the Windows stock browser, but the problem persists with Chrome in Windows 10. Pretty odd, since, touch screen works well for the first week or so after upgrading to Windows 10, but fails to respond a few days later. To solve this problem,
Go to the chrome://flags page
Search for Enable Touch Events flag.
Select Enable from the drop-down list.
Restart Chrome.
2] Chrome does not start, after Windows 10 Upgrade
The primary cause for this problem are files that are not removed during the upgrade or re-installation. So, in the first place, uninstall Chrome and then remove all the residual junk using any free junk cleaner utility like CCleaner and install Google Chrome again.
TIP: Chrome Connectivity Diagnostics Plugin from Google can help you test your Network Connection.
3] Google Chrome running slow
If Chrome browser is running slow for you, disable Hardware Acceleration and see if it helps. Disabling the Hardware Acceleration feature may improve the situation. Here is how to disable Hardware Acceleration on Chrome:
Go to Settings.
Click Show Advanced Settings.
Under System, clear "Use hardware acceleration when available".
Restart Chrome.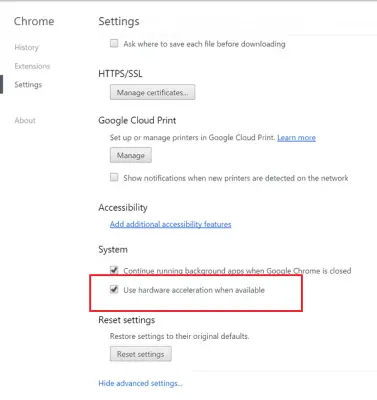 This visual guide on how to Speed Up Google Chrome may interest you.
4] Font changes in Chrome after upgrading to Windows 10
If strange fonts start appearing on webpages following Windows 10 upgrade, try this!
Go to the chrome://flags page.
Enable the Disable DirectWrite flag.
Restart Chrome.
See this post if Google Chrome is Freezing or Crashing, and this one if you often see a Aw, Snap! error message in Google Chrome browser.