Microsoft will start the gradual rollout of the Windows 10 Anniversary Update or Windows 10 version 1607 Build 14393.10 today on 2nd August, and all Windows 10 users must be quite excited, and looking forward to updating their computers. Let us see how you can get the Windows 10 Anniversary Update installed quickly on your PC.
Microsoft will be gradually rolling out Windows 10 Anniversary Update to all customers gradually over a period, and you too will soon see a notification that there is an update available for your computer. If you do get to see it, click on it and carry forward the upgrade process.
But if you want to expedite this process, you have four options to download Windows 10 Anniversary Update –
Manually frequently check if it is available via Windows Update
Use the Media Creation Tool
Use Windows 10 Upgrade Assistant
Use the latest Windows 10 Disc Image to download and install it.
1] Get Windows 10 Anniversary Update via Windows Update
From the WinX menu, open Settings and click on Update and Security. Next, click on Windows Update.
Click on the Check for update button and let your operating system search for the Windows 10 Anniversary Update. If it is found available, the download will start, and you will be able to install it.
2] Download Windows 10 Anniversary Update via Media Creation Tool
If you do not want to wait, you can use the Media Creation Tool. The Windows Media Creation Tool will allow you to download the Windows 10 ISO directly from Microsoft, without having a product key. You can use it to create an installation media or upgrade your PC to Windows 10 Anniversary Update.
Starting today, this tool will download the new ISO for Windows 10 Anniversary Update, which will be v1607, as Microsoft is expected to release the new ISO right away, and they will announce it, once they release the new ISO, so stay tuned for this news.
3] Install Windows 10 v1607 using Windows 10 Upgrade Assistant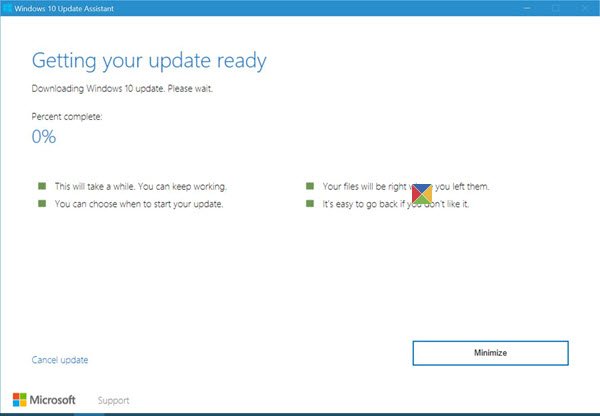 You can also use the Windows 10 Upgrade Assistant to upgrade your PC and install the new Windows 10 version.
4] Download and use latest Windows 10 ISO
You can download and use the latest Windows 10 Anniversary Update ISO file to fresh install or upgrade.
NOTES:
The Windows 10 Anniversary Update is expected to be available from 10AM PT | 12,00 PM CST | 1.00 PM EST | 6.00 PM BST | 10:30PM IST | 7.00 PM CET, with newer machines getting the update first.
To find out whether the MediaCreationTool you downloaded will download the old or new Anniversary Update file, right-click the  exe file > Properties > Details tab. If it's still showing 10586 then it will download the old ISO. A version 14393 will download the new Anniversary Update ISO.
Till then, enjoy this video from Microsoft!
Let us know if you see the Anniversary Update! :)

If you want to delay the installation of Windows 10 Anniversary Update on your computer, you may use the Defer Upgrades option in your Settings. You also have the option to uninstall Windows 10 Anniversary Update.