You can use the Defer Updates option in your Settings, to delay the installation of Windows 10 version Update on your computer. Some of you may want to adopt the policy of wait-and-watch and read the reports about the new update and its performance. It is a fact that Windows 10 updates do tend to create problems for a few – those few may be a very small number, but nevertheless, they exist. Delaying the installation by a month or two will give Microsoft the time to iron out and fix any possible bugs that may exist in this new upgrade. This post will show you how to do it.
NOTE: Microsoft has removed the Defer Updates option from Settings in Windows 10 now. Now you have to set the period to Defer Upgrades & Updates using GPEDIT and REGEDIT.
Delay Windows 10 2022 Update version 22H2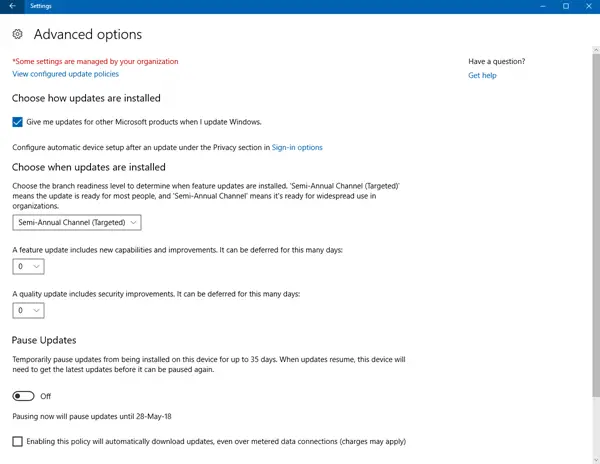 We have seen how you can get the Windows 10 Updates by three methods, viz. Windows Update, Media Creation Tool or the Windows 10 Upgrade Assistant. But if you are one of those who want to delay the installation of Windows 10 Update on your computer, you may do the following.
Open Settings in Windows 10 and click on Update and Security. Under Windows Update, click on the Advanced options link.
There under the Choose when updates are installed category, you will see an entry:
A feature update includes new capabilities. From the drop-down menu, select a figure between 0 and 365.
This is what you want to change if you want to defer the installation of Windows 10. You can Pause, or Delay/Defer Updates up to 365 days via Settings.
If you wish to defer the installation of security updates, you may select a figure from 0 to 30 under the heading – A quality update includes security improvements.
In earlier versions of Windows 10. you may simply see a Defer upgrades item. Select the check-box. When you defer upgrades, new Windows features won't be downloaded or installed for the specified period. When you do this, your OS will be moved from the Current Branch of Windows Update servicing to Current Branch for Business. Enterprise customers however always have the option to stay in the Long Term Servicing branch.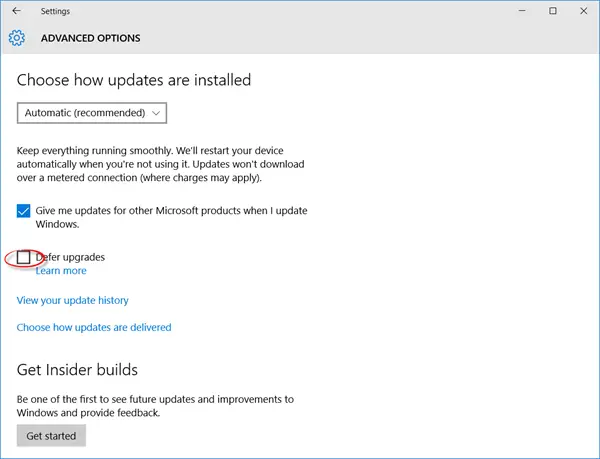 So if you are unsure about installing the new Windows 10 version now and want to check how report about it for a while, you may select this Defer upgrade option to delay the installation of Windows 10 Feature Update on your PC.
This setting is available in Windows 10 Pro, Windows 10 Enterprise & Windows 10 Education editions only. Windows 10 Pro and Home users cannot disable automatic updates, although there is a workaround to turn off Windows Updates.
Let us know your reasons if you do decide to use this option.
READ: How to Defer or Delay Windows 11 Feature Upgrades.
PS: The post has been updated for Windows 10 2022.