Edge is becoming a trend among users after Microsoft switched to the Chromium engine. The new Microsoft Edge has an array of enhanced features, such as multitasking on the web, seamless browser sync, extensions support, immersive reader support, and tracking prevention. It also comes with multiple profile support. Those who use Edge as their default browser may create separate profiles for work and personal use. This makes it convenient to manage passwords, bookmarks, and other settings for different email accounts.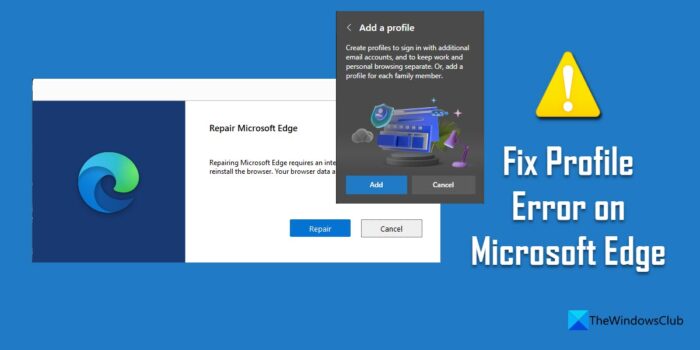 While working with multiple profiles, Edge sometimes may show the following profile error:
Profile error: Some features may not be available. Something went wrong.
The error was initially reported when Microsoft disabled alternate DNS providers to fix performance issues caused by DNS over HTTPS configuration in Edge. For many users, the error was fixed when they switched from the insider channels to a stable version of Edge. But for some, the error persisted.
Fix Profile Error on Microsoft Edge
The error occurs when Edge fails to load the profile when it is launched. To fix the Profile error on Microsoft Edge, you may try the following suggestions:
Update Microsoft Edge.
Repair Microsoft Edge.
End Microsoft Edge processes.
Delete the Web Data file.
Start over with a New User profile.
Let's have a look at these solutions in detail:
1] Update Microsoft Edge

The error may occur if you're using an outdated version of Edge. So start by checking for any updates following the steps mentioned below:
Launch Microsoft Edge
Click on the menu icon in the top-right corner of the browser.
Scroll down to the Help and feedback option.
Select About Microsoft Edge.
Edge will start checking for updates automatically. Allow Edge to download and install updates if any.
Click on the Restart button to finish updating.
The error would probably disappear once Edge is updated to the latest version.
2] Repair Microsoft Edge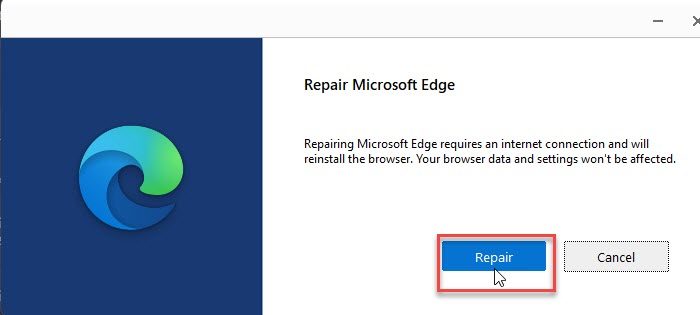 Having a lot of extensions and multiple profiles can sometimes hamper the browser's functionality. Try repairing Edge if the above solution doesn't work.
Click on the Start button in the taskbar area.
Go to Settings.
Click on Apps on the left panel.
Click on Apps & features on the right panel.
Type 'edge' in the App list search box.
Click on three vertical dots next to the Microsoft Edge option.
Click on Modify.
Then click on Repair.
The Repair action tries to resolve issues in the browser while keeping its data or settings intact.
Also Read: Microsoft Edge Browser Tips and Tricks for Windows.
3] End Microsoft Edge Processes
Sometimes, there may be a temporary issue in the Edge processes running in the background. Try ending these processes to see if it resolves the profile error on Microsoft Edge.
Right-click on the Start menu icon located in your Windows taskbar.
Select Task Manager from the menu that appears.
Look for Microsoft Edge under the Processes tab.
Right-click on it and select the End task option.
Relaunch Edge to see if the issue is resolved.
4] Delete the Web Data file

Corrupt web data may cause profile error to occur in Edge. Try deleting the web data stored locally on your Windows 11/ 10 PC to see if the error is fixed.
Press the Win + R key combination to launch the Run dialogue box.
Type %LocalAppData% in the search field.
Press Enter.
Navigate to C:\Users\<current-user>\AppData\Local\Microsoft\Edge\User Data\Default.
Right-click on the Web Data file and hit the Trash icon.
Restart Edge to see if the error is fixed.
5] Start over with a New User profile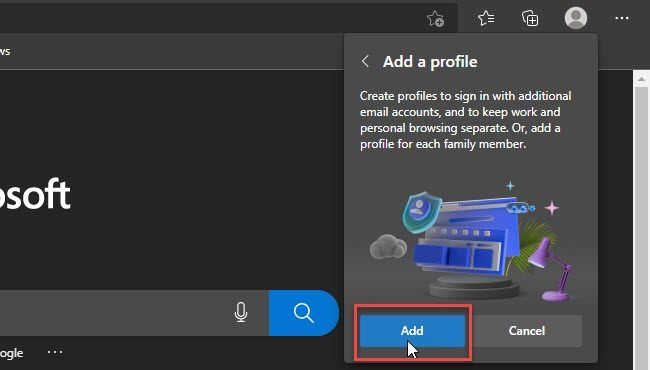 Many users have found that creating a new user profile fixes the issue. If you still get the profile error message, try switching to a new user profile.
Before creating a new profile, export your favorites from the existing profile so you may import them later.
Once you've successfully exported your profile data as HTML, delete your existing profile by typing edge://settings/people in the URL bar and selecting Remove from the menu next to the profile name.
Import your favorites by clicking on Edge menu > Favorites > Favorites menu > Import favorites > Import from Favorites or bookmarks HTML file.
You may also import history and saved passwords to Edge from Google Chrome and Mozilla Firefox.
Launch Edge with your new profile and see if the issue is resolved.
On Windows 11/ 10 PCs, the Microsoft Edge profiles are stored locally. To know the profile path, type edge://version/ in the URL bar of your Edge browser and navigate to the Profile path. It should look like C:\Users\<current-user>\AppData\Local\Microsoft\Edge\Profile. Copy this path and paste it into your File Explorer. You will be taken to your stored Edge profile.
How do I sync my Edge profile?
To sync your Edge profile, click on the profile icon in your browser window and click on the Manage profile settings option. Under your Edge profile, go to Sync and click on the Turn on the sync button. Then click on the Confirm button. Edge will start setting up sync and notify when it is done. Restart Edge to confirm changes.
Read Next: How to prevent users from adding new profiles in Microsoft Edge.