While visiting a website or browsing multiple pages, if you get This webpage is not available, Err Connection Closed message and the website fails to load, then it simply means that there is some problem with your network connection.  You may also get similar errors including Err_Network_Changed, Err_Connection_Reset and Err_Internet_Disconnected errors in different browsers like Chrome, Edge, and Firefox.
Fix Err_Connection_Closed error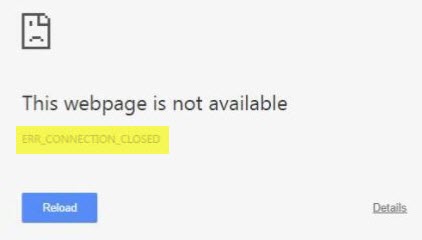 Since it is a network issue, your Windows PC and the internet connection are responsible for this. Before you begin, check your internet connection and then press CTRL+F5 to hard reload the web page and see if that works.
1] Check your Network Cables, Restart Your Router and Reconnect
Make sure you check your cables are in place either to your PC or to your router. If you connect through WiFi, make sure to restart your router once. Lastly, you can always make Windows forget the WiFi you are already connected to and then reconnect.
2] Remove Proxy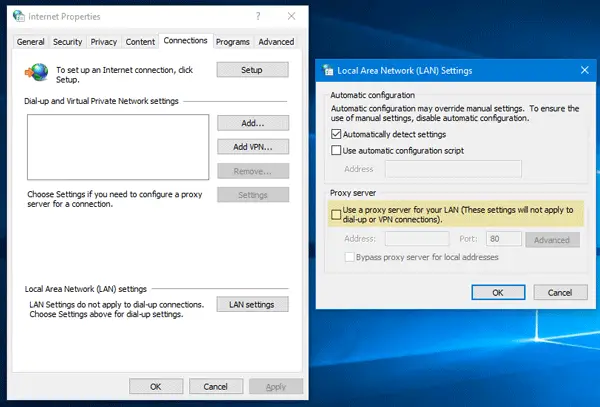 Press Windows Key + R then type "inetcpl.cpl" and hit enter to open Internet Properties.
Next, Go to Connections tab and select LAN settings.
Uncheck Use a Proxy Server for your LAN and make sure "Automatically detect settings" is checked.
Click Ok then Apply and reboot your PC.
If you are using a third-party proxy service, make sure to disable it.
3] Flush DNS, reset Winsock and reset TCP/IP
Sometimes the websites don't resolve because the DNS in your PC still remembers the old IP. So make sure to Flush the DNS, Reset Winsock and Reset TCP/IP.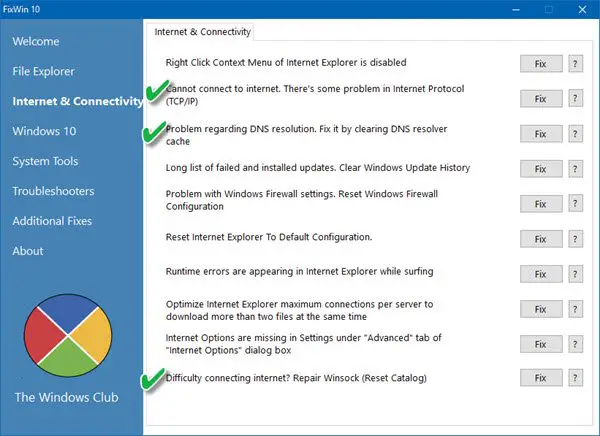 You can also use our freeware FixWin to carry out these three operations with a click.
4] Use Google Public DNS
If it does not help, use Google Public DNS and see if that works for you. You need to explicitly change the DNS settings in your operating system use the DNS IP addresses. Whenever you type the domain name into the browser, it is a known fact that DNS will look for the IP address of the domain name and return the result to you.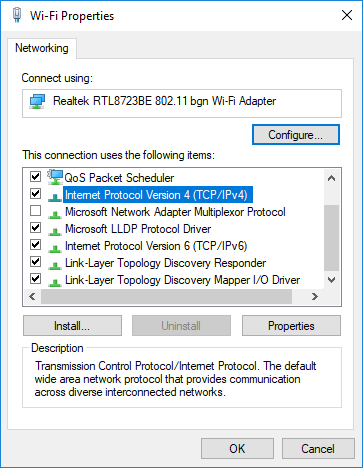 First of all, right-click on the taskbar Network icon and select Network and Sharing Center.
Select "Change Adapter Settings".
Search for the network connection that is used to connect to the internet; the option might be either "Local Area Connection" or "Wireless Connection".
Right-click on it and click Properties.
Choose the new window to select "Internet Protocol 4 (TCP/IPv4)" and then click the Properties button.
Click the checkbox for "Use the following DNS server addresses" in the new window.
Enter in 8.8.8.8 and 8.8.4.4
Finally, click OK and exit.
5] Temporarily Disable Antivirus and Firewall
Both of these are like security guards for the OS. If it marks a website which is malicious or even considers it because of false-positive effects, the response from those sites will be blocked. Try disabling both the AnitVirus and Firewall to see if it works. If that's the case, you will have to add those sites as an exception, and then enable it. That should work like a charm.
6] Disable Browser Extensions
Sometimes extensions can also cause the problem. Make sure to disable all extensions and then try accessing the website. You may use the Incognito mode and see if you can access the website.  If you are using Chrome, use the Clean Up tool to scan for browser malware issues.
Hope something helps!