If Google Chrome is not connecting to the internet but displays one of the following error messages continuously, then these suggestions would be helpful for you to fix this issue.
ERR_NETWORK_ACCESS_DENIED

ERR_INTERNET_DISCONNECTED
You can also see these error messages in your Internet Access is blocked in Chrome.
ERR NETWORK ACCESS DENIED / ERR INTERNET DISCONNECTED
1] Restart the Router
This is the most common problem solver that you can try. Sometimes, your router can cause this issue, and all the browsers including Google Chrome can show similar error messages without having any valid internet connection.
2] Check IP address if you're using a Wi-Fi router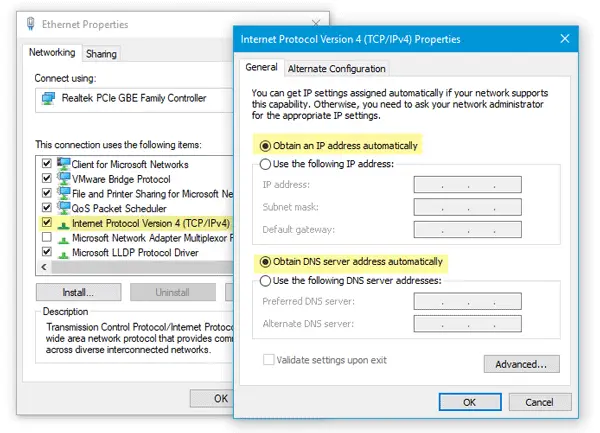 If you have recently reset your Wi-Fi router or started using one, you should check two things. First, you need to enter a valid IP address in the router's control panel. These IP addresses should be provided by your ISP. Second, you need to check whether Obtain an IP address automatically is checked or not. For that, press Win + R > type ncpa.cpl > hit Enter > right-click on either Ethernet or Local Area Network > select Properties > double-click on Internet Protocol Version 4 (TCP/IPv4). Now make sure Obtain an IP address automatically and Obtain DNS server address automatically options are checked.
3] Scan the computer with antivirus and adware removal tool
If you are getting these error messages alongside some weird activities in your system, there is a high chance that your system has been infected by malware or adware. Generally, adware causes this kind of problem. Maybe you need to scan your computer with reliable antivirus and an adware removal tool.
4] Uncheck Proxy server

In many cases, adware and malware add a custom proxy in the system so that it can redirect your web pages elsewhere. So open Internet Options an switch to Connections tab. Click on the LAN settings button, and uncheck the option that says Use a proxy server for your LAN.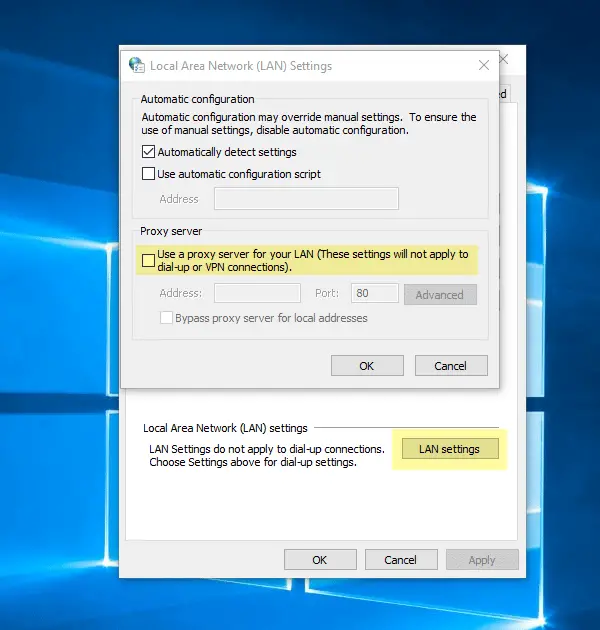 Save your change and check whether it solves your issue or not.
5] Temporarily disable proxy, firewall, and antivirus software
If you are using any custom proxy system-wide, you should consider disabling them temporarily. Do the same thing with firewall and antivirus software as well.
6] Disable proxy related extensions or extension

There are many proxy extensions for Google Chrome. If you are using an extension, you should try disabling them temporarily. Moreover, some regular extensions can control your network profile or use proxy internally. To find out and disable them, open chrome://settings/, expand the advanced settings, and head over to System label. Here, you should find the extension that is using proxy inside Google Chrome.
7] Clear browsing data and reset Google Chrome
To get started, enter this URL in Google Chrome – chrome://settings/clearBrowserData and go to Advanced tab. Following that, select every checkbox, select All time from Time range drop-down menu and click on CLEAR DATA button.
If that doesn't solve your issue, you should consider resetting the Chrome browser. For that, open this page: chrome://settings/ and expand the Advanced settings. Now scroll down to the bottom until you set Reset option. Click on that, and select RESET again.
8] Other suggestions
You may also consider the following if nothing has helped you so far:
All the best!