This article lists some solutions that will help you fix the 0x800CCE05 error in Outlook. According to the reports, this error occurs in Outlook while sending or receiving emails in Outlook Client. Some users have also reported that the error occurred while setting up a new email account in Outlook Client. If you see this error in Outlook, the solutions provided here will help you.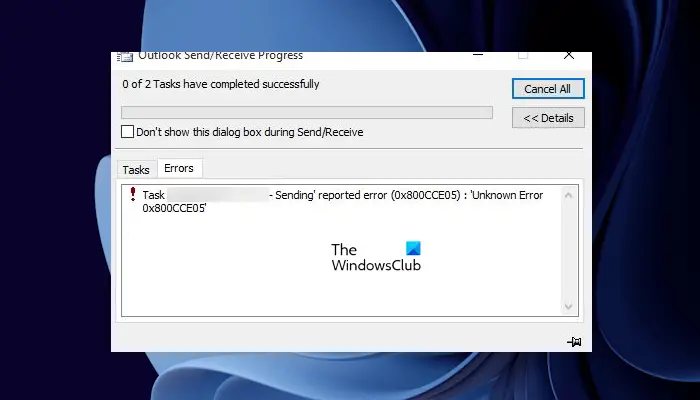 Fix 0x800CCE05 error in Outlook
Use the solutions provided below to fix the 0x800CCE05 error in Outlook.
Repair Outlook data files
Repair your system files
Check your Add-ins
Temporarily disable your antivirus
Repair Office
Below, we have provided all these fixes in detail.
1] Repair Outlook data files
Corrupted Outlook data files are one of the causes of this error. We suggest you repair Outlook data files. This should fix the issue.
2] Repair your system files
Another cause of this error is corrupted system image files. If repairing the Outlook data files did not help, there is a possibility that your system image files have been corrupted. System File Checker is a built-in utility that helps repair corrupted system image files. Run the SFC scan. It should fix this problem.
To run an SFC scan, you have to launch an elevated Command Prompt and then execute the following command.
sfc /scannow
Let the System File Checker scan and repair your system image files. Do not interrupt the process. If the SFC scan does not help, you can also run the DISM scan.
3] Check your Add-ins
Sometimes installed add-ins also cause issues with Microsoft Office applications. We suggest you disable all your add-ins in Outlook and then see if the error occurs. You can send a test email to check the error status. If the error does not occur this time, one of the installed add-ins is the culprit. Now, enable each of the add-ins one by one and send a test email every time you enable an add-in.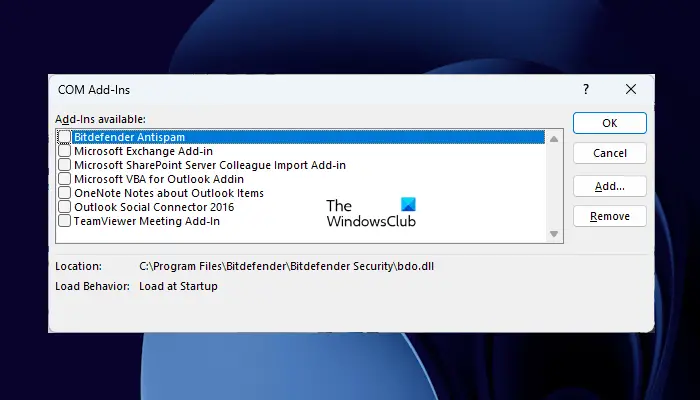 Go through the following instructions to disable add-ins in Outlook:
Open Outlook.
Go to "File > Options."
Select the Add-Ins category from the left side.
Select COM Add-ins in the drop-down on the right side and click Go.
Uncheck the checkboxes of the add-ins that you want to disable and click OK.
4] Temporarily disable your antivirus
Some users have confirmed that it was their antivirus causing the 0x800CCE05 error in Outlook. This might be the case with you. To check this, temporarily disable your antivirus and then check if the error occurs. If the issue gets fixed after disabling the antivirus, you need to contact your antivirus vendor support to fix this issue.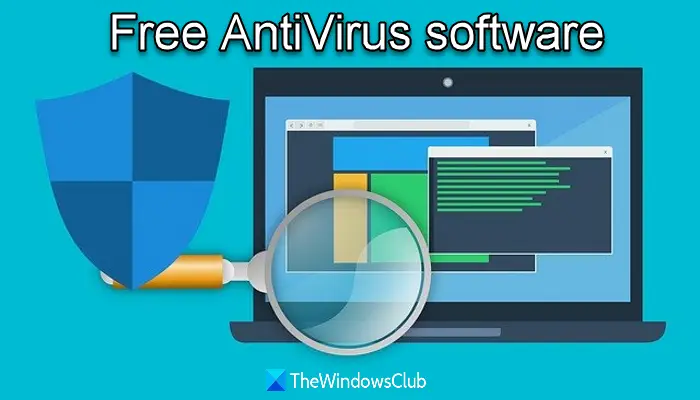 If you are using a free third-party antivirus, you can switch to another one. There are many free good antiviruses available on the internet. You can install any of these.
5] Repair Office
If none of the above solutions fixes the error, repair Microsoft Office. Running an Online Repair will help. Online Repair takes more time but it is more effective as it also checks for required updates. Your device should be connected to the internet to perform an Online Repair.
That's it. I hope this helps.
How do I fix error 500 in Outlook?
The Outlook Error 500 can also occur due to service issues. If the Service is down from Microsoft, you cannot do anything to fix this error. Hence, you have to wait till Microsoft resolves this problem. We also suggest you check your subscription status.
How do I fix error 0x80004005 in Outlook?
The error 0x80004005, The Operation Failed in Outlook usually occurs while sending or receiving emails in Outlook. Antivirus software is also responsible for blocking Outlook from sending or receiving emails due to which this error occurs. Temporarily disable your antivirus to check if it is causing this error or not. Also, update Outlook to the latest version.
Read next: Outlook Signature not working on Reply.