Microsoft Outlook is long known to receive Error 0x80004005, The Operation Failed in Outlook, and while it was primarily because of script blocking by third-party apps, the issue has occurred at a couple of more places. In this post, we will help you resolve the error.
Error 0x80004005, The Operation Failed in Outlook
If you receive Error 0x80004005, The Operation Failed during Send/Recieve operation in Outlook, then it could be a script blocking issue, Mailbox Size Limit, etc. These are some of the methods that can resolve error 0x80004005 in Outlook based on the situation.
Antivirus & Security Software issue
Mailbox Size Limit
SharePoint Document Library Connection
Update Outlook to the latest version
Make sure to sync Outlook every time you follow the given solutions.
1] Antivirus & Security Software issue
Norton is known to cause this issue past few years. I have seen a couple of reports from last year as well, which means the issue is still not resolved. Ths security software may block applications that execute a bat file or a reg file. So try disabling the Antivirus program, which can Norton's or Windows.  Some programs have the option to enable or disable script blocking, make sure to uncheck it.
2] Mailbox Size Limit
Some of the reports are about reaching the maximum size limit on the mailbox. It is something related to your mailbox provider, which can also be because of the maximum number of recipients being reached for the day. You may have to split the distribution list into two halves and then send the email through Outlook.
3] SharePoint Document Library Connection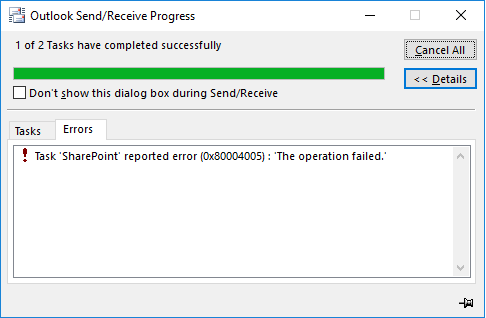 If you have connected Outlook from a SharePoint list or Document Library, then you should know that this feature is being deprecated. In the future, if you need to use the feature while you migrate your documents to OneDrive, you can set a registry key to address the issue.
Type Regedit in the Run prompt (Win + R), and press the Enter key to open the Registry Editor.
Navigate to the following path
HKEY_CURRENT_USER\Software\Microsoft\Office\Common\Offline\Options
Right-click on the Options key, and create a new DWORD and name it as CheckoutToDraftsEnabled
Once created, double-click on it to edit the value, and set it as 1
Exit registry and sync outlook again.
4] Update Outlook to the latest version
Make sure you have the latest version of the Outlook client. If the automatic updates are disabled for some reason, and if the client doesn't match with the minimum version required for the sync to happen, then you will have the issue.  You can check if there is an update available by going to Outlook  > File >Office account > Update and select the Update Now from the dropdown. Once done, make sure to keep all the Office products updated all the time.
I hope the post was easy to follow, and you were able to resolve the issue related to error 0x80004005 in Outlook.