If you receive Can't Play error 0x80004005 when trying to play music or audio files in Media Player app, then this post will help you. The error usually occurs when there is a sync issue of files on OneDrive or if the codec is not supported. The latter is a rare issue as Media Player app does support most of the audio format, but if nothing else works, it's a good idea to check with a different player.
Error 0x80004005 when playing music in Media Player app
Follow these methods, and the FAQs to resolve the error.
File Sync Error with OneDrive
Codec Issue
FAQ: Media Player app Can't play error
1] File Sync Error with OneDrive
OneDrive allows you to sync files across devices. A file downloaded on the computer will have a green mark next to it. Whenever a file is not on the hard drive, but on OneDrive, it is downloaded, and then used. If you are in the same situation and playing the file with Groove results in 0x80004005, then it is likely a sync issue. The best way to resolve this is to perform the sync again.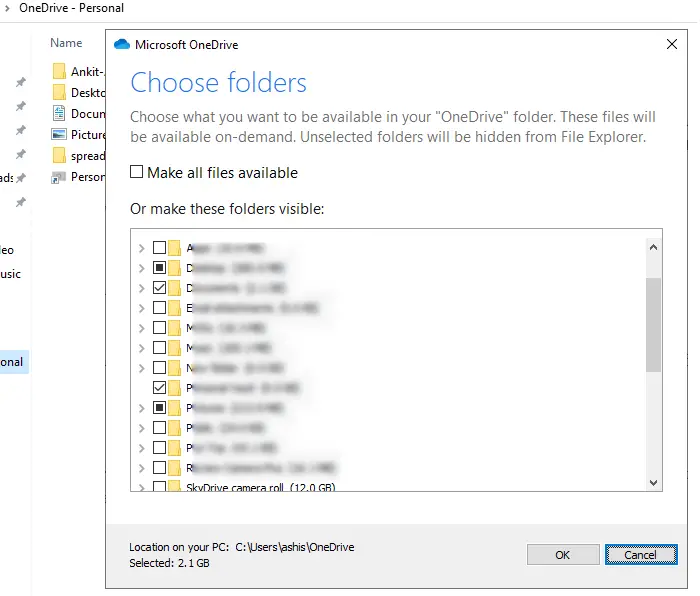 OneDrive offers selective sync capability where you can choose to sync only folders you need to have it on the computer.
Right-click on the OneDrive icon in the system tray, and select settings.
Click on choose folders button under the Account tab.
From the folder list, unselect the folder which has that audio and sync OneDrive.
Repeat the steps, and this time, select the folder again to download on the computer and sync it.
It is possible that the file was not entirely downloaded because of sync issues. In that case, Media Player app or any other player would not be able to play it. Following these steps will make sure the file is downloaded completely, and the error should not be there anymore.
2] Codec Issue
While Media Player app supports large file formats, it is possible that the audio or video you are trying to play is not supported. In that case, there is nothing much to do except to change the audio-video player. Players such as VLC player almost any audio and video format, and once you set it as the default player, there will be no trouble.
3] FAQ: Media Player app Can't play error
What are the audio file formats supported by the Media Player app? 
Media Player app supports mp3, .flac, .aac, .m4a, .wav, .wma, .ac3, .3gp, .3g2, and .amr file formats. You can find full details on Microsoft Website
Why is Media Player app not working?
If by that you mean it is not able to play a file, then either its a codec issue or the file is corrupt. The best is to get a new file and try playing it.
Why does Media Player app keep closing?
When an audio or video file is corrupt,  it may fail to play when encountering an error. At times it is known to exist the player.
I hope the post was easy to follow, and you were able to resolve the error  0x80004005 when playing music in Media Player app.