Today, in this post, we will take a look at some of the free finance software for personal & home use, as well as accounting software for small, medium business – along with one for enterprises. All of these are free to use on your Windows computers.
Free Finance & Accounting Software for Windows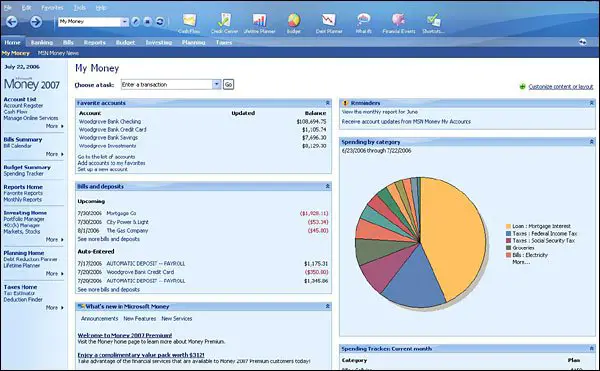 We will take a look at the following free finance and accounting software that are available for Windows 10:
Microsoft Money Plus Sunset
GnuCash
HomeBank
Manager for Windows
Money Manager Ex
BS1 Enterprise Accounting freeware
Microsoft Money
Zipbooks
Manager Desktop Edition
Eqonomize.
1] Microsoft Money Plus Sunset
Microsoft Money Plus Sunset versions are replacements for expired versions of Microsoft Money Essentials, Deluxe, Premium, and Home and Business.  It is available in two versions and can be installed stand-alone, or as an upgrade to an existing installation of Microsoft Money. Money Plus Deluxe Sunset is designed to replace Essentials, Deluxe and Premium and Money Plus Home & Business Sunset is designed to replace Home & Business.
2] GnuCash
GnuCash is a free accounting software for Small Business. If you run a business and are looking for good and free accounting software for small business, then GnuCash is perfect for you. It is a free and open-source accounting software and comes with a double-entry book-keeping system.
3] HomeBank
HomeBank is a personal accounting software that is simple to use and has a user-friendly interface. The software lets you keep track of budgets, archives, assignments, payees, and accounts, very easily. There are multiple categories present in HomeBank, such as credit card, asset, cash, bank, and liabilities.
4] Manager for Windows
Manager for Windows is free financial software for small business. It is capable of tracking all the income and expenses, and even maintaining a database of clients with sales records. It keeps a record of all your financial dealings, classifies, and summarizes all your business transactions which are financial, efficiently.
5] Money Manager Ex
Money Manager Ex is a third-party free personal finance software for Windows that you may want to check out. It helps you manage your finances easily. You can manage your personal as well as business finances with this application. It is free to use the software. This open-source and cross-platform finance software creates an overview of your financial worth.
6] BS1 Enterprise Accounting freeware
The main modules that BS1 Enterprise Accounting freeware are – General Ledger, Accounts Payable, Accounts Receivable, Inventory, Sales Analysis & Bank Reconciliation. The free version of BS1 Enterprise Accounting software has limited features but is still good enough for a single user.
7] Microsoft Money
Microsoft Money is a personal finance management software program from Microsoft. It has capabilities for viewing bank account balances, creating budgets, and tracking expenses, among other features. However, Microsoft Money was discontinued in 2009, and an alternative named Microsoft Money Plus Sunset mentioned above, was released in 2010, but it lacks some features that were provided by the former version. It is not free, but since many still like to use it, we have included it. This post will show you how to use Microsoft Money on Windows 10.
8] Zipbooks
Zipbooks is a free online solution that fulfills all your needs in the billing process. You can carry out bookkeeping, invoicing, time tracking, and more.
9] Manager Desktop Edition
Manager Desktop Edition is free accounting software for small businesses. It's simple to use, and when it comes down to paying your taxes, it should remove a ton of stress from your mind.
10] Eqonomize
Eqonomize is a free standalone software for Windows that lets you manage your household finances and a very intuitive way.
TIP: You can also find many free personal finance and budgeting apps on Windows Store.
Suggestions are most welcome.